BPL youth to receive soft skill training from IGNOU

The Indira Gandhi National Open University (IGNOU) on Monday joined hands with technology firm Srei Sahaj e-village to make 100 million youths in rural India computer literate. IGNOU Vice Chancellor Professor VN Rajasekharan Pillai announced training and education of youth who are Below Poverty Line (BPL) in six states of the country – UP, Bihar, Assam, West Bengal, Orissa and Tamil Nadu. Five vocational training and educational programmes have been identified for online delivery. IGNOU has partnered with SREI Sahaj e-village Ltd., a Kolkata based company, which is implementing the CSC project in six short-listed states. Programmes that will be introduced to these students will be certificate programmes in Computer Basics, Advanced Computing, Job Training and Interview Etiquette, along with a Diploma in Advanced Computing. The proposed programmes will be offered online from application to certification stages.
Tele-centre Management course by IGNOU

New in-line to many courses that Indira Gandhi Open University offers, on Sunday, IGNOU announced that it will soon launch a certificate programme in tele-centre management, to be made available in 10 Indian and 10 international languages. Targeting those people who are already working in the area of tele-centres or are interested in setting up one, the 10-module course will be first made available in English and Hindi and later introduced in other languages. The course is to be helpful to those interested in the use of Information and Communication Technologies (ICT) for development. A tele-centre is a public place where people can access computers, the internet and other digital technologies that enables them to gather information. The programme will be launched in collaboration with the International Development Research Centre (IDRC), the Swiss Agency for Development and Cooperation (SDC) and Microsoft.
TERI and IGNOU Organises the Third ICLD

TERI and IGNOU collaborated for organising the Third International Conference on Digital Libraries (ICDL), themes, 'Shaping the Information Paradigm'. It was inaugurated by Hon'ble HRD Minister, Government of India Shri Kapil Sibal. Present at the ceremony were, Smt. D Pundeshwari, Hon'ble State Minister for Education, Government of India, Dr. R. K. Pachauri, Director General, TERI, Dr. Deanna Marcum, Library of Congress and Dr. V. N. Rajshekharan Pillai, Vice Chancellor, IGNOU and other eminent dignitaries.
The specific areas of focus in this three day conference held on 23rd February'10 included web-based methodologies in teaching and learning, multimedia content, DL standards, Knowledge Management, Copyright and Digital Rights Management (DRM) etc. The conference essentially focused on all contemporary issues related to development of digital libraries and their impact on changing the information paradigm. The conference saw participation of 600 people and 46 eminent speakers from all parts of India and from 40 other nations like Africa, Australia, Austria, Bangladesh, and so on.
IGNOU presents six FM radio stations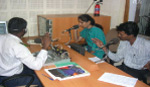 On 10th February 2010, the Indira Gandhi National Open University (IGNOU) announced launch of six new FM radio stations on education. These stations are addition to the already existing 31 radio stations the university owns. Operational in Agra, Chandigarh, Jalandhar, Srinagar, Trichy and Thiruvananathapuram, these new stations were launched by Minister of State for Information and Broadcasting Mohan Jatua. The FM radio station, Gyan Vani, targets to enhance and supplement the teaching-learning process by reaching across to learners through a low-cost, popular mass medium using interactive formats.
New educational institutes in Nagaland by IGNOU
Mahatma Gandhi Institute of Education and Development (MGIDE), is a new institute being set up by the Indira Gandhi National Open University (IGNOU) in Nagaland. The institute is to offer an on-campus master's degree course on social work beginning July this year. The institute is being set-up as part of a collaboration with Nagaland Gandhi Ashram (NGA) in Chuchuyimlang, Nagaland.

Envisaging an interdisciplinary approach of education and development, the proposed campus is to focus on preparing professionals to promote social welfare at both micro and macro levels. It will include ICT enabled learning and full- fledged library support and regular faculty under the scheme called Educational Development of the North East (EDNERU). Virtual classrooms will also be used to broadcast lectures from Delhi, directly to students at the MGIDE campus.
>