Anudip Foundation for Social Welfare was set up in 2006 as a Section 25 nonprofit company based in Kolkata, to provide enhanced livelihood opportunities for marginalised people of India and to develop skilled Information Technology (IT) professionals and entrepreneurs. The Foundation provides enhanced livelihood opportunities for marginalised people of India through rural training centres that develop skilled information technology professionals and entrepreneurs. Anudip supports its graduates through mentoring, financing and incubation services.
The Background
Rural areas of West Bengal, where Anudip is currently working, show high incidence of poverty.

Absence of employment opportunity leaves people with no alternative other than migrating to nearby urban centres in search of employment. Yet, even those with education find themselves ill-equipped in a competitive job market, as today even entry-level jobs require basic skills in IT and computer operation.

An information needs analysis by Reuters Foundation/Stanford University was carried out in 2005 by a team lead by Anudip founder Dipak Basu and Alakananda Rao of Actionaid. This study determined that the local level of education has not transcended the economic gap because of the lack of opportunity caused by economic depression, geographic isolation, governmental negligence and, most importantly, lack of access to livelihood opportunities other than subsistence work.

Yet the multi-million dollar IT industry in India consistently decries the lack of skilled workers to service its needs. Increased salaries of skilled personnel at IT hubs like Bangalore, Gurgaon and Hyderabad have pushed up costs so that many Indian and MNC IT giants are now moving operations to lower cost East European destinations, even China and Vietnam. This leads to substantial loss in India's IT-services export business. Indian non-IT companies too are constantly scouting for basic IT-skilled staff for back office operations like accounting, customer database management, tax data entry, etc.

Anudip's work currently focuses on the Indian Sundarbans region of South Bengal. This region is subject to devastation and erosion caused by major cyclones, 8m-high tides, and rising sea levels.

LINKAGE Training Centres
Anudip runs the skill-building programmes through a chain of Community-Based NGOs / CBOs who partner in the setting up of LINKAGE ( Livelihood INitiatives through KnowledGE ) training centres. Beginning with three locations in the Sundarbans in eastern India, there are now 23 and expanding.

The first three LINKAGE centres were learning prototypes launched in partnership with community NGOs. They allowed the development of best practices for local learning techniques, course content development, sustainability of operations and ease of replication. They also validated that IT training allows graduates to secure better jobs or, singly or in small groups, start successful IT businesses in small towns in their community.

Anudip has undertaken the challenge of creating core curriculum for high-school students. However the trainees often range from those who have just cleared the intermediary ( Class X) level and cannot continue further education due to economic reasons, to those who have graduate or post-gradute degrees, but no exposure to computers.
Entrepreneurship Development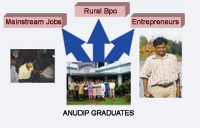 Anudip solicits business startup proposals from groups of interested Anudip graduates after they complete basic and advance training on IT and entrepreneurship. Thereafter, Anudip guides the applicants as they carry out a market survey in the location where they wish to establish their unit. They are mentored to obtain a clear concept on market demand, supply, rates, competitors etc, and on management of the proposed business.

After collecting all available information regarding market potentialities Anudip mentors guide them to arrange a suitable room with electricity and internet connectivity (if applicable) for their proposed establishment.

After completion of the infrastructural set up, they are encouraged to formulate a partnership deed among themselves. A contract between the entrepreneurs and Anudip is executed, whereby the entrepreneurs agree to terms of repayment of the incubation costs to Anudip from year two of their venture. After scrutinizing the proposal and completion of the contracts, Anudip provides equipments, such as computer, scanner, laser or photo printer, digital camera etc. for commencement of their venture.
Student Achievements
Over the past 3 years Anudip has trained over 2500 youth who have achieved successful livelihood options due to the skill training that we have imparted . A ballpark assessment indicates that at least 50% of Anudip graduates are income generators for their families. For some of them the income also provides an opportunity for self-development. For young women, where society does not allow them to travel outside the local geography for work, the entrepreneurship offers an income generation option, preferred over traditional livelihood which are agriculture based.

Thus, the development of skills and capacity cannot be measured in terms of the economic capacity alone but the impact assessment must take into account the sense of empowerment that a so-called 'professional' job provides to the rural youth putting them at par with the "city people" and the socio-economic aspect of this must be understood from that aspect .

The above picture shows the Anudip graduates entering the 3 streams, e.g. Mainstream jobs, Entrepreneurs and the Rural BPO.

Anudip has also started the pilot operations for a Rural BPO under the scheme of MERIT ( Mass Employment through Rural IT ).
The MERIT Center
In the global market of outsourcing, India has already established herself as a superpower. But the unemployed youth of rural India still does not have sufficient opportunity to grab a chunk of those jobs.

Anudip has a long term vision of migrating, not the people but the jobs itself to the rural areas thus bringing benefits not only to the rural people through equitable economic opportunity but also helping corporations lower their costs while contributing to the socio-economic development of the regions.

Anudip has set up a pilot of a MERIT Center ( Mass Employment through Rural IT ) and this helps in developing a unique approach of reaching the rural people with the backoffice outsourced jobs at their locality. Services like data capturing, cleaning and indexing, accounting or designing jobs can really be effective project activities that can be done from the villages by the trained Anudip graduates.

Anudip's vision is to bring India's IT-enabled prosperity to rural and semi-urban areas and to create a large pool of trained workers for the new economy of India .

The focus on the new economy livelihoods based on technology options provides far reaching impact and overcomes the mindset and barriers that focus on traditional agrarian and handicrafts based livelihood options. There is a need to understand that rural youth is as talented and capable as those who have access to opportunity and this belief and faith has helped Anudip to work with them in overcoming the myth of the "digital divide".
The growing Indian economy has provided opportunities in livelihood through ICT which were hitherto unavailable to the rural sector.

Anudip Foundation has successfully trained rural communities who have been on the other side of the digital divide to operate and uitlise PC and other equipments and set up micro-enterprises, or obtain employment. Anudip has been working in partnership with local community-based organisations with a focus on skill-building to help achieve sustainable livelihood opportunities without encouraging migration.

In three years of operation, Anudip has trained close to 2500 people and has helped in income generation for those who would have been otherwise deprived. The long-term goals are to set up MERIT centres where Anudip would execute back-office support functions providing employment opportunities for rural youth, focusing on more equitable wealth creation processes.

The contention is that while there have been plenty of investments in infrastructure for the rural communities , there has been a huge gap in capacity and skill-building . Anudip's efforts in this area have shown that if training is provided to the youth, there is an enormous opportunity of livelihood and economic growth for the rural areas.
Alakananda Rao
Alakananda Rao is the Director and Chief Executive Officer of Alvari Systems Private Limited, Kolkata, which she has recently established for IT consulting services and development of human capital and its deployment in the IT industry. Ms. Rao has been associated with a number of projects in bringing Information and Communication Technology to sustainable development initiatives. She can be reached at alka@anudip.org or alka.rao@alvarisys.com
>