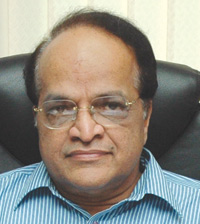 Prof V N Rajasekharan Pillai
Current Engagement:
Vice Chancellor Indira Gandhi National Open University, New Delhi and Chairman of the Distance Education Council
Date of Birth: 20 October 1949
Things He Likes

Book: Kalam By M T Vasudevan Nayar, gyanpeeth award winner
Music: Karnatic Vocal, specially Chempayi Vaidyanath Bhagwatam
Food: Home cooked
Holiday Destination: Lausanne, Switzerland
PastimeTime: Listening to music
Awards and Achievements

Presidential Gold Medal of the Indian Science Congress: 2008
Triennial National M. V. Pylee Award for the Top Academician of India: 2007
R.R. Varma Foundation Best Teacher Award: 2006
Indian Chemical Society Award For life long research achievements in the area of chemical sciences: 2005
Research Society of India Lecture Award: 1996
India had recently got its independence, and schools in villages still lacked infrastructure. Students sat on the floor and classes were often held in open air. But that did not deter those who wanted to learn. Four-year-old V.N. Rajasekharan Pillai, was one such student. He was thrilled to go to school carrying his small bag with fine sand and a palm leaf, walking through the lush green fields of Chengannur, Kerala. On reaching school, he would sit down on the floor in front of his teacher, spread out the fine sand on the ground and trace out letters of the Malayalam alphabet with his little fingers. The day he perfected writing the first alphabet, the teacher engraved it on the palm leaf with an iron rod. On his way back home, the boy plucked some leaves from the field and crushed them over the palm leaf so that the letter on the leaf would shine through clearly. It was beautiful.
That boy grew up to be an extraordinary student and today is the Vice Chancellor of Indira Gandhi National Open University (IGNOU), New Delhi and the Chairman of the Distance Education Council (DEC). The love for learning and innovation remained Dr Pillai's constant companion throughout his student life and academic career.
Brought up in a traditional agricultural family, Pillai was the youngest among six siblings and had lost his mother at an early age. "My father decided to send me to a college 10 kms away from the village," he reminisces. When he completed his Masters from Kerala University, he was offered a job of junior lecturer by the government. It was a matter of great honour as only ten people were chosen from the state, but Pillai had other plans.

Research and Innovation
"I had heard about research and the idea excited me. I settled for full time research with a scholarship of INR 250," he recalls. "However, at that time I did not know that PhD was only a preparation for doing research. I had imagined that I would be engaged in some scientific discovery or invention," he adds with a smile.
Perhaps it was his desire to invent that finally led him to a unique gram-scale preparation of biologically important peptides, for which he holds an international patent. This preparation is currently being used by a Swiss company. "Innovation cannot be prescribed, and discoveries do not happen overnight. It needs diligence, focus and commitment," he declares. "In the first few years of my career I was in a government college, and was used to seeing lab assistants assisting researchers even to the extent of lighting their burners. When I went to Germany for post doctoral research, I was surprised– there were no such people! A 78-year-old nobel laureate was also working in this lab and he used to enter the lab with a shopping cart full of chemicals that he would pick up himself from the shopping mart," he adds.
That memory perhaps stayed with him, and to this day his working style is very hands-on. As a teacher and research guide he made sure that his students accompanied him for seminars and expositions and encouraged them to take up challenges. In the various administrative roles he has held as Vice Chancellor of Universities, as Chairman and Vice Chairman of the University Grants Commission, as the Director of the National Assessment and Accreditation Council, or as Founder Director of School of Chemical Sciences, he has ensured that he takes inputs not only from institution heads but also from teachers and students to initiate changes.
In early 90s, when Pillai became the Vice Chancellor of Mahatma Gandhi University, Kottayam, Kerala, he was one of the youngest VCs. "I had never thought that I would become a VC. I was happy doing research. However, when I became a VC I realised that it is only a good teacher and a good researcher who can become a good administrator in a university."
It was not just the academic world that benefited from Pillai's thirst for knowledge. Some of it rubbed off on his family as well. Even his wife, Dr P. Geetha, who is currently professor of English and Director, Centre For Women's Studies, Lal Bahadur Shastri Sanskrit University, New Delhi, was from an academic background. It was no wonder that their children- son P. Balanarayan and daughter Dr P. Gayathri were attracted towards academics. While Balanarayan is a CSIR Senior Research Fellow at Pune University, Gayathri is teaching Biology at Indian Institute of Sciences, Bangalore.
Opening Up Education
When Pillai joined IGNOU in 2006, he had already initiated technology enabled learning in other places. However, it was here that he truly explored ways to make education more inclusive through technology. Under Pillai's leadership, IGNOU has not only earned the distinction of being the world's largest university with a student base of almost three million, but it has also introduced many initiatives like inviting feedback from students online as a step to bring in more accountability.
"I am not shy of experimenting, and university is a place where one looks for new ideas," says Dr Pillai. "Unfortunately during the 39 years of my experience in the university system, what really struck me is the increasing rigidity in our system. We need to become more flexible and promote the independent initiatives of students and teachers," he adds.
However, Pillai clarifies that we cannot blame the system for it. "We make the system and it is up to us to make it work. Rules and regulations are just frameworks; every teacher should have the ability to contextualise and then help to change it."
He says that knowledge and skills is the "text" of education. If you want to apply this text of knowledge to society, then you have to understand the "context" of society, which is dynamic and changes from time to time and place to place. "Once, when I talked about the text and context of education at a convocation, a student walked up to me and said, 'There is no text or context in education today, there is just test and contest,' and he was right. Exams and degrees are like shackles of education," he asserts.
All through his 39 years of service as a teacher, researcher, institution builder and educational administrator, Pillai has been interacting very closely with the institutions at the grass-root levels with students, teachers, college and university authorities, State Councils for H.E. and Chancellor's offices, gathering inputs from them and promoting independent initiatives of institutions. This provided the real strength for Prof. Pillai in contextualizing and implementing the various schemes with participation of all stakeholders.
In his role as a leader of one of the largest universities in the world, Prof. Pillai is committed to make learning more open, joyful and flexible so that others can experience the beauty of learning, as he did once walking through the green fields in Kerala.
>