The increasing demand from the industry for skilled manpower has accentuated the need to address the gap between the demand and supply of trained labour force. The sessions in the Skill Development & Vocational Training Track sought to deliberate on crucial issues relating to the sector.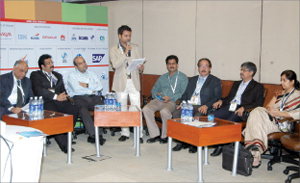 With the rising demand for formal skills and vocational training and education, a strong need has been felt by stakeholders to have a platform for deliberating certain pressing issues pertaining to skills and vocational training. The industries, not only from the region, but also from across the globe, have to address the challenges, along with the policy makers, thought leaders and the community. In this background, the Skill Development & Vocational Training track focused on few thematics, namely – skills and information literacy, PM's National Skills Mission, skills development and training, certification and quality assurance across education sector, role of training centres in providing youth employability and best practices in vocational education system.
Importance of Industry-University Synergy in Skill Development Programmes (Institute of electronic governance Special Session)
Chair: • Amarnath Reddy, CEO, Institute for Electronic Governance Panelists: • Matli Chandra Shekhar, Director, Institute for Electronic Governance; • K V Vishnu Raju, Chairman, Sri Vishnu Education Society; • Dr Raghava   Cherabuddi, Chairman, CVR College of Engineering; • Ajay Kapoor, Country Manager, Oracle Academy; • Orungati Naresh Kumar, Symbiosis Technologies; • Shalini S, Head-Learning and Development, Tata Consultancy Services; • Ch Srinagesh, Campus Connect, Infosys Technologies Ltd, Hyderabad Development Centre; • L Balasubramania, President, Skills Business Solutions, NIIT Ltd
The session on vocational education and skills development began with the Jawahar  Knowledge Centre (JKC) Programme for Skill Development and Training. The aim of the session was to understand why it is important to create and sustain an industrial interface with the Universities for skill development and vocational training programmes. The lacunae in formal education is fi lled in by developing skill capacities in the range of non formal  streams. Capacity building supply is linked to employment by the industrial demand. Four lakh students graduate out from the colleges and universities of the state of Andhra Pradesh. However, research studies have shown that low level of awareness of skills required for industries have resulted in not more than 10% of general graduates and 25% of engineering graduates being considered  employable or are employed. There has been a strong realisation among the stakeholders towards the need for an effective synergy between industry, government and academia. To help realise this objective, the Andhra Pradesh government incorporated the Institute for Electronic Governance (IEG) to train young engineers to become knowledge workers. It was highlighted that although the number of engineering colleges have
been on the rise, the employability of students and quality of the faculty has often been a point of debate. Quality infrastructure in engineering colleges and faculty competence needs to be checked to ensure skilled engineers. Communication skills and other soft skills including IT prowess are very important for those youth entering the job market. Institutes for training in foreign languages, as well as institutes to train students in English, are fundamentally important since many of the clients are from foreign countries, and students need to be skilled in language skills.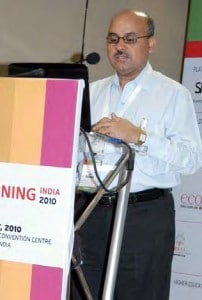 SKILLS AND VOCATIONAL LITERACY: TECHNOLOGY ENHANCED EMPLOYMENT
(IGNOU SPECIAL SESSION)
The session brought out certain basic facts about India in the skill development framework. Dr Jena pointed out that out of the population aged between 15-29 years, only 2% have formal vocational training, 8% have non-formal vocational training, and 93% of workforce are in
the unorganised sector. New entrants to the workforce every year is 12.8 million. India has the youngest population in the world, with median age of 24, in the year 2000. The National Policy on Education provides for vocational stream in the higher secondary stage. About 5% of total student strength in higher secondary stage are in vocational stream, while the target under National Policy is 25%. According to TVLN Rao, skill and knowledge are the driving forces for economic growth and social development.  The economy becomes more productive,
innovate and competitive through skilled human potential. Darlie Koshy emphasised that it is essential to merge vocational skills training with mainstream education. The education and training arms of AEPC signed a MoU with Indira Gandhi National Open University (IGNOU)
to expand the range of vocational education for apparel industry. The initiative has sought to improve skill base for both the domestic and export manufacturing sectors of textile and apparel industries.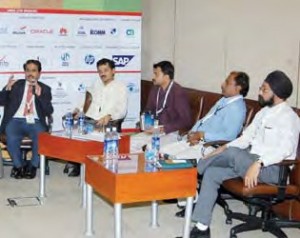 NATIONAL SKILLS MISSION: DIVERSE PERSPECTIVES AND THE ROLE OF INDUSTRY
The session brought out several focal points, including the need for renewed emphasis on skills development for a growing economy like India, especially by involving the private sector. The main challenge has been to fi ll the gap between the demand of the industry and supply of trained manpower. The National Skills Mission has set up a target of training 5 crorepeople by 2022. Involving the private sector would enhance the skill building capabilities, since training provided by them will be relevant and specifi c to market requirements NSDC has been given the mandate to facilitate the process of skilling 500 million people in India by 2022, mainly by fostering private sector initiatives in skill development programmes. This will be done through signifi cant industry involvement for upgradation of skills to international standards NSDC will enhance, support and coordinate private sector initiatives for skill development through appropriate Public- Private Partnership models and strive
for signifi cant operational and fi nancial involvement from the private sector. \\
>