ASEA 2010
Strengthening STEM Capabilities
The four-day conference saw experts from 13 Asian countries brainstorm on ways to improve science, technology, engineering, and mathematics education in the region
By Rajeshree Dutta Kumar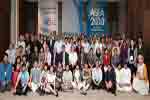 Modern society has evolved progressively into a more complex environment, propelled by technological innovations upsurge and the access to knowledge. To thrive in a knowledge economy and to meaningfully contribute to society, students must possess a broad range of cognitive skills such as critical thinking, effective communication and collaboration, problem solving skills and technological literacy. One way to develop these skills is through an effective science, technology, engineering, and mathematics (STEM) education.
Considering the vastness and wide differences of education systems in Asia, and with all the challenges it faces, the first Asia Science Educator Academy (ASEA2010) was organised from August 3 to 6, 2010 in Seoul and Daejeon (Daejeon is one of 16 provinces in Korea). The initiative was aimed at addressing the need for a sustainable and collaborative initiative for capacity building in STEM education especially in the areas of policy development, curriculum, research, professional development, and science fair management.
ASEA2010 was co-organised by Korea Foundation for the Advancement of Science and Creativity (KOFAC), National Science Museum of Korea (NSM-K) and Intel Asia with financial support from Intel Foundation.
It sought to bring together key education stakeholders from 12 Asian countries to discuss the essential issues and concerns affecting STEM education in the region. The aim was to understand the state of STEM education in the region and the methods being employed to prepare the next generation of leaders, entrepreneurs and innovators. The participating countries included China, Indonesia, India, Japan, Republic of Korea, Malaysia, Pakistan, Philippines, Sri Lanka, Taiwan, Thailand and Vietnam.
The ASEA 2010 brought together governments, academics, curriculum planners and science professionals to develop a sustainable and collaborative action plan, discuss issues, share best practices, create networks, build partnerships to support the overall development of STEM education in Asia.
The four day summit began with a welcome note by Lee Sup SIN, Director, Department of Science and Culture, Korea Foundation for the Advancement of Science and Creativity, (KOFAC). He urged all the participants to combine the participating organisations' expertise into a shared vision to form the basis for a common regional endeavor towards developing STEM education.
The day one began with the welcome by KOFAC President Dr Yoon Chung, followed by an introductory note by Ashutosh Chadha, Strategic Education Director at Intel Asia Pacific. Ashutosh shared the vision and the role of his organisation in driving the capacity building of the educators by providing technology literacy and life skills programmes. He also shared with the audience that Intel is committed to provide support to informal or formal education settings in governments and NGOs and any other partner, who manage local implementation.
Day I: Charting future course



The day one of the conference saw the participants focus on "Charting the Future for Systemic Change: Formulating National Master and Development Plans". The day began with the special speech by Prof Yves Qu ture for Systemic Change: Formulating National Master and Development Plans".   The day began with the special speech by Prof Yves Quéré, French  Academy of Science, France on Nurturing science literacy and promoting science communications. He focused on  building an eco system enabling science literacy amongst the  tudents.  The session witnessed presentations of the distinguished panelists. Dr Sook-   Kyoung Cho discussed on the innovative ways of science communication and  STEM education  practices in Korea and also emphasised on the need for a discussion  forum to share   the best practices  across the Asian countries. SUN Mengxin, Deputy Director General, China  Association for Science and Technology (CAST), China spoke on the various policies and  measures undertaken in China towards science education and communication. Dr Cesar  Saloma, Dean, College of Science, University of the Philippines highlighted the measures of  scientifi c productivity and current performance and trends in the country. He  also made an    xemplary case for best practices. HO Vinh Thang, Secondary School Department Offi cer,  Ministry of Education and Training, Vietnam made his presentation on Science Talent   Student Development Plan—a Government of a Vietnam development plan for students.
DAY II: PROFESSIONAL DEVELOPMENT FOR STEM EDUCATORS
Initiating the day two proceeding focused at "Professional Development  or STEM Educators"  Prof. Masataka Watanabe, Japan Science and Technology Agency, Japan shared his country experience on the knowhow of nurturing science literacy and promoting science communication amongst the school students. Peaking on the subject, Dr Mee Young CHOI,  rogramme Specialist, Education for Sustainable Development at UNESCO Jakarta Offi ce   mphasised on the importance of education as an instrument to bring about change. He focused  on the various strategies and future directions to be undertaken for low carbon and  reen growth by educating the students and empowering them with a life skill. The Day II  iscussions started off with the presentation by Dr Ester Ogena, Director, Science Education  nstitute, Philippines on professional development of science and mathematics teachers and educators in Philippines. Dr Anup K Rajput,  Head Media Resource Central Institute of  Educational Technology, India highlighted the need for professional development of STEM  ducators. Dr en-Chung Chuan, Professor, National Tsing Hua University and Head Judge of Taiwan ISEF spoke on professional development for STEM educators with special reference to  he 'Joy of the Math Project' undertaken in Taiwan. Hongmei MA, Senior Programme Offi cer,  eijing Student Administration Center spoke about the various innovative practices and refl  cted on the nuances of bilingual Science education. The concluding presentation was by Prof  iu Yingjian, Beijing Normal University whose discussion was broadly based on the science  ctivities undertaken to inspiring kids at the elementary level in Beijing.
DAY III: FOSTERING  NNOVATIVE PARTNERSHIP
With the day three focusing on "Innovative Science Fair Implementation Models", including the Public-Private Partnership model, Prof Carole MP Neves, Director, Offi ce of Policy and  nalysis at Smithsonian Institution initiated the discussion through his special speech on the science education model at his institution. Sharon B Snyder, Manager of International Fairs at Intel International Science and Engineering Fair (Intel ISEF), Society for Science and the Public (SSP) set the context of the session through her presentation that highlighted the role of in-  novation in science education. Marianna Fung, National Taiwan Science Education Center, Taiwan talked about the various implementing models to develop and support youth's creativity in science and technology in Taiwan. The day also saw Dr Kwan Sitathani, Deputy Executive Director, National Electronics and Computer Technology Center (NECTEC) of Thailand present a case study on nourishing the innovative capability in high school students. Dr Syed Azhar HASAN, Director General, Pakistan Museum of Natural History Islamabad and Chairman, Science Review Committee (SRC) Intel National Science Fair, Pakistan echoed the need for enhancing change through research in Science education. Shweta Khurana, Intel India, shared the experience of Building IRIS India, which is an initiative for research and innovation in Science.
DAY IV: GETTING COUNTRY PLAN READY
While the conference saw the setting up of ASEA Steering Committee as the core driver of sustaining and moving ASEA2010 to the next level, a decision was also taken to foster international collaborations to promote science education in the region. The conference concluded with the decision that the forum would work towards creating an action plan to support capacity building and creating a guiding framework to implement programmes and projects towards enhancing STEM education in Asia.
>