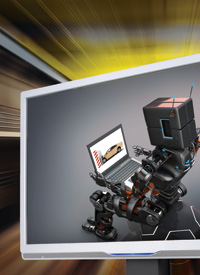 Virtual instrumentation can help institutes overcome cost barriers of full-blown experiments, and yet ensure delivery of hi-engineering concepts
"VI gives access to more number of students and opportunity to do experiments multiple times with different permutation and combinations"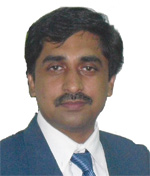 Rahul Deshmukh
officer on special duty, CDEEP, IIT-Bombay
So integral are labs to study of higher sciences that a reputable engineering institute without a well-equipped lab is hard to think of. However, lab experiments are becoming increasingly cost-intensive due to the rising sophistication of newer hi-engineering streams such as microelectronics and very-large-scale integration (VLSI).
Virtual Instrumentation (VI), which surfaced as cost-effective alternative to real lab experiments found early takers in the industry. Its benefits have been enormous not only for scientists and engineers but for markets too, as it enables quality improvements, shortens the development and testing cycles, and thereby helps lower costs.
Consequently, VI has been used to significantly cut down dependence on real-lab experiments in engineering institutes, globally.
Still new to India

In India VI is still more of a concept than a reality, among engineering institutes. Barring the IITs, not many institutes in India have introduced VI for simulation and analysis.
The Chennai COE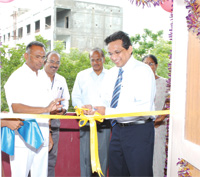 In its bid to strengthen its research and development capabilities, as also to make designing easier for students, the Chennai-based Velammal Engineering College has recently tied up with National Instruments for establishing a Centre of Excellence (CoE) for promoting innovation and creativity in the field of VI.
Emphasising on the importance of the collaboration, M V M Velmurugan, C.E.O Velammal Educational Trust says, "The aim is to benefit the college in terms of gaining domain expertise through research projects. Students shall learn industry relevant methods of making measurements & control and shall also gain practical knowledge which will help them gain placements in core multinational industries."
The focus of the centre is to work on research areas like embedded industrial control, image processing, robotic system design, measurement and automation, wireless sensor network by encouraging ideation and innovation through projects based on real world applications, access to industry events, educational workshops, and training sessions on NI's LabVIEW. "Traditional lab experiments are limited by the instruments and restricted with syllabus. But the Virtual Instrumentation based laboratory experiments will nurture innovation and creativity in engineering and science education," adds Velmurugan.
Online Laboratories @ IIT Kharagpur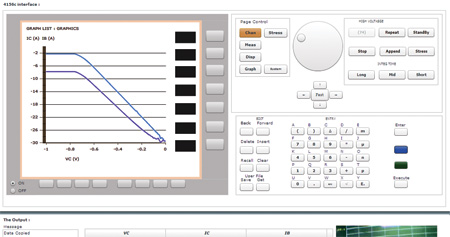 Lab-on-demand an IIT Kharagpur helps improve technology education through expansion of lab-based learning opportunities. Prof CK Maiti, Electronics and ECE, IIT Kharagpur explains the rationale, "It is mandatory to have laboratories for hands-on experience in all engineering and science programs. Laboratories demonstrate course concepts and ideas and develop hands-on skill of the students. However, a fully equipped laboratory usually results in a huge expense. Maintenance costs also can be significant. Additionally, teaching assistants are required to set up the laboratory, instruct in the laboratory, and grade laboratory reports."
"These are time-consuming and costly tasks which result in relatively low laboratory equipment usage, especially considering that laboratories are available only when equipment and teaching assistants are both available," Prof Maiti points out.
The Laboratory-on-Demand is an initiative of Ministry of Human Resource Development (MHRD), Government of India, under the National Mission on Education through Information and Communication Technology (NME-ICT).
Laboratory courses on hands-on experiments are an integral part of engineering education. The IIT Kharagpur 'Microelectronics and VLSI Engineering' Laboratory-on-Demand (LoD) is a remote microelectronics device characterization and parameter extraction laboratory. LoD helps learners to measure the different characteristics and extract device parameters of various microelectronics devices at any time and from anywhere using a Java-enabled web browser.
The equipment required to conduct microelectronic device experiments are often very expensive, require trained manpower and adequate space, which makes the provision of hands-on experimental facility to individual student difficult in a traditional laboratory setup. Also, opportunities for experimental research by engineering students in India have been limited by the high cost of equipment.
Internet-based laboratory has been developed at IIT Kharagpur as a response to this problem. LoD is currently being used by the IIT students from their hostel rooms. It has also been tested by the faculty members from various universities and engineering colleges. Partner institutions include VIT University, Vellore and NIST, Berhampur. The IIT-Kharagpur 'Microelectronics and VLSI Engineering Lab-on-Demand' is open to students of engineering colleges in India.
The Lab-@-Home is an initiative to develop virtual instrument-based online devices and circuits laboratory covering most of the experiments suggested in the AICTE model syllabi for all AICTE-approved engineering colleges in India offering undergraduate courses in electrical, electronics, electronics and communication, computer, instrumentation and IT. Currently, more than 15 experiments on electronic devices and circuits are available for the undergraduate students.
Lab-@-Home from IIT Kharagpur enables students to characterise various semiconductor devices and circuits at any time and from anywhere using a Java-enabled web browser. Lab-@-Home is a complete solution for teachers for teaching the devices and circuits laboratory classes with students authentication, remote experiments, submission of online laboratory reports, holding test and viva-voce examinations, and finally grading the students and also preparing the grade sheet for the class. Lab-@-Home is available to all engineering colleges in India.
Source: www.lod.iitkgp.ernet.in/netlab
Nevertheless, educators from engineering institutes have a positive view with regard to introduction of technology in the engineering process. Cost effectiveness is one of the major reasons for this encouraging trend. However, it is observed that a total replacement of actual laboratory experiments with virtual experiments is not encouraged.
At the Apeejay College of Engineering, VI is used in B Tech programs of electronics and communication engineering, and electronics and instrumentation engineering; and for the M Tech program of instrumentation and control engineering. It is also used in areas related to digital image processing, control engineering, configuration of various control design and system solutions.
Stressing on the need for VI in engineering colleges, Dr Nagaraj R, Professor and HoD at the Oxford College of Engineering, Bangalore, says that virtual instrumentation provides significant advantages at every stage of the engineering process
>