The FTK-CIT at Jamia Millia Islamia University is continuously striving to provide better and modern IT services to students, research scholars, teaching staff, and non-teaching staff of the University. Management of internet, email system, Jamia's Management Information System, website, and Campus Area Network are some of the popular services provided by the Centre
By Prof Z H Khan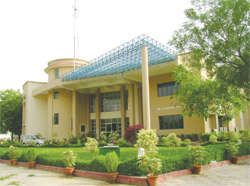 Established in 1985 as a Computer Centre, it took more than fifteen years to transform the FTK-Centre for Information Technology to a modern Information Technology Centre. The end of the twentieth century saw amazing developments in ICT, which was echoed globally. In view of this and also keeping in view the changing role and additional responsibilities of the Computer Centre, it was renamed as Centre for Information Technology (CIT) in 2002. During the last ten years, the Centre has come a long way to become the hub of IT services in the University. Regular IT training programmes, workshops and conferences conducted by the Centre have played a major role in capacity building of the University staff and also faculty members of other universities and colleges. Since 2003, the Centre is called as FTK-Centre for Information Technology (FTK-CIT), deriving its prefix from the name of the Chancellor of the University, Mr Fakhruddin T Khorakiwala, owing to his great commitment and support for the Centre. Today FTK-CIT offers its services to the staff and students of the University through a campus area network of more than 3,500 nodes.

Activities of the Centre
The activities performed by the Centre are very critical for the functioning of the University. Management of internet, email system, Jamia's Management Information System (JMI-MIS), website, and Campus Area Network are some of the most useful and popular services being provided by the Centre. Apart from this, the Centre regularly conducts computer training programmes for office staff and faculty members for their capacity building. Organisation of workshops, conferences and extension lectures for faculty members, research scholars and students are another important activity of FTK-CIT. The Centre is also engaged in planning and research and sustainable development of IT within the University.
IT Infrastructure and Facilities
The FTK-CIT is continuously striving to provide better and modern IT services to students, research scholars, teaching staff, and non-teaching staff of the University. Currently the Centre has several facilities including internet lab, multimedia training lab, network management lab, data centre, web management lab, MIS lab, software library etc.
Campus Area Network
The first Local Area Network in Jamia was established in 1996 with 10-Mbps Optical Fibre Backbone, which was upgraded to 100-Mbps in the year 2002-03. Since then the network is continuously being expanded and now it covers all the buildings of the University including students' hostels. The number of Internet nodes in the University is more than 3,500, connected through 169 switches. Also, WiFi connectivity has been provided in some important buildings of the University.
JMI-Management Information System
The JMI-MIS has been developed to provide support for processing, storing and disseminating information for achieving efficiency and transparency in the University. The broad objectives of the system include to make the system efficient and transparent and to speed up the information dissemination process. It seeks to reduce data redundancy and achieve high-level integrity and consistency in the data.
The JMI-MIS comprises of 18-modules providing software interfaces to capture transactional data of all operational level activities routinely performed in the University. It has comprehensive reporting facilities which aid data comprehension and analysis. The MIS became operational in 2003-2004 with implementation of students, faculty, payroll and GFA modules. Since then, its usage is constantly growing. The complete cycle of admission has been implemented along with its integration with the Payroll System and General Financial Accounting System. The salary, leave and all other details have also been automated through the MIS.
JMI-Management Information System (MIS) has been developed to provide support for processing, storing and disseminating information for achieving efficiency and transparency in the University.
E-Governance through JMI-MIS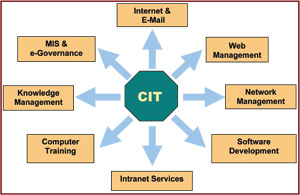 To fulfil its primary objective of bringing efficiency and transparency in the functioning of the University, some of the facilities of the JMI-MIS have now been extended to all employees of the University, ranging from top executives to grade-IV staff. A huger array of information can now be generated by any employee through the self-service accounts of MIS including personal profile, leave details, pay slip, pay bill register, PF loan balance, PF ledger for GPF, other income details, income tax calculation, Form 16, and PF ledger for CPF. The services are available on 24×7 basis.

Software Development
The FTK-CIT also takes up such university-specific software development work on need basis that is not covered under MIS. During 2009-2010, the Centre developed several important software for monitoring and bringing efficiency in the university system.
File Tracking System
The FTK-Centre for Information Technology has developed the File Tracking System (FTS) utility under its e-Governance initiative. The objective of the utility is to bring transparency, accountability and efficiency. The utility let users track their documents as they move through the administrative hierarchies. Comprehensive reporting facilities to enable file tracking have also been provided. Authorised users can assess the utility from the Administration module of Jamia-MIS.
Complaint Management System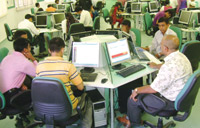 To facilitate complaint recording and tracking the FTK-Centre for Information Technology has developed an online utility using Open Source LAMP tools. The utility can be accessed on Jamia's intranet http://egov.jmi for making complaints/service requests related to hardware/software under annual maintenance contract.
Annual Reporting System
The purpose of Annual Reporting System is to enable Jamia administration to define, collect and format annual report data received from various departments, offices and individual faculty members of the University. The web based utility has been developed using ASP.NET and has integration with the Jamia-MIS.
Web Services
The Jamia Website was launched in November 2000 with 900 web pages. Since then the site has grown to more than 15,000 web pages. The site reflects the vibrant academic and administrative environment of the University to the outside world. There is also a facility for online tracking of admission results, viz., Online Admission Tracking System (OATS). This facility is available through the following links: http://jmi.ac.in/admission/oats.htm, and http://jmi.ac.in/admission/fet1/index.html. In addition, the website gives information about research, including the list of Ph.D. awardees, abstracts of their Ph.D. Theses, and research publications of faculty members and research students.
A new web portal of the University is currently under development which will be more vibrant and interactive. It will be based on Web 2.0 and include interactive pages for forums, blogs and e-learning contents.
e-Learning
Keeping in view the importance of e-Learning, the Centre has taken initiatives in creating an e-Leaning environment in the University. As a first step toward this goal, a web server available at http://kwoledgegate.jmi is offering facilities to the teachers to post their teaching materials/supplementing notes for reference purposes.
Trainings Workshops
The Centre has been regularly conducting training programmes, workshops and conferences for the students, faculty members and other staff of the University. The objectives of these programmes are to promote the use of ICT in academic and administrative activities by developing IT skills and enhancing knowledge at all levels.
New Initiatives and Future Plan
A Memorandum of Understanding (MoU) has been signed jointly by Microsoft Corporation (India) Pvt. Ltd. (MCIPL) and Jamia Millia Islamia under which the MCPIL will start a number of programmes for faculty members, administration and students of the university including digital literacy, basic IT training for IT and non-IT faculty and dreamspark.
New Web Portal of the University
An agreement between the Indo Asian News Service (IANS) and Jamia Millia Islamia was executed on June 16, 2010. Under this agreement, IANS will develop a dynamic state-of-the-art web portal which would truly reflect Jamia's vibrant academic environment and campus life. The portal will support Web2.0 technologies, such as RSS feeds, blogs, chats, podcasts etc. It will be securely integrated with payment gateway to enable Jamia to receive e-payments for payment of prospectus & application forms fee and students' tuition fee. The portal will further provide appropriate plug-ins to integrate with the existing Management Information System (MIS) of the University.
Open Research Archive
The archive is being set up to facilitate faculty members and research scholars to upload preprints of their publications, published research work, and PhD theses on the server, which will be accessible to all.
>