USAID supports technology intervention in MCD schools, which will be implemented by EDC in collaboration with Education Department, MCD
By Juanita Kakoty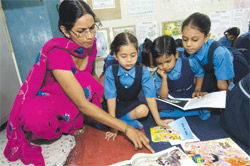 The Model School Intervention in Municipal Corporation of Delhi (MCD) schools was launched on 1 November 2010 at MCPS AG, Shalimar Bagh. MCPS AG is an MCD school in Rohini. The intervention is supported by the United States Agency for International Development (USAID) and will be implemented by Education Development Centre, Inc. (EDC) in collaboration with Education Department, MCD. The launch was attended by Mahendra Nagpal, Chairman MCD Education Committee; Bhupendra Gupta, Deputy Chairman MCD Education Committee; Madhumita Gupta, Director General (Development), USAID; principals of 19 MCD schools and one New Delhi Municipal Council (NDMC) school; representatives of EDC, USAID and other important personalities from MCD Education Committee. The intervention is to take place in 20 selected schools (19 MCD schools and one NDMC school) across Delhi.

The launch showcased various T4 programs that included ICT educational tools which have been developed and tested in India by EDC and funded by USAID. The basic idea of the T4 program is to support teachers through technology. T4 educational tools are rich in pedagogical content and are in sync with the national curricula. Various T4 programs include Interactive Radio Instruction (IRI), Life Skills Video Series, Digital Library, etc.

The event also launched RazorBee Teachers' Aid – an easy to use, mobile, teacher-friendly device developed by Bangalore-based Ariem Technologies. This device can be operated with a remote and empowers teachers to gather content from the Internet; allows teachers to create text or voice annotations on images and videos; use markers and arrange files. It can automatically create audio-visual presentations and can deliver the content on any existing display device like TV, projector, or a computer monitor. The highlight of this technology includes simple ways to search images, videos, articles, etc. from the Internet; multi-dimensional, multi-format presentation creation; and allows presentations to be preserved and shared online. As a part of the launch, there was a demonstration of the RazorBee Teachers' Aid and the device was presented to all the principals invited from the selected 20 schools.

USAID in collaboration with EDC has been harnessing technology for positive education-specific intervention in India since 2002. In collaboration with the Government of India, EDC telecasts T4 educational videos on the EDUSAT satellite and broadcasts T4 educational radio programs on FM and short wave radio. T4 has close to 600 technology-based tools under its umbrella, a presence in eight states of India, and caters to 31 million students.

The launch ended with demonstrations on how T4 tools are being used by teachers in classrooms across Delhi. The Interactive Radio Instruction (IRI) tool was used as an effective example for training children in the English language. The children seemed full of curiosity and eagerness to follow the instructions being aired, aided by the teacher. This English learning program is broadcasted by Indira Gandhi National Open University (IGNOU) on Gyan Vani, the only FM channel in the country dedicated exclusively to education. The unique features of IRI include low-cost digitally produced interactive radio content that are locally designed and adapted; and use of stories, games and songs as techniques for learning. They also act as hands-on teacher training tools.

The Model Intervention program, T4 tools and the RazorBee device have a common integrated message: include technology for teaching students but keep the teacher as central to the learning process. Hence, the emphasis is on designing technology-based programs that actively involve both teachers and students; on developing content through rigorous instructional design process; and on ensuring interactivity in the classroom.
>