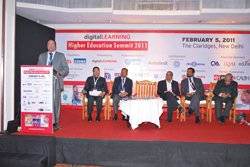 The digitalLEARNING Higher Education Summit aimed to bring together key educationists and corporate at both national and international level for deliberation and interactions that would lead to knowledge sharing, identification of policy, practices, imperatives and future action plan
Higher Education Summit 2011 was organised by digitalLEARNING on 5th February 2011 with the aim of stimulating discussions and debate on key issues pertaining to higher education in India. The one day event focused on providing a platform through which best practices can be shared on all of the key issues in higher education. After the welcome address by Dr M P Narayanan, President of Centre for Science, Development and Media Studies, Dr Ravi Gupta, Editor-in-Chief, digitalLEARNING Magazine, provided an overview of the in highlighting the importance of information and communication technology in the future of higher education and helping it attain the resources it needs to deliver what the institution demands.

Creating Quality and Excellence in Higher Education: Policy and Practices

In his inaugural address, Professor V N Rajasekharan Pillai, Vice Chancellor, Indira Gandhi National Open University (IGNOU) emphasised on the need that skill education should be of global standards. There is a need to address the question of how ICT in education can increase employability issues of the country for which Government of India has started a massive education programme called National e-Governance Plan. Education should be linked with employment in a systematic way. Even in engineering education over 60% of graduates are unemployed mainly because of the non-linking of quality of education with practice on the field. To address these kinds of issues, independent initiatives needs to be promoted. So the appropriation of workforce is very important for growth and enhancing knowledge skills.

N Ravishanker, Joint Secretary, Department of Information Technology, Ministry of Communication and Information Technology, Government of India in his address focused on the comprehensive techniques that can be used for imparting education through ICT. The programmes like e-infrastructure and National Knowledge Network Programmes facilitate interlinking of academic organisations for collaboration, the focus of which should be on quality and excellence.

Sharda Prasad, Director General, Directorate General, Employment and Training, Ministry of Labour and Employment, Government of India highlighted the need to lessen the gap between skills and education. There is a need to take care of quantitative as well as qualitative education in the country which should be relevant to the needs of society. The focus should be on universalising education to create skilled manpower which should be based on the requirement of the industry.

Professor B A Metri, Dean, Management Development Institute focused on five key points for creating excellence in education: leadership to develop global education system; autonomy to develop; building intellectual focus; faculty development programme; national and international accreditation. Today one of the major challenges to manage education is regional leadership.

Dr R P Singh, Vice Chancellor, Sharda University talked about the challenges and opportunities of private education in India. There is a need to build skills not only for graduates and post graduates, but also for people who are not well educated.

After the first session there was a formal launch of virtual platform for career preparedness to enhance employability of learners. There were brief presentations by N. Subramanian CEO TRS Forms and Services Private Limited and Dipanker Bhattacharya India Education Programs, AUTODESK on the ways to digitise learning in twenty first century.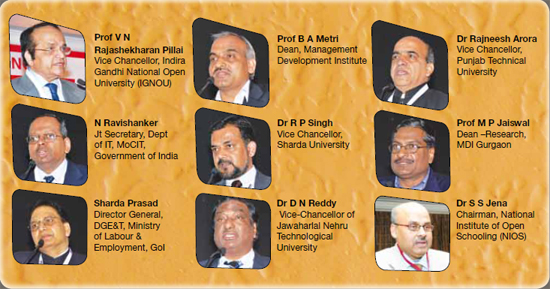 Improving Equity and Enrollment: Vision and Strategies for Higher Education Institutes

The session was moderated by Professor V N Rajasekharan Pillai, Vice Chancellor, IGNOU. In his introductory remark Professor Pillai emphasised on the fact that along with quality we have social commitment.

The first panelist for the session Dr D N Reddy, Vice-Chancellor of Jawaharlal Nehru Technological University, talked of the importance of promoting digital learning across the country, providing access, equity and quality of education, knowledge creation, innovation in ecosystem, and capacity building. The key challenge is to emphasise on lifelong learning and relevance, removing boundaries, and scaling up resources. Innovative use of ICT, industry investment, generating revenue through consultancy and government allocation should be increased to at least 2% are some of his recommendations.

Dr Rajneesh Arora, Vice Chancellor, Punjab Technical University emphasised that education should be imparted in local language. The language barrier at school level leads to lower enrollment in technical education. He emphasised on the need for schools of excellence which can self finance to reduce burden from students.

Professor M P Jaiswal, Dean, Research, MDI Gurgaon focused on Research and Development issues in India. He opined that we have strong potential of innovation research and should focus on this area. In the end he suggested that MHRD should be scrapped for effective research and development growth.

Dr Sarabjit Singh, Principal, Apeejay College of Engineering addressed the issue of increasing the intake of students. To draw larger number of students they are adopting liberal art culture where student can enroll and change to any stream at any point of time. It is a flexible credit based system where credit is given to self learning, off-campus work done and other activities by a student.The capacity of faculty and quality can be enhanced through sharing knowledge and the issue of retaining students can only be addressed if environment is innovative and conducive to self learning.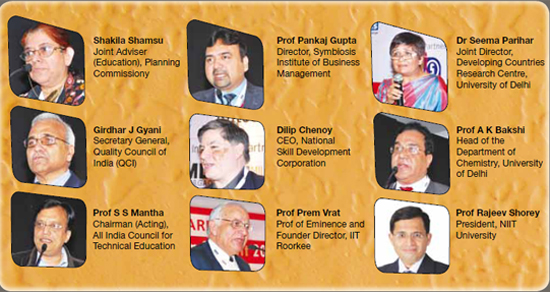 International Academic Partnerships for Expanding University Outreach

Shakila Shamsu, Joint Adviser (Education), Planning Commission, Chair, emphasised on internationalisation of higher education in the era of liberalisation, privatisation and globalisation. She highlighted that there is a need to address the issues regarding international institutional arrangement like problems of fly-by-night operator, quality of foreign education, nomenclature of degrees/certificates they intend to offer (should be in sync with the laws of the land), regulatory framework that they would be governed with.

According to Girdhar J Gyani Secretary General, Quality Council of India (QCI), quality of education cannot survive in close market. The role of government should be restricted to legislation and thereafter it should select the areas for regulation.

Professor S S Mantha, Chairman (Acting), All India Council for Technical Education believes that AICTE is more of a facilitator and less regulatory. There should be common denominator for regulatory guidelines. AICTE provides opportunities for institutions to create new programme of collaboration with foreign university. It also facilitates off-shore campus learning and provides students from abroad, Indian degrees from the institutions they are affiliated to.

Professor Pankaj Gupta, Director, Symbiosis Institute of Business Management also spoke about the institutional collaboration with foreign universities. Now institutions from abroad have good partners in India but need of the hour is to capture these opportunities.

Deepanker Bhattacharya, Senior Manager of India Education Programs, AUTODESK stated that they are working with Stanford University on the concept of Integrated Project Delivery based on information modeling. They have also associated with National University Singapore to introduce the concept of sustainability. They have recently started design-centric curriculum course entirely based on project learning because of huge demand from industry which is not getting enough skilled manpower.
Solving the Expanding Examination Assessment Needs of Universities

The session was chaired by Professor Prem Vrat, Professor of Eminence and Founder Director, IIT Roorkee. As the size of technical university is expanding there are challenges which needs to be addressed. Most of the technical universities have addressed these problems through ICT.

Professor Rajeev Shorey, President, NIIT University commented about the employability issues and said that according to a NASSCOM report there are about 6 lakh engineers out of which only 25% are employable. The main reason is the mushrooming of engineering colleges.In India, intake is more than 5,70,000. But still employability is poor because of quality of education. So, there is a need to leverage ICT in a technology based campus, create international pool of visiting faculty, tap minds across the globe that supervise and teach cutting-edge courses. He then reiterated the need to get best practices from the industry, introduce the best models from other countries, need for innovation and focus on intellectual property, and need to focus on quality so that quantity will follow.

According to Professor A K Bakshi, Head of the Department of Chemistry, University of Delhi, education component includes curriculum, teaching and learning. The big challenge is setting quality question paper as exam paper should be able to differentiate the caliber of students. ICT has to be supplemented with training programme to be successful.

Sri Ram Kumar from TRS talked of exam assessment through technology solutions. He also spoke at length about the benefits of e-assessment where user can ingest the question, documents, and candidates can take tests at their convenience.

Mukesh Gupta, Secretary General, SRDE's Association of Higher Education Institutions raised the issues that plague the expansion of higher education like gaps between rural and urban areas and expanding higher education institutions in terms of numbers. But the major challenges which need to be addressed are human resources, lack of coordination among universities, core competency areas (examining bodies) which should be given to agencies suited for it, requirement of learning oriented exams, over reliance on exams, and how to reduce the gap between demand and supply. To address these issues he suggested that we need to look into the commitment of the team involved in exam process, transparency and accountability for the development of education system.
There is a need to address the question of how ICT in education can increase employability issues of the country for which Government of India has started a massive education programme called National e-Governance Plan
Professional Training to Upgrade Competency of Workforce: Bridging the Skills Gap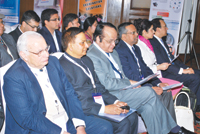 The session was chaired by Dr S S Jena, Chairman, National Institute of Open Schooling (NIOS). He contextualised the discussion by highlighting the need for concrete mechanism for bridging the existing gap between skilled labour force and industry.
Dilip Chenoy, CEO, National Skill Development Corporation observed that about 240 million people are required in different sectors and there is a gap of 40-50 million skilled people in market. The skill education should be based on the requirement of public-private-partnership in industry-academia. So, skill centric learning is required and the only way to solve it is through public-private partnership.

Dr Seema Parihar, Joint Director, Developing Countries Research Centre, University of Delhi said that four things should be taken into account – students, teachers, women, and challenges in real time situation. We should look for learnability and capability opportunities.

Dr Manoj Kulshetra, Associate Professor, School of Engineering, IGNOU with regard to construction industry opined that the construction is the second largest economic activity in India, and yet it is a neglected sector. He proposed solutions like making it mandatory to engage certified and trained manpower in projects; establish physical infrastructure for training as a joint endeavour of industry and government; create awareness on how training would enhance quality of products and safety as well as standard of workers; create training fund through imposition of a cess on works contract; Linkage Program using open learning and distance mode of education in the modes of Part-time/Short Seminars; open learning and distance education etc.

Harpreet Singh, President of Higher Education, Educomp Solutions Limited also highlighted common skill gaps across different sectors-business communication, basic IT, managerial and technical skills, and have identified sales and customer services as common lacunae. The skill requirements in 21st century are to move towards acquiring jobs of creating and thinking; agility and adaptability; oral and written skills; and change in teaching method pedagogy as it cannot be lecture driven.

According to Raghav Mittal of UPTU Watch, engineers from UPTU have performed significantly better than national average. Their main focus is on regional agenda as to how technology management can reach entire state of Uttar Pradesh.

The event highlighted the key issues that need to be addressed to make learning in twenty first century universal in nature. The discussions on varied aspects covered the areas like quality of education, creating excellence, improving equity, accreditation, and competency of workforce. It focused on how quality of education could be enhanced as per the industrial requirement.
>