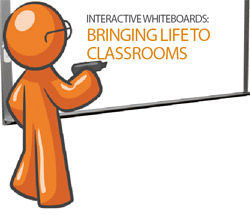 Going out of tradition is hard-hitting and resistive on Indian mindsets. Developing human capability through education technologies is yet to catch up in India. digitalLearning brings out a comprehensive reportage of IWB market scenario in India. Equipped with perspective of service providers and education stake holders we bring out the emphasising on the status of IWB usage in India and level of acceptance among educators. Read on to get an in depth analysis of overall global trends and how IWBs have impacted the Indian education sector
India's Education sector is likely to step up its IT spending to about USD 704 million in 2012, reflecting in a CAGR (compound annual growth rate) of 19 percent during 2007-2012 says the Springboard research report. Traditional education system has undergone a vast change moving out of the era of the blackboard, classroom and conventional methods of teaching to a more intelligent, digitised and smarter way of imparting knowledge. One of the major tools emerged in this changed education system is interactive whiteboard. According to Future Source Consulting, an independent global research company that tracks interactive whiteboard sales, about 7,500 (Rs 75 crore in value terms) IWBs were sold in India in 2009. The agency projects this to touch 28,000 units (Rs280 crore) this year and 70,000 (Rs 700 crore) in the next.

The Indian education segment has realised the potential and effectiveness of imparting knowledge through technology, more and more institutes are adopting interactive whiteboards and various audio-visual techniques like projectors and LCDs. Interactive Whiteboards in the Indian education system has started playing instrumental in enhanced teaching experience. However, the market is still in the nascent stage but almost majority of schools and higher education are showing interest in Interactive Whiteboards into their classroom. Metro cities have grasped the IWB technology very well.

Interactive Whiteboards help teachers to record sessions and share them with students. IWB have tools for presentation like spotlight, snapshot, reveal, sharing. Using the software, teacher can write, draw and annotate on its surface and navigates the computer functions from interactive whiteboard with finger or pen. This powerful versatile teaching tool allows electronic files to be used later for repeated sessions or mails to absent student as an attachment. The software has a built in library of images on different subjects which the teachers can use into their lessons.IWB enables the user to draw, write or making notes, drag and mark up onto the surface controlling the PC. Looking at the lurching market third party research has shown that students and teachers around the world are benefiting from the use of interactive whiteboards and are witness to increased student engagement, learner retention and motivation, improved test scores and attendance are among few of the results.

There are various types of interactive whiteboards and devices available in the Indian market. Interactive white boards are boards which are truly interactive by nature and Devices help in converting normal LCD screens to interactive whiteboard. IR (Infra Red) interactive whiteboard uses infra red beam to make the board touch sensitive. A resistive membrane board consists of two resistive sheets separated by air gap. Electromagnetic Board is composed of grid of wires, operated with stylus.
about 7,500 interactive whiteboard were sold in India in 2009. The agency projects this to touch 28,000 units (Rs280 crore) this year and 70,000 (Rs 700 crore) in the next

Transforming Lessons into Experience: The Leading Players'

Whiteboard market in India is divided broadly into four categories: Branded boards, Chinese boards, and Indian boards and Devices players.

eInstruction, Genee, Hitachi, Panasonic, Promethean, Samsung, SMART come under branded segment. In Chinese segment, Zoulong has been doing well in the Indian market. Globus Infocom is the Indian player predominantly catering to the government vertical. Mimio and eBeam offers devices to the market to convert LCDs into interactive boards.
Emerging Technologies for 21st Century Learning
The future of the IWB is vivid. More and more players are coming in with innovative technology and solutions. Here are some latest solutions are about to hit the market.

Cybernetyx: Cybernetyx plans to launch interactive, multi-touch 77 inches video wall for the education and government vertical at affordable prices significantly lower than generic video walls. Cybernetyx is planning to launch its interactive video wall ONFINIA Interactive Video Walls with rear projection and multi touch technology in the fourth week of April in India and Germany. However, the solution is deployed in some premium schools in the country.

Mimio: It converts ordinary whiteboard into an interactive whiteboard – instantly. The MimioTeach interactive system is a device in a compact bar shape which is to be placed on existing whiteboard. It connects computer to a standard projector. It makes everything accessible on a computer from a whiteboard. It also lets the teacher create engaging lessons with MimioStudio software.

ScienTech: ScienTech has launched eBeam Engage. Their interactive whiteboard device combines more than ten multimedia and navigation tools in one sleek console to make lesson delivery effective and fun. Wireless keyboard eliminates need to toggle between computer and interactive surface combined with high fidelity JBL speakers.

SMART: SMART plans to launch its latest interactive and intuitive product SB885 ix in July. It enhance the power of collaborative learning by enabling two users to instantly and easily work on its surface at the same time using their fingers or a pen. The integrated system combines an interactive whiteboard with an ultra-short-throw projector that virtually eliminates shadows and glare, a multiuser Pen Tray and a control panel that enables teachers to manage all classroom technology products from the front of the classroom.

Clarity : ONFINITY Portable Interactive Whiteboard System Model CM2 Max helps to convert whiteboard, projection screen, plasma or wall into an interactive whiteboard instantly with help of existing multimedia projector.
Leading Players

(In an alphabetical Order)

Aveco: Aveco offers include the most basic features to the most sophisticated technology which are for the customer's benefit and substantial value

Clarity: Clarity India Learning Solutions is a subsidiary of Young India Films, and focuses on Primary, Montessori and Secondary Education. They offer activity based learning offering high quality teaching learning material.

Cybernetyx: Cybernetyx's approach is to introduce further newer devices, and disruptive technology in the learning space. "The rapid benchmarks established by our EyeRIS interactive systems in such a small time, in terms of the user acceptance, and technological breakthroughs, would be made incrementally progressive in the other parallel devices and technologies from Cybernetyx. One of the major fundamentals of the Natural User Interface paradigm of Cybernetyx's Visual Touch technology is "creation through collaboration" enabling collaborative and distance learning through the cloud," informed Nishant S. Rajawat, Director-Technology (APAC), Cybernetyx India

Disprovisual: DISPRO interactive boards are made with latest American E-Beam technology, needs multimedia DLP or LCD projector and a USB port to convert in to interactive whiteboard.
eBeam: The ebeam is a dongle that converts any flat surface into IWB. It's at the centre of many IWBs on the market and uses IR signals for input. It accepts input from a battery powered pen. It needs calibration of the board.

Genee: Genee have comparatively low price complete classroom solutions including visualises and slates.

Globus: It is an Indian manufacturer and their IWBs are reasonably priced.

Hitachi: Hitachi Starboard offers good quality in terms of robustness, accuracy and warranty; it allows interaction from finger and pen. It allows two handed interaction allowing up to nine people to use the board simultaneously. It can use dry wipe marker on the board.

Mimio: Mimio offers devices that convert normal LCD into IWB. It accepts input from a battery-powered pen along with handwriting recognition.

Promethean: Promethean ActivBoards offer interactive whiteboard solutions. Interactive whiteboards are a key component to Promethean's all-in-one 21st century classroom solution: The ActivClassroom. Promethean offers a range of interactive whiteboard solutions to meet needs of today's classroom.

Samsung: Samsung India Electronics (P) Ltd recently unveiled its solutions for the education segment with latest display solutions and customised applications on the Galaxy tab making the classroom room experience more interactive.

Samsung aims to tap educational institutes, plans to focus on 9 cities in India which include
>