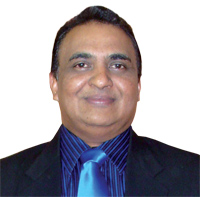 SunGard Higher Education provides software and support, systems implementation and integration, strategic consulting and technology management services to help colleges and universities build, unify and manage their digital campuses. Vinod John, Senior Director (Sales), SunGard Higher Education in conversation with Pragya Gupta shared…
Towards SolutionCentric Approach

Please share with us more about SunGard's operations in India?SunGard is one of the world's leading software and technology services  ompanies. SunGard provides software and processing solutions for financial  ervices, higher education and the public sector. SunGard also provides  isaster recovery services, managed IT services, information availability consulting  ervices and business continuity management software SunGard Higher  education is present in 40 different countries serving 1800 universities and 14 million students worldwide. Today SunGard Higher Education is a leading solutions provider to the higher education community. SunGard Higher Education has recently entered the Indian higher education segment; however india has been a product development and engineering hub for company for many years with around 3000+ employees in India across Bangalore and Pune
How do the Indian higher education institutes look at InformationTechnology and what does SunGard Higher Education bring to the table?
Well firstly, the transformation of Indian Universities has only just begun.  here will be a huge adoption of modern technologies in the near future. That is not to say there is no technology in use, traditionally Higher Education Institutions (HEIs) look at technology to help manage the more traditional  ack office business  processes such as financial accounting, payroll, inventory and so on and provide lab facilities to students. While these are important, we believe institutions can and will look at using technology to deliver more learning content and services to students, to help faculty, to enable collaboration with alumni and industry and to provide progress reports to parents. We anticipate another wave of innovation to occur once the Indian Universities are effectively running digital campus environments. At this point we expect the emphasis to shift to far more personalised learning, with the institution able to adapt and respond to an individual learner's needs. We expect that for teaching and learning technology will help to provide convenient, personalised services for students and improve the overall educational experience provided and also help faculty deliver effectively. Technology will help connect the learning community, help cultivate relationships with stakeholders such as faculty, students, alumni, industry, parents and administrators, and enable wider collaboration between Indian institutions as well international institutions.  A number of HEIs in India benchmark themselves against their more established peers in various parts of the world. To help achieve the goal of excellence in delivering world class education, and related services to students, technology alone is not the answer. The key is to encapsulate best practices followed by institutions using technology and making them available to institutions – that is the business value institutions should expect from companies like SunGard. SunGard Higher Education helps institutions to promote individual achievement, enhance institutional performance and foster education communities worldwide. SGHE fulfills this mission through the technologies and services we offer. Success comes when we help our higher education clients excel in the achievement of their institutional missions, which also operate at these different levels. serve learners as they achieve their educational goals, and we help administrators, staff members, and other campus personnel excel at their responsibilities. a wide array of systems and services that help colleges and universities improve their accountability and effectiveness as organizations, employers, and places of learning. standards boards, and other organizations reflects our commitment to help sustain vibrant, education-focused communities throughout the world At the community level, our technologies support communication, collaboration, and other community needs. Our company's active involvement in higher education professional associations

You have deployed your solution at IIM Bangalore. Please share with our readers the nature of the solution?
IIM Bangalore has implemented Sun- Gard Higher Education's Banner Digital  ampus solution for efficient course administration, better student services and enhanced collaboration with other institutes. Banner Digital Campus is the world's most widely used collegiate administrative suite of student, financial aid, finance, human resources, and advancement systems. IIMB went live with Banner in April 2010. Since then it has also launched its portal "Sarvam" built on SunGard Higher Education's Luminis Platform to provide online services to its various stakeholders including students, faculty and administrators. The Luminis Platform provides the solid foundation of portal features, integrated enterprise applications and supporting infrastructure required to support an institution's digital campus.
In a market dominated by small time ERP players, the solutions  you are offering is different. How challenging is it to convince stitutions  about the value you bring in?
You have to understand we are not an ERP vendor. We are a higher education company providing software and services to 1800 institutions in over 40  ountries. 85% of our service professionals have a higher education background. We bring this wealth of experience when we engage with a new customer. However during the initial stage of our engagement sometimes it's a challenge to make customers who are used to people selling them ERP solutions as a commodity understand the value of our consultative approach. We try to understand the objectives of an institution and the challenges they face in achieving them. It's only after we have done our due-diligence, interacted with various stake holders, understood their specific objectives and  issues that we come up with a solution which would help the institution reach its goals

What future do you see for elearning or online education in India? How SunGard can help this vertical with its solutions?
If India has to achieve its goal of achieving a gross enrolment ratio of 20% by 2015, institutes would have to focus on new channels of reaching and engaging students like e-learning or online education. Secondly it is not only the number of students that matter, quality of education is also of prime importance. We cannot open an IIT or an IIM in every nook and corner of the country, the key is to make the same quality and content available to students even in the most remote parts of the country. This is possible now due to the IT and telecom revolution that has occurred in India during the last two decades
Grab the opportunity to meet the who's who from the world of education. Join us for Higher Education and Human Resource Conclave in Jaipur, Rajasthan on 6-7 September 2018. It will be a wonderful occasion to explore business opportunities. Like us on Facebook, connect with us on LinkedIn and follow us on Twitter.
>