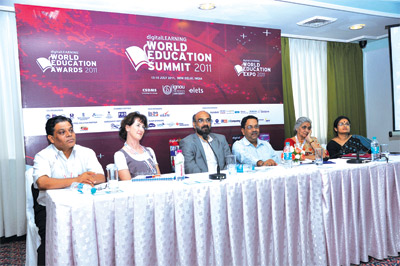 UPSCALING VOCATIONAL EDUCATION AND SKILL TRAINING THROUGH OPEN SCHOOLING: TRENDS AND CHALLENGES
chair: Dr K P Wasnik, Director, Vocational Education, NIOS, Government of India
Speakers
Uma Tuli, Coordinator, Accredited Vocational Institute (AVI), National Institute of Open Schooling (NIOS)

Terry Neal, Flexible Learning Manager, Open Polytechnic, New Zealand

Albert Joseph, Executive Director, FVTRS, Bangalore

Dr Saurabh Prabhakar, Professor, Central Institute for Vocational Education, Bhopal

Alka Bhargava, Director, Bureau of School Education, MHRD, Government of India
World Education Summit has organised a special session in association with National Institute of Open Schooling (NIOS) on trends and challenges in upscaling vocational education and skill training through open schooling.



Dr K P Wasnik, Director, Vocational Education, NIOS, Government of India started the session by highlighting the immense opportunities in agriculture, industries and properly planned vocational training system, which will equip and facilitate the creation of technically qualified entrepreneurs. It faces certain challenges with regard to expansion, equity, and access and cost effectiveness. We need to change the quality; faculty training, recognition and accreditation need to be addressed. NIOS had planned this special session to address these challenges and encourage new ventures.



Uma Tuli discussed about education is not merely a social change but also a creative force which reshapes and remodels society in the desired way. To make it more meaningful it is important to introduce skill training as part of the educational curriculum from primary level. Infact, it is the holistic approach that makes inclusion a reality.




Terry Neal discussed about the vocational training in New Zealand. She defined vocational education as the acquisition of practical skills, attitudes, understanding and knowledge relating to occupations in sectors of economic and social life. She discussed three models of vocational education- formal secondary, formal tertiary, informal training, which can be modeled in any three sectors- private, public and non-governmental organisations.

Saurabh Prakash focused on the application of the open and distance learning methods to achieve the targets of Millennium Development Goals and encourage educational technology. He said there is a need to develop Management Information System for continuous monitoring and feedback, develop suitable material for learners print as well as non- print. We need to train the trainers and ensure quality and monitoring. He mentioned about various projects to upscale Vocational training programs including Hunar Project in Bihar, Udan Project in J & K, Don Bosco Model, RUDSETI and MGNAREGA future target.

Albert Joseph deliberated about rising situation of school dropouts as there are limited courses for such community of students. "We observe that learning materials for students is vernacular and we need to create an environment for women to attend vocational training. The future of vocational training wishes to create a common platform to all the stakeholders and promote trade diversification," he said

Alka Bhargava focused on vocational skills to be embedded in the vocational sector to link between the general education and vocational education. "There is lack of uniformity in the courses so we need to update and reform such a connectivity to help a student to aspire for higher education. There is no recognition of the education given to the artisans. Vocational training has very low partnerships and business ventures in the market. We need to develop a competency based framework to form a standardised set up. We perceive to have a cell in the CBSE in the near future for vocational learning" she said
>