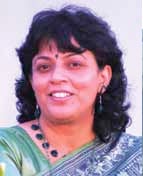 Principal: Seema Jerath
A highly accomplished teacher and administrator, Seema Jerath has been with DLF Public School since March  1998. Her entire life has been devoted to developing new educational practices, which  can lead to better results in the classrooms. Her initiatives have led to the development of a child-centred curriculum that is activity oriented. She has also authored a series of books for parents, teachers and students. She has also been conducting induction  programmes for teachers and parents for the last 15 years.
Technology that enables
Ours is a futuristic school where technology is not just an addon, but an enabler.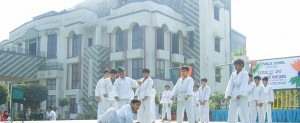 We have always been focussed on creating a judicious combination of dynamic curriculum and technology. DLF Public School has pioneered smart amalgamation Our vision is to enable each learner with such knowledge that he or she is able to embark on an exciting journey of self discovery Vision Statement www.dlfps.com of both technology and activity with a futuristic approach that makes application and synthesis of knowledge an enjoyable experience.
21st century learning environment
The school is working with a variety of educational software, with the objective of providing 21st century learning environment to its students. Teachers have to undergo a continuous process of training in using the new software. The school has joined hands with EZ Vidya under its "Chrysalis – Fly with Me Programme". Under it, the school intends to create a future-ready, 21st century learning environment by using cutting-edge technology. The school has also partnered with Promethean Planet to update the ICT skills of the entire teaching and non-teaching faculty. ThinkQuest, an online learning platform from Oracle, has helped teachers and students develop important 21st century skills, including communication, critical thinking, and affinity for technology. The school intends to include many other digital teaching tools into its curriculum in the years to come, including audio visual 3-D lab, Robotics and Language Resource Centres ,
>