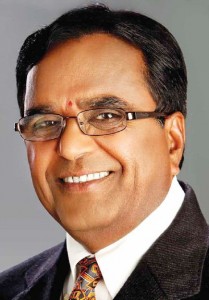 Ponnala Lakshmaiah, Minister of Information Technology & Communications, Government of Andhra Pradesh has contributed in the areas of policy formulation for hardware, animal husbandry, dairy development, poultry, and allied industries in the state of Andhra Pradesh. Ponnala Lakshmaiah's political career that spans over three decades is focused on service to the socially and economically challenged sections in the state of Andhra Pradesh
In conversation with Pragya Gupta and Nayana Singh, he highlights the various initiatives taken by the state for the development of IT  sector.
The IT industry in the state has been growing at a healthy rate. What kind of contributions, in terms of enacting new policies, has the  government in the state made for the development of the IT industry?
The ICT industry has always been the main driver behind the jobs creation and fostering of regional development in the country. The  Government of Andhra Pradesh is committed to the development of a more competitive industrial environment. There are large  numbers of initiatives that we have taken to develop the IT industry. In order to promote sustained growth of ICT sector, not only to  enhance the balanced regional socio-economic development but also to spread the usage of IT to the last mile of the State, for the  benefit of common man, Government has announced the ICT Policy 2010-2015. If I may say so, the IT Policy in the state is far more  effective as compared to that in any other state in the country. As a matter of fact, it is well known that in the world one out of every  three IT professionals is from India, and one out of every three Indian IT professionals is from Andhra Pradesh. This by itself is a proof  of the fact that the state is blessed with abundant talent in the field of IT. There are more than 700 institutions in the state that are  engaged in churning out highly competent IT professionals. These talented professionals coming out of our institutions serve the manpower needs of not just the Andhra based IT industry, but the entire world. It is a result of work done by the government on the  policy and infrastructure front that we have so many institutes capable of providing world class training in IT related subjects.
A decision to set up Information Technology Investment Region (ITIR) around the city of Hyderabad has also been taken. Will this  also lead to improvement in the size and scope of IT industry? 
I was about to come to ITIR. The Centre has finally gave "in principle" approval to the Andhra Pradesh government's proposal for  setting up an Information Technology Investment Region (ITIR) around the city. This will give a much-needed boost to the state's  efforts to attract fresh investments into the industry. The ITIR will be developed in an area of 202 sq km (50,000 acres) in two phases  over a period of 25 years. The ITIR is aimed at attracting an investment of `2.19 lakh crore in the ITITES sectors and create direct  employment for 15 lakh youths. ITIR is a combination of production units, public utilities, logistic, environment protection  mechanism, residential areas and administrative services. ITIRs will include Special Economic Zones, Industrial Parks, Free Trade  Zones, Warehousing zones, Export-Oriented Units, growth centres, existing settlements and estates.
It is an accepted belief that IT industry is concentrated mainly in the urban areas, so what steps you are taking to develop IT industry  in smaller towns?
The government is taking many new initiatives to ensure that IT industry can also move into our tier II towns. Many new institutions have been allowed to come up in the towns. In fact five years ago, hardly any IT industry was located in the town of Vizag, but now the  same place generates revenues of more than `1,000 crore. Similarly things are going to pick up at other towns also.
You have been associated with many rural development projects. In your opinion what kind of impact ICT can have on rural  industries and in agriculture?
Modern technology has a role to play in every sector, including agriculture. For instance, in agriculture you need to know the  nature  of the soil, you need to know what kind of fertilizers will be most suitable. You will need information on transplantation of the produce post harvesting. The thing is that such information can be more easily accessed through the use of technology. Nowadays we have  computer systems that can be accessed in Telgu language. This has brought computing and Internet close to many farmers. In fact, I  would like to tell you that we are one of the first Unicode members along with IBM, Honeywell and Microsoft. Only nine entities are the  permanent members, Andhra Pradesh is 10th member. We are taking active measures to ensure that Telgu becomes one of the premier   languages for conducting business on the web.
Connect with decision-makers from 300+ Schools, 100+ Preschools, 20+ Government Dignitaries & 10+ Investors at power-packed Elets 6th School Leadership Summit on 24 February, 2018 in New Delhi.
>