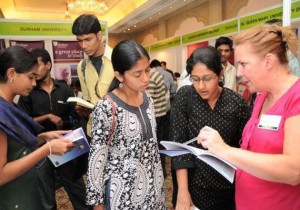 British Universities are trying to bend over with scholarships to attract Indian students into their campuses.
A survey done by the London's universities found that an average of Rs 250 million has been awarded to students each year from India and 0ver Rs 700 million over the last three years.
The figure could actually be three times higher as just 17 universities in the London University International Partnership (LUIP) took part in the study.
Jennifer Parsons, chair, LUIP stated that studying in London is an investment in terms of money but in other ways, as businesses become more and more international, a combination of high quality teaching and critical thinking skills helps set London students apart, making them very marketable in a global market.
The British Council recently announced the biggest number of scholarships in India ever launched in a year by offering 370 scholarships worth almost £1 million across UK universities.
The LUIP Alumni Survey found that 24% and 19% of students in UK hailed from Mumbai and Delhi (NCR), respectively.
The Vice chancellor of Britain's premiere Cambridge University recently warned that Britain's stance on migration is increasingly making Indian students feel unwelcome.
The numbers of students to all universities coming to the UK from India fell by 38% between 2011 and 2012.
Income from international students generated through their tuition fees in 2012-13 came to £3 billion, which represented around 30% of all tuition fee.
England has recorded a sharp dip in overseas students enrolling in British universities – the first fall in nearly three decades (29 years), thanks to Indians giving it a skip.
Data revealed by the Higher Education Funding Council for England (HEFCE) shows that the number of Indian students fell from 18,535 in 2010-11 to 13,250 in 2011-12 and further to 10,235
Like us on Facebook, connect with us on LinkedIn and follow us on Twitter.
>