DigitalLEARNING
Asia's premier magazine on education, digitalLEARNING was founded in 2005. Its mission is to raise awareness about how Information and Communication Technology (ICT) is playing a seminal role in enhancing the scope, reach and quality of education.
In essence, digitalLEARNING offers an unbiased presentation of the myriad issues that lie at the core of this technological innovations in education versus 'traditional educational methods' debate.
The magazine reports from a complete 360° perspective – through high-quality print and online formats, newsletters, social networking outlets, and prestigious events, summits and conferences on education. In the crowded field of educational publications, digitalLEARNING stands out because of its useful, bold and analytical coverage.
With over 13.5 million page views so far, digitalLEARNING, Asia and Middle East's largest portal on innovation in education, has created ripples in the education world. Today, it has an active user base of over 2.2 million which includes government officials, edu-leaders, vice-chancellors, principals, parents and students. The portal prefers hitting upon issues relevant to latest trends, emerging ideas, fresh insights and significant news from across the education landscape.
With up-to-the-minute reports on latest developments in education, insightful commentary on the new ICT innovations, and novel perspectives on traditional teaching tools, digitalLEARNING aims to be your first stop for what's new and what's next in education.
*******
About Elets Technomedia Pvt. Ltd.
Elets Technomedia Pvt. Ltd. is the publisher of digitalLEARNING magazine. The company also publishes two other popular monthly magazines – eGov and eHEALTH, besides a bi-monthy magazine The Banking and Finance Post. All three magazines are available in print and digital version and are known for their in-depth coverage of ICT technologies, insightful commentary on stakeholders involved, and interesting perspectives on the ways by which newer tools from ICT are bringing seminal improvements in people's lives.
A premier media and events management company, established in year 2003, Elets Technomedia Pvt. Ltd. is also engaged in organising events and conferences in different locations in Asia. Leading thinkers, politicians, policy makers, academics, authors, experts, industry leaders and administrators grace the events and conferences organised by Elets Technomedia Pvt. Ltd. and contribute their thoughts and ideas for the general benefit of society.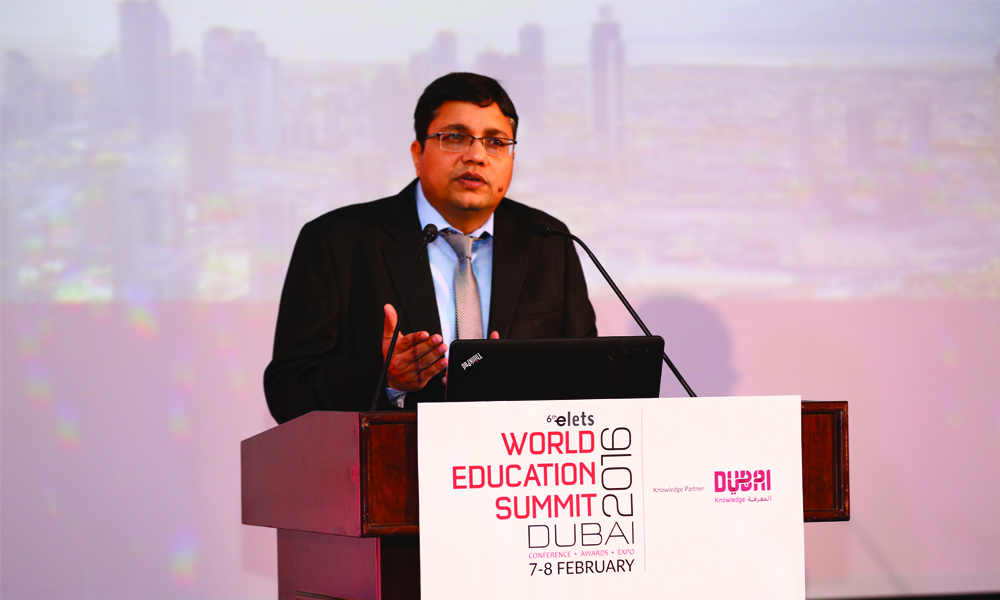 Dr Ravi Gupta  —  A Brief Profile 
Founder Publisher, CEO and Editor-in-Chief, Elets Technomedia Pvt. Ltd.
Dr Ravi Gupta, a social entrepreneur, has been promoting innovations in various sectors for the development of society for two decades through research, advocacy, conferences, publications, and workshops in several countries including India, UK, USA, Tunisia, Geneva, Dubai, Bangladesh, Sri Lanka, Malaysia, Thailand, United Arab Emirates and Bahrain among others.
Dr Gupta's illustrious professional career encompasses a variety of rich experiences. He co-founded the Centre for Science Development and Media Studies (CSDMS) in 1997 and Geospatial Media & Communications in 1999. From 2001 to 2003 he was a member of the 'National Spatial Data Infrastructure' Task Force of the Department of Science and Technology, Government of India.
In Netherlands, he worked as a Member of Research on National Geographic Information Policy Initiatives of several developed and developing countries in 2003.
In 2009, Dr Gupta received 'Community Builder of the Year' Award, given by UN Solution Exchange India. He worked as member of UN GAID Strategy Council for two years (from 2009-2011 FY). During 2010-11, he worked as an Executive Director at "Global Knowledge Partnership Secretariat (GKPS)". He was also the Co-Chairman of the Education Committee at Ph.D Chambers of Commerce (2011-12). He has also been a member of the "Expert Group on Digital Economy Strategy for the Arab World", which is led by Arab Federation for Digital Economy, League of Arab States.
Dr Gupta has a Ph.D in Business Economics from University of Delhi and holds M. Tech from the prestigious Indian Institute of Technology (IIT) Roorkee, India, where he studied Applied Geophysics. He received another M. Tech from Indian Institute of Technology (IIT) Kanpur, India, studying Remote Sensing & Geographic Information System (GIS).
Presently, Dr Gupta is the Founder Publisher, CEO, and Editor-in-Chief of Elets Techonmedia, a media research and innovations advocacy organization that he co-founded in 2003. The company, since 2004, has been publishing premier magazines such as "eGOV", "digitalLEARNING", and "eHEALTH". In 2015, another magazine, "The Banking and Finance Post", was added to the list. Today, these publications focus on a variety of themes such as tourism, environment, housing, power, transport, waste management, digital learning, start-up, smart city, urban development, green building, IT Security and Public Sector Undertakings (PSUs). Through Elets Technomedia, Dr Gupta has conceptualised and organised several national and international conferences like eIndia, eAsia, and the World Education Summit in different parts of the world.