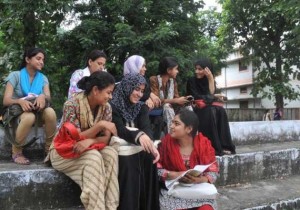 The Allahabad High Court has ordered authorities at the Aligarh Muslim University to allow girls full access to its central library. The move comes on the heels of Vice-Chancellor (VC) Lt Gen Zameer Uddin Shah having triggered a controversy by saying that granting access to undergraduate girls would invite "four times more boys" to the Maulana Azad Library.
Union HRD minister Smriti Irani had termed the VC's remark as an insult to women. Minority Affairs minister Najma Heptulla and Congress leader Rashid Alvi too condemned the statement.
However, Lt Gen Zameer Uddin Shah later clarified that his statement was misinterpreted and sensationalised. The High Court issued notice amid reports of the university bowing down to massive pressure and informing the HRD ministry that a request by the Women's College students to access the central library is under consideration.
The Women's College Students Union president Gulfiza Khan suggested that instead of imposing restrictions on girls, the college authorities should introduce safety measures. After the issue triggered a national debate, the Women's College Students' Union and the AMU Students' Union held a joint protest march on campus against the media for its "biased" reporting on this matter and asked the HRD ministry to stay away from the issue.
>