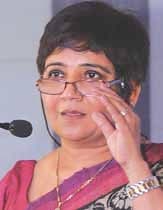 Seema Parihar
Joint Director,
Developing Countries Research Centre,
University of Delhi
Higher education doesn't simply mean generating employment; it is much more than that. It is about inspiring people with a new vision; it is about educating people to develop new skills; it is about enabling people to support themselves and take the mission forward.
Partnerships are not only about profit making. It is about building confidence in the education system. It is about enhancement of education. And this is the right time to achieve this target. This is the time when we are talking of advancements in the system. Administrators should have strong responsibility. They should be the ones to showcase data and that can be possible only by speeding up the process by which education is imparted.
People enter the education system as they consider it to be a place where they can think freely. They should be given that freedom to think.
Grab the opportunity to meet the who's who from the world of education. Join us for World Education Summit in New Delhi on 9-10th August 2018. It will be a wonderful occasion to explore business opportunities. Like us on Facebook, connect with us on LinkedIn and follow us on Twitter.
>