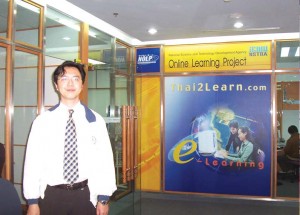 Online Learning Project (NOLP) is a project initiated by the National Science and Technology Development Agency (NSTDA) as  part of the Thai   government's information technology and  education policy to research, develop and promote the using of e-Learning  in Thailand. NOLP provideseducational service and online learning facilities in line with the  learner's interests and aptitudes as mentioned in the National Education  Act of Thailand. The project aims to increase the channels of education  conveniently and flexibly through comprehensive web-based  programmes.
The focus
NOLP primarily focuses on five main  activities- • Research and Development of e- Learning Technology Platform  (Both Server and Client Software) to meet the basic requirement of Thai's Education and human resource development. By  using open system technology, NOLP  e-Learning Platform conforms to International eLearning Standard  especially ADL SCORM Standard. • Research and Development of e-Learning tools for content  development. NOLP focuses on Web based content authoring  and managing tool, that facilitates the sharing of resource for the  content developer and Content expert to work together. The
content developed by this tool  must conform to SCORM Content Standard too.
• Demonstrate and develop the  high-quality e-Learning content using fully interactive multimedia.  By using ADDIE (Analysis, Design, Development,
Implementation and Evaluation  Model), the content is designed and developed focus for the  target learner. • Promote the understanding and use of e-Learning Standard for developer, users and decision  makers to utilize such specification for their system • Train developer to have the  capability to develop the SCORM
Content Standard NOLP consists of a team of specialists  who caters to institutes and corporate  partner's needs through a detailed analysis of their difficulties and  problems. NOLP e-Learning Development System (NeDS) enables teams of subject-matter experts (SME) to collaborate with NOLP's  production team on large-scale courseware project over the Internet.  Using NOLP's predefined templates  and central content database, NeDS helps to eliminate many  imeconsuming  variables found in traditional e-course development  methodologies and technologies.  NOLP Manager, which is a browserbased set of tools that allows organization to manage e-Learning  activities and site  unctions for their  e-Learning site. NOLP provides Courseware Hosting, Delicate e-  Campus Servers, Co-locations  Services, Back up, Maintenance and Mirroring of e-Campus Server. NOLP 's learning infrastructure  provides facilities for  tudent, teacher  and content provider in the main areas  of creativity   pplication, information access, collaboration and content tools. All NOLP &  nfrastructure Ls based on learning standards such as  AICC, SIP and LRN for interoperability.  Key initiatives
Learning Management System (LMS)
NOLP's LMS initiative was a flagship initiative that enables student or customers to deploy and manage all aspects of their learning needs and to  assess the skills and learning needs of their employees. NOLP has developed  the NOLP-LMS version 2.1 that provides an easy and dynamic  mechanism for instructor to deliver learning content, manage and monitor  student participation, and assess
student performances. NOLPLMSTM  also handles administrative functions such as course scheduling,  registration, and enrollment.
The NOLP's LMS supports AICC
compliant interface and content  adapter technology, system managed assignment, scoring and tracking of elearning  content from any kinds of authoring tools which compliant to  AICC. NOLP's LMS also supports the
delivery of multiple type of learning activities with in an institution or organization including instructor-led learning, training  delivered on CD-ROM or e-learning courses delivered over an  organization's intranet or internet.
The technologies incorporated in LMS support integrated management  solutions that are designed to scale from one to multiple servers while  maintaining centralized administration  to support a large number of  oncurrent
users.
Content Authoring and Management system ( CAM) NOLP has also developed CAMS
(Content authoring and management), which is the web based software tools
for content authoring and Key features of the LMS
• Deliver and manage blended learning experiences
• User-defined hierarchical content structure
• Flexible learning sequence
• Support multiple learning sequence on single content structure
• Automatic learning evaluation with multiple grading-systems support
• Adaptive learning based on learning and testing score
• Prerequisite checking
• Classroom management with customizable schedule and seat capacity
• Support self-enrollment
• Individual and group registration
• Support bulk registration through batch file
• Support multiple-course registration
• Automatic waiting list management
• Manageable learner status and transferable learning records
• Provide course catalog and scheduling
• Support SCORM Vi .
2 conformant courses management. This  software unlike other authoring tools uses Web technology. By this  technology the content  developer, instructional
designer, multimedia producers and subject  matter experts can work together more effectively.  NQLP CAMS enables the developer to create,  store, assemble, manage and reuse digital learning  content. CAMS provides an easy-touse  environment with Template-based content creation in WYSIWYG mode.  NOLP collaborative efforts NOLP has also worked closely withMinistry of Science and Technology to set up and operate the Science and  Technology Knowledge Center  (STKC) Project. The aims of this project is to promote Science & Technology for Thai citizen. As a part  of the project, the biggest S&T portal  in the country http://stkc.go.th has been set up. . The portal consist of 6 subsystems i.e. 1. Virtual Library 2.  S&T Knowledge Bank 3. Forumdiscussion 4. Virtual Museum 5. e- Learning 6. eService . NOLP has been  the key player to help the setup and  operation of the project. For more information on NOLP visit www.Thai2Learn.com  The Ministry of Science and Technology of Thailand has signed a  MOU with Educational Institute in Canada (Vancouver School Board – VSB and Co-operative Learning  Object Exchange -CLOE at University of Waterloo) to develop 'Learning  Objects' for Science and  echnology. 'Learning Object' by definition is the  small chunk of content that is 'selfcontained' i.e each learning object can  be taken independently. The first pilot of the Science and technology  Learning Object (STLO) Project willdevelop 70 LO in Earth Science in bilingual.