Things are changing around us at a phenomenal pace in the new era. Today our students carry mobile phones, which are packed with a wide array of functions, Personal Digital Assistants (PDAs), digital cameras, and MP3 players that are of the size of our index finger. One of the reasons we as educators need to change how we teach is because everything else around us has and we are desperately playing catch-up! In order for our education institutions not to be left behind, we need to stay relevant.
At Henderson, it is realised that in order to continue engaging our students effectively a transformation would need to take place. One such transformation involved experimenting with podcasting in the classroom. More experiences from Paviter Singh, Head, Humanities in Henderson Secondary School, Singapore.


What is a podcast

The first time our teachers heard the word podcast, they had no idea what it meant. The word is a blend of two terms, iPod and Broadcast. Contrary Why use Apple technology?

When we started this project with our students at Henderson Secondary School in Singapore, many teachers were skeptical. The students were very keen but the teachers needed to be convinced. Change always requires us to move out of our comfort zone and embrace something different.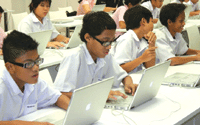 We led by example. Leadership is an essential component of change management and we are fortunate at Henderson to have a supportive Principal and Vice Principal who gave us their wholehearted support. With their help, we went ahead with the podcast project. Our colleagues, along the way, realised how great an impact our lessons were having on the students and it was not long before more teachers were enquiring about podcasting and if they could learn how to create their own podcasts.
Over the course of 2006, the number of teachers who use Apple technology and are now creating their own podcasts has grown from one to eight. These eight teachers come from three different departments; namely English, Humanities and Aesthetics. Some of these teachers have been in the education service from between two to twenty years. Some are young, eager and quick learners while others are older, still eager and determined to learn fast. There is therefore no truth behind the tale that ICT is led by the young and innovation should be left to the fresh graduates.
The background to the project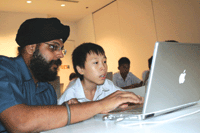 At the heart of our podcast project was a deep desire to get our students to participate in our Social Studies lessons. We realised that the levels of motivation were dropping, students were not bringing their books and some were even dozing off during our lessons. We wanted to create lessons that would excite and engage our students. At the same time, we were acutely aware of the call to re-look, review and revisit our pedagogy and teaching practice coming from our Prime Minister and Education Minister in the form of two initiatives, Teaching School, Learning Nation and Teach Less, Learn More. Podcasting was one approach to addressing our challenges.
Beginning with the end in mind

One of the aims was to introduce a holistic approach to the teaching of Social Studies. We realised that many students did not do well in Social Studies because they had a poor command of English. Therefore any attempt at improving their scores in Social Studies had to begin by addressing their English ability. This is where podcasting was an excellent approach. Creating a podcast required students to first come up with their own script. Although they could search the Internet, locate resources and adapt from what they found, students would need to be able to pronounce what they chose to include in their script. This forced them to understand and learn the meaning of new words and phrases on their own. Students also had to take digital photos that corresponded with the words they were saying. They could then add hyperlinks to their research websites and or PDF files for reference.
We were also mindful of the different learning styles of our students. Usually our lessons and teaching programmes might not catered to the kinesthetic and visual spatial abilities of our students. This needed to change to accommodate how best our students learnt. Podcasting was interactive. Students needed to search for resources on the Internet, discuss with each other what to include, take photos, read out loud, be expressive, listen to their recordings, listen to music and at last pull all of these together into a podcast.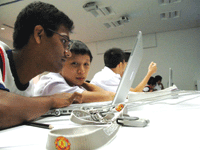 Students Perspective
Podcasting is so much better than doing PowerPoint presentations! It's more interactive. I get to record my voice and even insert pictures. It's almost like creating my own documentary.

Progress with the project The project that began focused on one topic in the Social Studies syllabus. The topic that was selected was one which students dreaded studying and occupied more than thirty pages of the textbook. It had multiple case studies and involved several events and names. At the beginning, students were briefed on their lesson objectives that were: to form their own opinions and perspectives; to present their findings in an innovative way and to take ownership of their own learning  After the briefing, students were grouped into teams of two. They then had to select their project title and begin research. In order to prevent students from being buried in, they were given a set of guidelines as to what they needed to look for. The entire set of briefing slides were put online. These can be viewed at  http://www.pavitersingh.com/ humanpod. The set of guidelines as well as a template for students to use in coming up with their script was also put online. The project website was created so that students could refer to the material and resources at any time without having to approach the teacher. This was one way in which they were encouraged to take ownership of their own learning. Once students completed their research, they needed to sign up for "time slots" to record their scripts. To
get around this, we arranged for 3-4 teams of students to use the computers at any one time after official school hours. We explained to the entire class how recordings were created using Garage Band (a programme in iLife 06) and let them experiment and do it on their own.  This autonomy was a test for the students. They were being left on their own and needed to fulfill a task, which had set them. Once the teams had done their recordings, these were saved as MP3 files. It was only then, during the next session that the entire class gathered to compile their digital images, hyperlinks and audio recordings to form a podcast. This session took between 1-2 hours. The final products are available online and have become a resource for other teachers and students who study that topic. After the project with one class, the same project was repeated with other classes and a total of 150 students went through this programme.
Teacher Created Podcasts The student podcast project was successful that my students asked me to podcast my lessons and makes them available as revision notes and study guides. Taking up their suggestions, I created, close to 50 podcasts of Social Studies lessons, which are available, online for all students and teachers to download. I am glad to say that more than two hundred students have visited the website and downloaded these podcasts.  Podcasting in English and Art!  Since the Social Studies Podcastproject, the English and Art teachers in our school have begun to create their own podcasts of lessons and are using these as teaching resources to be shared among teachers. According  o them, it helps to ease the preparation load as well as guides beginning teachers who might not be as familiar with regards to the teaching methodology