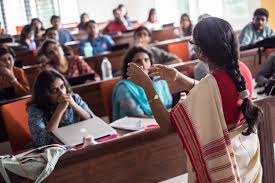 What is so special about teachers? Why are we focusing on them? There is no apprehension in my mind while saying that teachers have a forceful influence on learning, and good teachers ideally produce good learners with the right values, attitudes and behaviour, equip learners with life skills. Investing on teachers and their professional development has proven crucial with the country experiences that have attained high learning outcomes.
China and India are home to over one third of the world's population and home to over 15 million teachers. The geographical spread of these two countries alone poses a tremendous challenge. The need to focus on quality is evident as teachers are the future builders of the citizenship of any country. The dismal amount of training that the in-service teachers receive currently or even total lack of it is evident by the growing number of untrained teachers being recruited in rural schools to fill the gap of teachers in schools.
Educational systems around the world are under increasing pressure to use the new information and communication technologies (ICTs) to teach students the knowledge and skills. For education to reap the full benefits of ICTs in learning, it is essential that pre- and in-service teachers are able to effectively use these new tools for learning.
Since long, the education researchers point out the problem of teaching quality, that perpetuates the barriers to empowerment and equity. Pre-service and in-service training are often not integrated into reform efforts. In many developing countries, teachers have no formal pre-service education at all.

To maintain the quality, it is indispensable for governments, donors, and all stakeholders to form partnerships with teachers to improve their status and promote social dialogue. With the emerging new technologies, Teacher education institutions May either assume a leadership role in the transformation of education or be left behind in the swirl of rapid technological change.
In this issue, we have looked at some national level initiatives and cases of programmes designed to empower the teacher with skills and capacities to become teachers of tomorrow.  The task is not easy. There is need for private sector commitment and partnership to address the huge investments needed to face the challenge of a brighter future for teachers and quality education, as we all move towards a knowledge driven economy.
We are also pleased to invite our readers to partner and join the face-to-face conference being planned by us from July 31 to August 3, 2007, at Taj Palace, New Delhi at the eINDIA 2007 conference. Check out the details in this issue, and mark your calendars!

br>