Jawahar Navodaya Vidyalayas are leading examples in successful integration of ICTs in public sector schools. What is your vision for the JNVs in the digital age?
Jawahar Navodaya Vidyalayas (JNVs) are on the forefront in the country on integration of ICT in teaching and learning. All the teachers are trained in application of skills of computers and Internet in preparation of lesson plans, interactive learning, sharing and dissemination of resources. Following the state-wide launch of ICT@School programme by the Ministry of Human Resource Development (MHRD), we have achieved in establishment of 33 smart schools, one each per state and UT as the model schools with all the necessary ICT infrastructure and applications for teachers and students. Our vision is now is to make every JNV a smart school by 2010. We are progressing towards developing smart classrooms in each school, ICT-enabled with an LCD projector, television, computer and Internet connection to effectively integrate ICT in teaching learning activity.

ICT infrastructure is a key challenge in implementation of ICT in schools. What is the strategy devised by NVS for successful deployment of ICTs in JNVs?
ICT infrastructure is a big challenge. Because our schools are located in the rural areas with less than six to eight hours of power supply. NVS strategy for ICT deployment was twin-fold; firstly, we have planned for the physical infrastructure and secondly, we have planned for the ICT infrastructure. We have allocated one classroom for 40 computers as school building plan component. The ICT Infrastructure like hardware, software, peripherals, etc are provided by the leading IT companies, our current computer – pupil ratio is 1:12. Internet facility is also available to minimum of 10 computers in a computer lab. Currently, 201 JNVs are provided with VSAT facility with a minimum speed of 256 kbps and the installation process is on for 100 more schools.
We have developed partnerships with leading software providers for software solutions for JNVs. We have collaborated with Intel for teacher training, with Oracle for using the portal think.com, CII-Siksha for using open source software. With content software we have had software from Microsoft, Intel, Azim Premji Foundation and then CII Siksha programme have given us some software. We use Microsoft as operational software, and are moving ahead towards using open source software in parallel. For the first time, we have provided open source application software open office to all the schools in the current year.
How are ICT facilities in schools being shared for community benefits?
Computer-aided education is implemented in 541 JNVS and 502 JNVS are provided smart classrooms across various states in the country. We have started another project with Intel Learn, community programme, under this the children from the neighborhood schools in rural areas are trained in the use of ICT and they also take up projects related to problems of the community. We keep our computer laboratories open during the summer holidays for the children from the neighborhood primary schools that lack access to computers, to come and learn ICT applications. We are also planning to keep our infrastructure open in the evening, but right now we are providing training to the local school students. Each Navodaya Vidyalayas adopts one school every year; so far we have trained 50,000 thousand school children under this initiative of ICT@school programme.
What are the initiatives undertaken by NVS for capacity building of teachers and principals?
The training of teachers and principals in IT skills is very important for success of ICT programmes in schools. The training of teachers for computer uses is conducted with assistance from Microsoft, Intel and Oracle. With Microsoft we have signed a MoU under their programme of project Siksha or Partners in Learning. Under the programme they provide the necessary faculty and the necessary training material including the texts to be used by the teachers and we provide the necessary infrastructure. It is a comprehensive programme covering basics of computers and applications such as word, excel, power point, Internet browsing, e-mailing, etc. and how to use these technologies in the classrooms. We have the Intel Teach programme for the teacher professional development alongwith online teacher-training programme that we are piloting Intel.
NVS is piloting the Intel "Classmate PC" project in schools. Could you elaborate more on the Intel laptops pilot project? If its useful would you scale it up?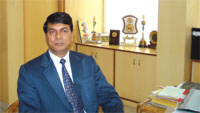 Intel has developed a low cost laptop "Classmate PC". It's a small laptop device with all the capabilities of a computer, and runs on a battery. It does not have a hard disk but it uses the hard disk of the server and it is connected by a wireless to the whole community. For example, the Navodaya schools as is spread on a 30 acres campus, can now enable children to keep this laptop anywhere in the campus they are always connected with the main server in the vicinity of the particular campus, they can have every Internet facility available and send e-mails. What is interesting is that important lessons are installed on the "Classmate PC" the child can access those lessons on that. The children can chat with the teachers and discuss about their assignments with the teachers and other students. This pilot has been launched in Faridabad, Intel provided 80 of them free of cost and with the other supporting staff, Internet connectivity and training.
How do you provide digital content to your schools?
The digital content is made available from Microsoft, Intel, and other partners. We have been using open source content and apart from that, the teachers themselves are developing content. We have trained them to the digital level, they make the lesson plans, e-Contents and e-Contents being developed by some school in physics, biology, mathematics etc. we share that. As such we have not bought any content to supply to the teachers, our approach is to empower the teacher to make their teaching more interactive.
Have you thought of using interactive radio, video conferencing or using EDUSAT?
We have EDUSAT connectivity, four of our training centers called the National leadership institutes, including headquarter office, has EDUSAT facility. We use it for video multicasting and also for sharing of information and between the head office and our network schools. Currently about 200 schools are using this facility. The topics discussed are varied, ranging from career counseling, staff, safety and security to programmes and academic improvement. We get the feedback from 200 schools in 2 hours and we settle their concerns and issues immediately, with concerned officers online.
Would you like to share more on the monitoring, assessment and feedback of your programmes?
We have evolved a feedback programme for monitoring, under that we have a detailed questionnaire pattern at regional office level, with a officer designated specifically to take care of the ICT activity. Each region has about 60-70 schools and are divided into clusters of 10-12 schools. Each cluster of schools has an in-charge officer and is responsible for all activities. We are continuously updating our system and there is a need to build in more components to evaluate and monitor the success of our programmes.
What are the critical challenges that the government schools particula
"Exciting news! Elets Education is now on WhatsApp Channels Subscribe today by clicking the link and stay updated with the latest insights!"
Click here!