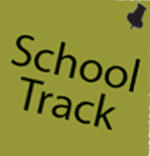 Kothari  international School, a GEMS affiliated school situated in Noida, India catering to students from Playschool to Grade 10 follows the National Curriculum for England and the Central Board of Secondary Education (CBSE). As one of the world's largest providers of private K-12 education, GEMS Schools caters to nearly 65,000 students from 124 countries. KIS benefits from the sharing of best practice across the GEMS and other global network, aimed primarily at enhancing the standards of learning and teaching. The principal Madhuri Parti shares her experiences of integrating technology into the school curriculum.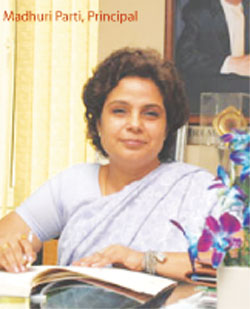 How do you see the usages of ICTs in teaching and learning processes?
Until and unless we as schools and as teachers have our role clear in ICTs, it may seem like we are just the facilitators, guides, and the outsiders. It is very important to understand how do we watch and how much we see from outside! Instead of becoming an informational tool, it has become a communication tool. We go on the Orkut, we go on Google, Yahoo…, we just talk. The idea is not that. Communication is one of the things that we want children to do, but that is not the only thing that we want them to do. So here comes the role of schools, teachers, parents, and leaders, to take it beyond communications, to facilitate for further knowledge.
We did a website for school- Vasudhaiva kutumbakam (All the world is but one) – www.effortsunited.com. Here we brought in everybody together, parents, teachers, students, govt., and the community at large. We had captured right from Kashmiri Shawlwala, what is the impact of terrorism in his life, up to the government, people who have been on their peace force, to every strata and segment of life. So we get the students technology, but at the same time we facilitate.
Even when a child is a couple of months and we give him his first toy, a rattle, we actually make him to imitate by acting in front of him. Hundreds of generations have used the toy, but still before giving the toy, a tool to enjoy, we tell the child how to go about it.
But when we are giving something as powerful as ICT, we as teachers, parents, do not  take our role of telling them how to go about it.  Unless and until we, like a rattle, tell them how to use it before actually handing it over, we cant succeed. So, integrating that into our system and not as a subject to be taught, but as one of the tools of learning, that will be the best of options we have.
Has the classroom(s) gone beyond computers, when we talk about technology?

Of course! Technology has taken classrooms to collaboration at global level. We are participating in various contests, we are doing a lot of web conference in different parts of the world. We have lot of e-pals…
What is the participation level of the students in all these activities?

Most of these activities are carried out by students only, where teachers only facilitate. There are partner schools we have in different parts of the world, which are again not necessarily only the GEMS managed school, but others also. We are going through Mondiaigo, UNESCO; we are going through Think Quest. We have done lot of collaborative learning  and thinking, and bring the  concept of I, You to WE. There are lot of projects happening in collaborative learning and thinking in different parts of the world.  That is how we have to bring the globe together. That's how we have to make the children feel that we are all a part  of the same earth, where there are  no boundaries.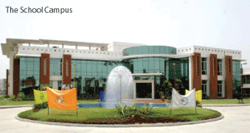 Any kind of difference do you notice with children in such collaborative learning process?

See, these include a lot of team work. There is lot of analytical thinking and collaborative thinking that is happening. We are all plus-minus as teenagers, facing the same difficulties in our lives. We go through the same cycles.There is nothing different in other parts of the world also. It is plus-minus of few cultural differences, but then we are all part of the same world.
Would you like to discuss more about these global collaboration projects?

We are collaborating with the iEARN (International Education and Research Network) in India; with Mondialgo, UNESCO in Czeck; Think Quest with Oracle, 'Doors to diplomacy' with Global SchoolNet. We are also doing 'CyberFair' with Global SchoolNet.
From computer education to global collaborations…where are we moving with technology?

Computer is just a tool of learning. This tool should now enhance the other components of education- the content, methodology… We had the simplest of the pen earlier, that we used to dip in ink and write. Today, it has developed into Luxor. Has that changed learning? It has only enhanced learning. These are tools to enhance learning and we learn to handle them to enhance our learning. The ultimate goal is to enhance learning, and not to sound hi-tech, whether it is a smart board, computer, video conferencing….
The other important aspect is- we spend lot of time with children. But then we forget to tell them to use their time constructively. If we are giving something like this to children, then there is time-management to be taught to them. How to handle the spare time that you are left with is important, if you are enhancing the time Vs achievements.
How do you build teachers' capacities in rendering technology mediated education?

There are lot of in-house teachers' training. We call lot of people from out side, who add to our capacity building programmes. Last week, we had a team from Australia, who shared with our teachers as to how technology is being used there. A team from UK again talking on how multiple intelligence along with the ICTs is being included in the school curriculum.
What are the challenges you come across while integrating technology to the teaching learning process?

Teacher's training was a big challenge. Our teachers, of course, are trained to handle technology very well. But certainly, how to integrate it into education is one thing we are still struggling with. We have much better plans for next year. Curriculum for 2008-09 is going to be technology driven. But as I shared earlier, before handing it over to children, we will tell them how to use it.
How do you evaluate the plentiful content or teaching learning material provided by the solution providers today?

We are also negotiating with lot of  the solution providers for such materials, basically for the content. But we do not want couch potatoes. I am not looking for somebody who would give a ready made information to