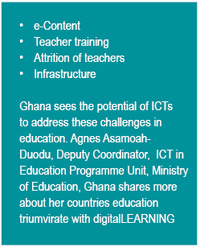 Could you please give a brief introduction on the education scenario in Ghana, with reference to technology mediated teaching and learning and the emphasis laid on it?
The Ministry of Education, Science and Sports implemented education reforms in the country with an emphasis on Information and Communication Technology (ICT) in September 2007. Currently, ICT has been incorporated in the school curriculum, begining with the pre-tertiary institutions. ICTs are now a subject on the schools time table from primary or class one to senior high school.
At the Junior High School (JHS) level, alongside English, Mathematics, Social Studies, Integrated Science involving Agricultural Science, French and of course, a Ghanaian language, Technical and Vocational and Agricultural Education and Training (pre-vocational) and ICT are taught. At the Senior High School (SHS) level again, the core subjects are English, Mathematics, Integrated Science, Social Studies and ICT.
The Ministry of Education, Science and Sports has also passed imperatives on Open Universities and Distance Learning Colleges that are being established to train and re-train teachers. The country has put emphasis on technology aided education at all levels and this is one of the main highlights in the Education Reforms.

Is education in Ghana affordable to all?
Education in Ghana is affordable up to a certain level because education from primary to JHS is free for all Ghanian students. This is possible due to the implementation of capitation grant by the government. At the SHS level fees are subsidised by the government.
What are the challenges for education in the country? What is the role ICTs can play in dealing with the challenges?
The main focus on education is access, quality and equity. The challenges for education now are:
Model of deployment of ICTs in the school

Software or the operating system, utility, software applications and e-content

Training of teachers in the use of the new syllabus (with ICTs incorporated)

Infrastructure

Attrition of teachers
How do you review the implementation of educational policies and practices?
Pre-tertiary educational policies are implemented by Ghana Education Services and Tertiary policies by National Council for Tertiary Education. If there should be a review, all stakeholders are assemebled or gathered together for discussions, after which it has to go through a process.
The country has put emphasis on technology aided education at all levels and this is one of the main highlights in the Education Reforms
Have you tried to compare the state of education in Ghana with that of any other country which in your view is a progressive one? What are the areas where the country needs focused attention? What is your view on India