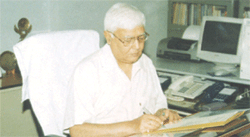 The National Institute of Open Schooling (NIOS), formerly National Open School (NOS), with approximately 1.5 million learners on roll, has emerged as the largest open schooling organisation in the world. Initiated as a project in 1979 by the Central Board of Secondary Education, the Open Schooling programme has now taken shape as an independent system of education in India.
What is the guiding mission of the National Institute of Open School (NIOS)?
Please elaborate on the vision of the institute vis-à-vis open schooling in India.
The NIOS is globally recognised for providing sustainable learnercentric school education, skills up-gradation and training through open and distance learning,
and also for ensuring convergence of open schooling organisations. This has resulted in getting closer to an inclusive learning society, human resource development, national integration and global understanding. We envisage substantial upscaling of the open schooling at the national level. A vision document, which provides a framework and direction, has been in place for development, training, delivery, networking, extension and other programmes required to best promote open schooling at the national and international level.
NIOS aims to work as a resource organisation for open schooling with usual programme delivery role. The State Open Schools (SOS) are required ICT: The Greatest Equaliser www.nos.org The National Institute of Open Schooling (NIOS), formerly National Open Sc ool (NOS), with approximately 1.5 million learners on roll, has emerged as the largest open scho ling organisation in the world. Initiated as a project in 1979 by the Central Board of Second ry  ducation, the Open Schooling programme has now taken shape as an independent system of education i  India. M C Pant, Chairman, NIOS shares the journey of evolution of open schooling programme at NIOS. 26 May 2008 | www.digitalLEARNING.in to assume major responsibility for expansion of open schooling in India as prospective learners would opt for regional languages as medium for instruction.
In your understanding what ails India's school education system? How is NIOS planning to address this?
Our education system is facing three major challenges: The challenge of numbers; the challenge of credibility and the challenge of quality. The formal education system is attempting to address these challenges through Sarva Shiksha Abhiyan (SSA), and Rashtriya Madhyamik Shiksha Abhiyan (RMSA) A number of hurdles, like the choice of study courses, differential pace of learning, varying needs and requirement of infrastructure, make it diffi cult to address the educational needs of the millions of children and adolescents, particularly at the secondary level. The open school system is needed to address these challenges of mass and universal education. Although the efforts under SSA have given good results, there is still a challenge of universalisation of secondary education. Both formal schooling and the open schooling systems are required to meet this challenge of education on priority basis.
How NIOS plans to bring changes in the vocational educational system?
Acknowledging the fact that the young entrepreneurs are the wealth of the nation, the learner friendly vocational education programmes of NIOS provide excellent prospects. It offers as many as 75 vocational education courses in areas like agriculture, business, commerce, engineering technology, health,
paramedical, home science and hospitality management. In order to upscale and improve these vocational courses, NIOS is forging collaborations with reputed institutions and organisations in various sectors like medicine, IT and industry. It is planned to make Vocational Education and Training (VET) courses modular and creditbased with features of vertical and lateral mobility. Work is already underway on preparation of modular courses in the area of computer education. The curriculum framework for open vocational education developed by NIOS takes into account the curricular diversity by conforming to various target groups of learners.
How many regional centers does NIOS have?
There are 11 regional centers: These are at Hyderabad, Kolkata, Pune, Guwahati, Patna, Jaipur, Delhi, Chandigarh, Bhopal, Hyderabad, and Kochi. Besides these, regional sub-centres have been established at Dehradun, Bhubaneshwar and Darbhanga.
Which are the most highly soughtafter courses?
The secondary and senior secondary courses and several vocational education courses of NIOS are popular among learners. Vocational education courses in the following areas are very popular: Computer and Information Technology sectors, Home Science and Hospitality Management, Business and Commerce , Early Childhood Care and Education.
What are major highlights of NIOS that make it different from CBSE
system?
NIOS provides its students fl exibilities pertaining to place and pace of study.Hence it is less rigid compared to the CBSE system. Moreover, the credits
are accumulated. A student can complete a course within a span of one to fi ve years depending on his or her preparation. So it is a viable mode of education for those who are unable to attend conventional schools for various socio-economic reasons or those who have missed out on opportunities to complete
school and developmental education. It also meets the educational needs of children with disabilities and provides a 'safety net' to drop-outs so that they do not remain alienated. Open schools also address the needs of children from the minority communities. Talks are on with madarsas for using the NIOS system.
In its effort to further the national agenda of Universalisation of Secondary Education, NIOS has started on-line admission, which is open round the year under On Demand Examination system. Last year, more than 30,000 children
registered on-line for various courses. Provision has also been made to pay fees on-line while the study material can be downloaded from the NIOS website.

For over many decades, NIOS has been at the forefront of open education in India. Please elaborate on the journey hereafter for open schooling.
There is great scope for open schooling in India; not only for 'reaching the unreached' but also for providing relevant and need based educational programmes for different clientele. Programmes offered by state open schools in the regionalmedium of instruction is bound to attract more students into the open schooling fold.  aking note of the potential of open schooling system, the CentralAdvisory Board of Education (CABE) has suggested that 15 % of the students at secondary level may be covered by the open schooling. Keeping this in view, NIOS is endeavouring to substantially upscale its programmes as well as those at the state level. Those states which do not have open schools are being provided with consultancy and resource support for opening them.
"Exciting news! Elets Education is now on WhatsApp Channels Subscribe today by clicking the link and stay updated with the latest insights!"
Click here!