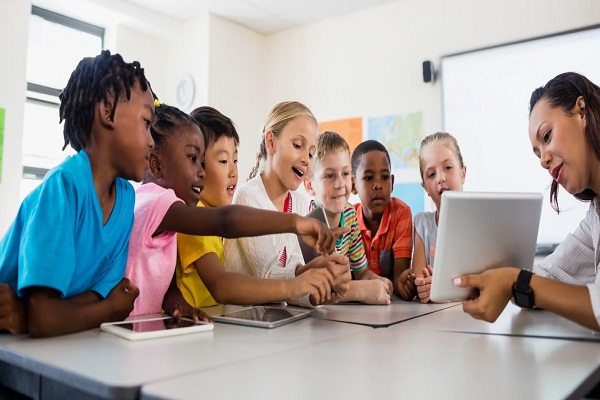 The Eleventh five year plan is mooted as 'National Educational Plan by the Prime Minister with allocation of over 19% of the gross budgetary support for the sector. Secondary education will be the new thrust area in education in the Eleventh Plan — with the government now flushing out its mid-term review suggestion to universalize secondary education on lines of the Sarva Shiksha Abhiyan. The government is looking at investing at least Rs 50,000 crore in the sector that has been traditionally neglected. In the XIth plan, the government has budgeted Rs.411 billion to set up ICT labs for computer-aided learning and Edusat centers for distance learning programs. The government has also proposed Rs.310 billion for the National Skill Development Programme in the plan period, for training through virtual centers. The future ICT investments in schools will focus primarily on procurement of ICT infrastructure for schools and colleges, teacher training/capacity building and online admissions and school administration.
In the education sector ICT can provide a practical and enabling solution for improving the quality of education. The advents of highly responsive networks of information and knowledge and rapid development of new software, hardware and other channels of communication have presented real opportunities to creatively solve deficiencies within the educational system. The education and training segment has witnessed a rise in the number of private players offering education technology, training and services. The market is open to competition with emergence of national and regional e-learning companies offering myriad technology solutions and training services as a package to educational institutions across the country.
There is lack of expertise in the government and educational institutes to implement the ICT projects, today partnerships are the new mode of quality education delivery using ICT in India with private companies, NGOs, International organizations and institutes. Implementation of such large scale hardware provision and connectivity is possible through networking with relevant institutions and agencies for expertise, and up scaling strengths.
Sarva Shiksha Abhiyaan: The Centre introduced IT in schools as a tool to achieve the mission of Education for All under the Sarva Shiksha Abhiyaan (SSA). The state government education departments and educational institutes have adopted the tendering process for procurement of hardware, software and other IT peripherals such as EDUSAT for implementing ICT projects and programmes under the Build-Own-Operate (BOO) and Build-Own-Operate and Transfer (BOOT) models as a public-private partnership venture. The process of ICT installation in schools began with the CLASS project under SSA for elementary education and currently most of the ICT infrastructure in schools is through SSA funds. Tenders under SSA invite companies to bid for IT hardware and software installation for computer-aided learning along with consumerables such furniture and stationary, teacher training and an instructor. The maintenance and upkeep is included to be undertaken by the selected bidder for 3-5 years. The programme usually involved setting of computer labs in schools and imparting basic computer operations to students. Some schools installed EDUSAT for educational programmes.

ICT@Schools: The success of SSA computer-aided programmes in elementary education resulted in scaling-up of ICT in schools through ICT@Schools programme launched by Ministry of Human Resource Development (MHRD) as an umbrella scheme designed for overall development of schools as smart schools installed with ICT peripherals including hardware, software and trained teacher faculty. The states government and educational institutions broadly focus on the following criteria in a tender:
ICT Infrastructure: Hardware, Software, connectivity, furniture etc.

Digital Content based on the school curriculum

Faculty Staff and Teacher Training

Maintenance and recurring costs

Power Back-up
Case Study: Madhya Pradesh ICT@Schools Programme: The state announced its tender this year for Computer Education in schools for ICT Hardware, software and manpower for maintenance and training to be installed in its government schools based on build-own-operate and transfer (BOOT) model for five years. The Request For Qualification (RFQ) details out the ICT infrastructure and faculty requirements to be met by the bidder. Some of the important criteria include:
Connectivity: Minimum Internet Connectivity of 256kbps

Hardware: Madhya Pradesh tender included A LCD monitor 17″; key board; one overhead DLP projector (2000 Lumen), one multi function device [MFD] with a laser printer mouse; computer table and chair. It does not specify any hardware specifications.

Power Back up: It may be a combination of UPS and solar panels or UPS and DG set etc. The cost of operating such equipments factored in while submitting the bids.

Capacity Building: To provide two faculties (three in case of 50% extra seats) to each of the schools who will be responsible for the maintenance and upkeep of the facility and also teach the students and train the teachers in understanding technology. The faculty must have any one of the following qualifications include BE Computer Science/IT, BCA or higher O level certification of DOEACC, PGDCA

Software and Content: Content to teach basics of office software and programming to the students teach subjects through computers [Computer Aided Learning].

Multi Media Content: Develop rich multi media content for students in Hindi and English, which present complex subjects in an easy to understand format. The content will be evaluated by a team of experts of the concerned subjects and will be accepted only after it has been approved by the team. The bidder may be required to quote Computer Aided Learning software as a separate item.

Out-Of School Students: The bidder would be entitled to levy charges from the out of school users of the facility before and after the School hours. However, during the School Hours the students will be using the facility without paying any charge.
SCHOOL ICT INFRASTRUCTURE
Himachal Pradesh: The state government laid down the following ICT equipment specification in its tender to equip each school with branded machines.
a)  One Server computer: – Intel Core 2 Duo Processor E4500, Intel G31/Q33 Chipset, 1 GB RAM, 80 GB HDD, 15″ Color Monitor, COMBO Drive , FDD, LAN Card, USB Optical Mouse,USB Keyboard
b)  Client Computer:- Intel Dual Core Processor E2160, Intel 945 G/ G31 Chipset, 512 MB RAM, 80 GB HDD, 15″ Color  Monitor, COMBO Drive, FDD, USB Optical Mouse, USB Keyboard with proper Networking for sharing files, Internet and Printer. Printer Dot matrix (24 pin 136 col., 360cps). One printer for every 4 computers shall be provided by the contracting company.
Assessment Criteria
The tenders on ICT for schools are divided into two sections, firstly a technical bid that details out the ICT hardware, software and faculty benchmarks, this is followed by a financial bid quotation of the overall costs for the installation and implementation of ICT in each school under BOO and/or BOOT model. To be eligible for pre-qualification and short listing, an applicant usually has to fulfill the following criteria common to most of the state bids:
Past experience in executing projects: The tender eligibility requires the company to have executed at least 1 – 5 projects of similar nature in preceding 5-10 years. The experience requirement ensures effective implementation of the project in prescribed time-frames. Manpower Infrastructure: The bid in few cases outlines number of professionals such as in Himachal Pradesh wherein the applicant company was asked to have a minimum of 50 professional in ICT based education on its role to be eligible to qualify.

Association with a major Hardware and Software manufacturer: Some states build piecemeal partnerships with leading IT companies for hardware or software. The bidder hence has to incorporate the existing IT components. The Applicant Company must have association with one of the major Computer Hardware and Software Manufacturer to be eligible to qualify.

Financial Capacity and Turnover: It is usually stated that the applicant shall have a minimum average net worth 10 – 20 crores in the past 5-10 years to be eligible to bid for the project or the applicant company should have a minimum average turnover of Rs. 10 crores from execution of education based projects in the preceding three years to be eligible to bid in the tender. This eliminates local players to participate in the bid; they have local advantage of knowledge and relevant content but lack the financial capacity to reach the scale of operations. Hence it results in only the big and leading ICT in education companies to apply and compete in the bidding process.
Online Admissions, SCERT, Pune, Maharashtra

The state has proposed to make all teacher training courses online, the first step in this effort is announcement of online admission process for D.Ed course from 2008 by Maharashtra State Council of Educational Research (MSCERT). In its tender it required companies to developed a centralised admission process for D.Ed examination, SCERT hence emphasised local software firms with experience and expertise on software and data entry of admission forms. MSCERT decision for local software firms within Pune provided them a cost and service advantage.
Curriculum and Syllabus

Department of School Education, Haryana is doing progressive work in integrating ICT in Haryana schools. The state has initiated a Comprehensive Computer Education Project to integrate and leverage ICT for achieving education goals. The state hence invited tenders for curriculum design agency to design ICT course for students on industry inputs. It also laid down the certification requirements and develop a effective course delivery mechanism along with capacity building of teachers, principals and officials connected with implementation of the programme. The tender is very comprehensive in its outline as it also enlists monitoring and feedback regarding programme implementation

br>