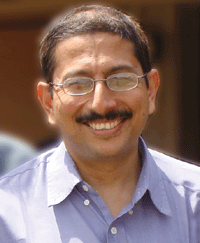 Answers, Sridhar Rajagopalan, Director of Amedabad based Educational Initiatives Pvt Ltd that plays a pivotal role in the pursuit of improving quality learning…

Q. Tell us about the concept behind setting up of Educational Initiatives, tracing the journey from setting up Eklavya School to a private company.

After working with IBM for two-and-half years, I left the job to start Eklavya School, Ahmedabad, in 1996, along with the two colleagues (who later co-founded Educational Initiatives with me), Venkat Krishnan N and Sudhir Ghodke.
For five-and-half years till 2001 we ran Eklavya School and Eklavya Institute of Teacher Education. In the teacher training programme we had a format in which the teachers were supposed to spend alternate days in schools observing and teaching children. Through this experience we came across some important facts that later on became the foundational principles of Educational Initiatives.
One of them was that rote learning had become the prime method of teaching and learning in our schools. Other was the disinterest of people with the talent and qualification to transform education, to actually become teachers and do something. Problems such as these were common in schools across India. We felt that education was not being tackled systematically and scientifically enough.
It was then that we felt a need for a tool that could actually show in terms of concrete data that the children were probably not learning with understanding. We wanted to work for the education system as a whole (private schools, government schools, at a national level, pool and increase knowledge, do research in this area) rather than simply develop a few institutions.
In 2001 we set up Educational Initiatives Pvt. Ltd. with the objective of focusing more sharply on learning and how to improve the quality of learning.
The flagship project of Educational Initiatives has been and is ASSET, a diagnostic test to find out 'how well our children are really learning'. This test has been developed after researching textbooks and curriculums extensively in India and about 7-8 countries abroad, based on which a list of scholastic skills and methods to test these skills (and not simply rote or textbook learning) have been developed.

Q. Please comment on the school education scenario in our country. What, according to you, are the issues plaguing classroom teaching in schools today?

Due the widespread practice of rote based teaching and learning the school education in India has substantially transformed into a rote learning system, which assess a child's memorizing skills much more a foundational understanding. The phrase "Learn by heart" has become so ingrained in the system that it is difficult to diagnose where it actually starts. The Board exams only reinforce this type of system. One of the factors also responsible this is that the education system is not able to attract good quality teachers, who hold a much deeper understanding of a child's understanding. A reason for this lack of talented teachers is the fact that the financial returns are not as good as other professions, but at the same time the education system fails to inspire talented individuals to get out of comfort zones and take up the task of renovating the system.
Q. Tell us about assessment tests for schools. Please give details like its benefits, how it is carried out, and how many schools are using this; also share with us some of your experiences with schools and children.

We want to create a system where children are learning with understanding. ASSET is an instrument through which we show schools and parents that what children are learning is something they cannot be happy about.

The tests use multiple choice questions to test a student's understanding of concepts. The findings are mapped on to spreadsheets telling the school how its students performed in concepts of a particular subject compared with schools tested in the rest of India. Schools
Follow and connect with us on Facebook, Twitter, LinkedIn, Elets video
>