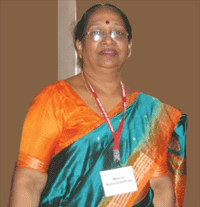 The Education Quality Foundation of India was founded in 2007 by Dr Anjlee Prakash with an aim to set quality standards in schools and help them achieve better levels of quality in terms of infrastructure, teaching methods, content etc. It has approached the issue of quality keeping in mind the specific needs of the Indian school system.
Meera Balachandran, Director of the Foundation, shares with Digital Learning the goals of EQFI and the crucial need for quality mapping in schools.

Q. What are the goals that drive EQFI?

India has achieved a fair degree of literacy. But there is hardly much focus on quality in schools. Although we have been able to spread education through programmes like Sarva Shiksha Abhiyan in far flung and remote areas, the time has now come to review the situation. The focus should be not just on quantity, but also quality of the content. It is in this direction that EQFI is working – towards setting quality standards in school education. Through our pilot project, we have conducted quality mapping in some private schools and given them a detailed feedback. Our organisation does not follow a prescriptive approach where a school is graded or ranked; but a constructive one where we identify the school's weaknesses and strengths and tell them what their opportunities of improvement are and how they can proceed. We also help schools with their progress in transformation.

Q. Apart from private schools, which other schools have EQFI touched upon?

We recently signed an MoU with 367 Navodaya Vidyalayas for conducting their quality mapping. To begin with, workshops will be held for principals for introducing them to the organisation's mission. The entire process will be three-year long, during which we will measure their improvement. We do not have grading system, but an
indication is provided to the schools as to what scoring band they will fall in, i.e. whether it is between 65 to 70% or 75 to 80%. Ultimately, we would like all schools to take initiative in the process and ensure quality themselves.
Q. What parameters are followed for measuring quality?

EQFI has developed certain quality assurance criteria and guidelines. We have a 'Quality Assurance Criteria in School Education' document which is customised according to the schools. For example, the Navodaya Vidyalayas are residential schools for rural children. So we have customised the document so that we take into consideration the rural background of children, teachers, to go ahead with the study. Different schools have different sets of problems and therefore have to be studied accordingly.
While mapping quality, we take into consideration leadership quality, knowledge management, student stakeholder focus, and address issues like what are the systems in place and what is the level of technology usage in teaching and school administration. Are the schools really catering to the satisfaction of the students and parents, etc. Usually schools are judged purely on academics, but we feel the need to go beyond that because academics, although important, is not the only measure for testing quality. When we take up results, we take up every area such as extra-curricular activities, innovation in schools, creativity, etc – everything that contributes to the overall success of the institution.
A lot of research has gone into achieving this set of generic criteria. We have heavily relied on a document called 'Malcolm Baldrige Standards of Quality for School Education', which is used extensively in the United States. We have also consulted other sources such as UNICEF, Singapore schools and contextualised their experiences to suit Indian scenario.

Q. Are there plans to cover boards like the CBSE, ICSE?

EQFI started off in July 2007. Our aim is to cover as many schools as possible. Right now we are planning to go to the states so that we can make quality assessment for schools at the block and district levels. We will also plan to look at private schools ultimately. We have started with Navodaya Vidyalayas, but there is a long way to go.

Q. What aspects are taken into consideration while evaluating schools?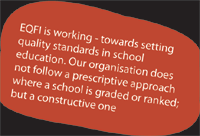 Normally, one would think of infrastructure, but that is only a part of the evaluation. Other aspects are also taken into consideration, like financial resources, allocation of resources, etc. There may be schools with minimum infrastructure and no modern facilities, imparting really good quality education. We try and give equitable importance to all the aspects contributing to quality. We include technology as a very big parameter for quality mapping. There are questions on how they use technology in data management and analysis, classroom transactions, etc. This will also encourage schools to take the evaluation more seriously.
Infrastructural resources are important but what is most important is that the transactions in the classrooms are interactive and qualitative and if they aspire to integrate technology, the situation becomes ideal.
Q. What has been the response to evaluation from schools as well as government bodies?

We have started a pilot project for some of the private schools, which is for free. It will take some time, but we hope that more schools will open up to us and the idea of quality evaluation, like the NVS. We also hope to get KVS in the loop, followed by the state schools. States like Gujarat , Maharashtra and Andhra Pradesh are already working towards raising educational standards.
As far as government is concerned, we have got a positive response. There have been consultations with the Ministry of Human Resource Development, and they have liked the concept of a neutral, external agency conducting such an evaluation which will provide them with an unbiased and critical perspective. We are hopeful of expanding this to the states very soon.
Q. Apart from the evaluation, what other projects or initiatives have been undertaken?

We have initiated a big project called 'Citizenship Project', where we try and spread awareness among children regarding civic issues and also take their assistance wherever required. This is originally an American project called 'Project Citizen India', and we started it in 2005 with 11 schools. Now we have about 252 schools all over India, including rural schools. Children take up all sorts of issues like adopting a monument, looking after senior citizens, looking into the government policy on street children. We also have a tie-up with Kazakhstan to train their people for this project. We have also linked up with the University of Indiana, Iowa, where our teachers will receive training. Almost 3,000 teachers have received training in the Right to Information.
Other initiatives are also on the anvil, like the study of the Constitution of India. We also showcase our activities annually in September. In 2007, a village school from Andhra Pradesh won the prize for their outstanding work on construction of proper toilets in their village. In other cases, children made an entire village smoke free and even adopted a