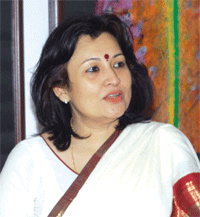 Shabnam Sinha
IL&FS ETS
We are increasingly moving towards Public Private Partnership to impact the larger sectoral education initiative in the country. We work to supplement and enhance the quality of large educational programmes such as Sarva Shiksha Abhiyan(SSA)
Please tell with us about your company's engagement with educational infrastructure. What are the goals and objectives?
IL&FS is one of India's leading infrastructure development and finance companies. Our engagement in the field of education is through its subsidiary IL&FS Education and Technology Services Limited (IETS). We offer learning content and training modules for schools, colleges, vocational training institutes, governments, and the corporate sector.
How does IETS approach Public Private Partnership as an important aspect of expansion of education?
We are increasingly moving towards Public Private Partnership (PPP) to impact the larger sectoral education initiative in the country. We work to supplement and enhance the quality of large educational programmes such as Sarva Shiksha Abhiyan (SSA).
How do you support government efforts for universalisation of education?

We have been engaged in teacher training for a while, but we are now up-scaling. As part of the SSA, we have trained one lakh teachers in Jharkhand in two months. We also help the schools and classrooms in doing their MIAS and classroom management systems using technology platforms.
What are the challenges and issues that confront India's education system right now?
There are many issues related to equity, in terms of social and gender dynamics, within the large education programmes. We in our interventions are covering girls, scheduled castes and scheduled tribes. We are working with the government of Delhi on 300 schools for enhancing the school infrastructure.
Talking about curriculum, can you give specific examples of how you go about it in schools that you are associated with?
Under PPP the schools are handed over to us in various states of dis-repair. And we are asked to give them a quality standard and a uniform and signature look. A protractor is actually drawn on the floor at the door, so when it opens it makes an angle. You can thus measure the angles that you are covering as you open the door. Thus each corner of the building becomes a learning corner.
What are the various other offerings of IETS?
Unlike most of the companies which are product oriented, we are process oriented as we work in the area of PPP. Our programmes are usually long term, from three to five years. Here I woould like to mention two critical programmes — one is the Delhi schools programme dealing with infrastructural changes. We are impacting 300 schools located in 202 buildings through this programme. So, we are doing this entire physical infrastructure upgradation for quality improvement. The other is that we provide complete holistic solution.
Talking about skill development, do you have any programmes for younger generation and college students, for enhancing employability of youth?
There is a very interesting programme which I would like to mention, i.e., Developing Life Skills package. We did this project with ILO. This Life Skills package was developed for child labourers and the unemployed youth to make them functional in a work situation. The package comprised 13 skills which were identified by us at the national level.
We are now planning to take this project to SSA schools for upscaling. The project is important as it has a strong component of entrepreneurship, negotiation skills, financial planning and budgeting involved, which is highly relevant in the current context.