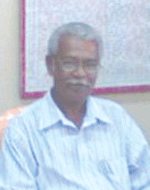 V L Balasubramanian
Principal, Jawahar Navodaya Vidyalaya, Kasaragod, Kerala
Our learning methodology involves modern techniques of learning transactions through projects, group discussions, seminars, symposia, team teaching, etc
What is your vision for quality education in your school?
Quality is a process as well as a product. The ultimate aim of quality education is to help the child to re-orient his personality, whereby he turns out to be a worthy citizen capable of contributing to the world at large. We socialise, humanise and academise the child.
What model of curriculum and learning methodology is followed in the school?
The Vidyalaya follows the CBSE curriculum for both secondary and senior secondary examinations. Since most of the students admitted in class IV hail from rural areas having studied in regional language medium, the medium of instruction in classes VI and VII is mostly the regional language. However, efforts are also made to strengthen the communication ability in English language. Our learning methodology involves modern techniques of learning transactions through projects, group discussions, seminars, symposia, team teaching, etc. The ultimate aim is to make learning an enjoyable task.
What initiatives have been taken in your school for integrating ICT?
All subjects are taught through multi-media presentation, project based learning (PBL), language softwares (like Baraha, Madhuri) and interactive programmes in classes VI to XII.
The school library has a website, Vidyalaya Blogspot, specially raised in connection with UK-India educational initiative (UKIERI Programme) of which we are a partner.
ICT facilities are extensively used in co-curricular activities like quiz programmes, seminars, electronic painting competition, audio recording etc.
Training is given in advanced softwares like Adobe Audition, Photoshop, PageMaker, Flash Player, Dream Weaver, etc.
CBSE subjects like Computer Science & Informatics Practices are offered to the students in classes 11th and 12th to promote an affinity towards software development and computer engineering.
What challenges did you face while integrating ICT in your school?

Initially, the problem of inadequate number of systems was overcome with the help of MPLAD Fund and the Department supported the Vidyalaya with a VSAT connection. At present our school is equipped with sufficient number of computers, three LCD projectors and a separate functional room exclusively for multi-media, apart from the computer lab. Promotion of e-Learning is also carried out through the Vyasa educational channel.
In what ways are the teachers' capacity built for rendering technology mediated education?
To enhance the teachers' capacity in implementing ICTs in education effectively, comprehensive training has been provided to them along with specialised training organised by Oracle.com, Indian Institiute of Information Techbology, Intel programmes, etc. Leadership training programmes are also organised for teachers to take leadership in ICT implementation programme.
In what ways can Public Private Partnership enhancing technology in school education?
As part of partnership programme between schools in India and UK, JNV Kasaragod has been enlisted under UKIERI programme. This gives our students ansd teachers an opportunity to have international exposure and also to exchange serious research based projects in school education. Students of JNV have been presenting their projects through Oracle Think.com and the school has been awarded as the best school of the region by Oracle.
What initiatives do you plan to take up in future for effective integration of ICT in your school?
Some of the future initiatives of our school include: (1) to expand the computer facilities and e-Learning process with latest gadgets, (2) to take up a project as a pace setting activity to enhance computer awareness among parents during the next term, (3) to integrate the schools with community by training the elders in and around the Vidyalaya, and (4) to provide every student with a note book with campus wi-fi facility.