Open and Distance Education (ODE) has emerged as a powerful instrument for augmenting opportunities in the field of vocationl education, especially for women. Set up in 2003, the Tamil Nadu Open University seeks to develop the competency and skills for improving employment opportunities for the disadvantaged, especially women. The popularity of its Vocational Education Programmes can be gauged from its impressive growth in the last five years with a cumulative student strength of about 74,755, of which 33,632 are from the vocational stream.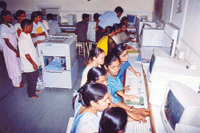 Each and every learner enrolled for TNOU's Vocational Education have to study two compulsory Courses, namely, 'Life coping Skills'  and 'Communication skills'.
Open Universities have the potential to convert Vocational Education in to reality, especially for women learners. Open Universities are, therefore, a boon for the unemployed women in India. The Tamil Nadu Open University (TNOU) was established by an Act (No.27 of 2002) of the Legislative Assembly of Tamil Nadu to benefit those who have been deprived of access to higher education, especially women and those who have dropped out for various reasons. The academic operations of the University began in 2003 with about 20 Academic Programmes, each comprising a number of traditional as well as innovative courses. At present, it offers 81 Academic Programmes, of which Vocational Education Programmes are very popular among the unemployed.  Though the University is hardly five years old, it has registered an impressive growth having a cumulative student strength of about 74,755 of which 33,632 are from  the Vocational Education Programmes.
VOCATIONAL EDUCATION PROGRAMMES OF TNOU

The TNOU Vocational Education Programmes have been designed in such a way to enhance the skills and knowledge of students for immediate employment, particularly in the private sector. These programmes have been developed using innovative technology in print and other multi media. In order to enable the school dropouts to earn their livelihood, the need based programmes launched by TNOU are the following:
Diploma in House Electrician (DHE)

Diploma in Refrigeration and Air-Conditioning Technician (DRAT)

Diploma in Four Wheeler Mechanism (DFWM)

Diploma in Health Assistant (DHA)

Diploma in Early Childhood Care and Education (DECE)

Diploma in Fashion Design and Garment Making (DFGM)

Diploma in DTP Operator (DDTP)

Diploma in Plumbing Technician (DPT)

Diploma in Catering Assistant (DCA)

Diploma in Beautician (DIB)

Diploma in Applied Music (DAM)

Diploma in Medical Lab Technology (DMLT)

Diploma in Optometry and Refraction (DIOR)

Diploma in Apparel and Fashion Design (DAFD)

Advanced Diploma in Apparel and Fashion Design (ADAFD)

Bachelor Degree in Apparel and Fashion Design (BAFD) and

Certificate Programme in Accounting Software using Tally (CPAS)
DELIVERY SYSTEM

TNOU delivers all its Vocational Education Programmes through Vocational Programme Centres (VPCs). Community Colleges, having minimum infrastructure facilities, are the main service providers of these centres and TNOU recognises the Community Colleges as Vocational Programme Study Centres. These VPCs also have collaboration with relevant industries for training and placements. Over the years, there has been a huge demand  from the public for starting VPCs.
STUDENT ENROLLMENT IN VOCATIONAL EDUCATION PROGRAMMES

As of August 2007, 33,622 learners have enrolled for the Vocational Education Programmes. These learners mainly  comprise dropouts, children from tsunami-affected families, those who failed at the secondary school level and skilled workers not having any qualification or certification. Most of these students  are in the age group of 15-20 years.
There is a clear sweep in the enrolment for the TNOU Vocational Education Programmes. Further, it was found that of the Vocational  Programme learners, 25,623 were women.
WOMEN IN VOCATIONAL EDUCATION PROGRAMMES

Women comprise the largest section of the underprivileged group in India and continue to shoulder all domestic responsibilities. Women in India face restrictions in the form of traditional patriarchal attitudes. Therefore, the Vocational Education Programmes through distance mode has been recommended primarily for women learners who had to discontinue their studies for financial or other reasons and also who stay in rural areas. It also paves a way for those who want to continue learning after marriage to improve their social and economic status. At present the number of women students has considerably increased, thanks to the Open and Distance Learning which women find convenient, economical and beneficial. Nearly 90%  of the learners, after completion of the vocational education, are employed in relevant industries.
STUDY ANALYSIS

Competency and Skills of the women learners after completion of VEP at TNOU:
The competency and skills of the women learners after completion of TNOU Programmes has increased as per the feedback given by the women learners. Each and every learner enrolled for TNOU's Vocational Education has to study two compulsory courses, namely, 'Life coping Skills'  and 'Communication Skills'. These two courses are specifically designed to develop the competency level of a person and improve their communicative skills. The increase in response for Vocational Education Programme every year clearly states that these programmes  are currently required for the mass of people in India for developing skills and gaining financial positions out of their skills and competency.
In a feedback given by a women learners who completed the DTP Operator Programme in TNOU, she expresses that the training provided by the Community College/VPC for the DTP Operator Programme has given her the confidence to start DTP Operator business. She now earns a minimum of INR 250 per day, having learnt subjects like Page Maker, Internet, E-mail, Photoshop and Corel Draw.
Employment opportunities of learners after successful completion of VEP Programme at TNOU:
The employment opportunities of TNOU learners in Community Colleges after successful completion of Vocational Education Programmes is 90%.  TNOU learners are sent to various industries for internship during the course by the Community Colleges. Observing the competency and skills of these learners during internship, these industries then offer suitable job opportunities.
Once the course is completed, the women learners of TNOU have many opportunities on hand, namely:
a)   Becoming an entrepreneur by opening her own firm with the practical knowledge gained from related programme.
b)   Grabbing an opportunity in the same firm where she has undergone internship training.
c)  Getting employed in an organisation, relevant to her study.
The feedback collected  from the Community Colleges with respect to employment and earnings is given in the table.
The figures clearly shows that nearly 50%  of male learners and nearly 60% of the female learners are employed in INR 2000-4000 salary range. Those self-employed include  10%  males and 5%  females.  It has also been observed that employment opportunities of learners are enhanced after successful completion of VEP Programme at TNOU.Community Colleges for providing employment oriented programme and best service provider: The best Community Colleges  were contacted to find out about employment oriented prorammes and those providing best services to the women learners.
Selection of Employment
Oriented Programmes   90%
Delivery Method          90%
Industrial Partner         95%
Nearly 90%  of Community Colleges are involved in selecting employment oriented programmes from TNOU for its women learners and best Delivery Method using innovative technologies. It was also observed that 95%  of Community Colleges have partnerships with industrial houses for hands-on training to its women learners, which makes them eligible for employment  in relevant industries.
FINDINGS OF THE STUDY
There is clear sweep in the enrolment for the TNOU Vocational Education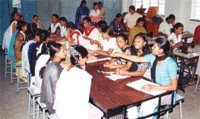 Programmes, i.e. 33,632 learners of which 25,623 are women  learners.
Ninety per cent of women learners are employed and this shows that there are employment opportunities for women learners after successful completion of VEP Programme at Community Colleges of TNOU.
Ninety per cent of women learners said that they commanded more respect within the family,  neighbourhood and also at work place after obtaining diploma through  the TNOU Programme.

Ninety per cent of the Community Colleges provide employment oriented programmes and best training to women learners.
At present, Open Education through distance mode has come to be accepted as relevant and necessary for meeting the requirements of the society. One of the main features of the Open Universities is providing access to higher education to all sections of societies, particularly women, who did not have access to it earlier. TNOU is marching towards the goal of stimulating the socio-economic development of the disadvantaged group through implementing Vocational Education Programmes.
Dr.P.Thiyagarajan has served many organisations of repute, before joining in Tamil Nadu Open University. Few among them are, Khadi and Village Industries Commission (KVIC), National Sample Survey Organisation (NSSO), Indira Gandhi National Open University. Currently, he serves in Tamil Nadu Open University, Chennai as Reader and Head, School of Continuing Education.

br>