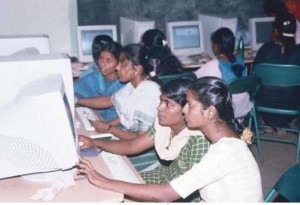 If the statistics given by the National Information Centre are any indications to go by, then what becomes obvious is the huge percentage of dropouts at the high school and higher secondary school stages. This calls for an alternative system of education like the community colleges.
B. Bhavani is a case in point. She dropped out of tenth standard owing to severe conditions at home and financial constraint. Her father, an alcoholic, died in an accident. Being the only breadwinner in the family, her mother could earn a pittance of INR 1000, which was way below the subsistence level.
It was difficult to make ends meet. With all hopes crushed and her confidence at its lowest ebb, Bhavani was told about a community college that would be able to train and equip her with the skills to enter the job market. She entered IID Community College, (formerly Tabitha Community College) and joined the Diploma in Health Assistant (DHA) course.
Heavily bogged down by a deep sense of inferiority and inadequacy, she thought she couldn't make it. But the life coping skills and other skills training modules taught along with the high quality training in nursing eventually prepared her to face up to the future. Bhavani is a confident nurse now and a totally transformed one at that. Multiply this into thousands, that's the scenario of hope, which community colleges can offer.

Jochen Tewes, a mechanical engineer from Germany came to India in 1973 with a mission to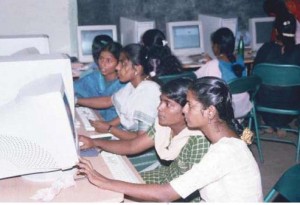 work for the economically under privileged in India. Tewes observed that the children in the hundreds of orphanages supported by Inter-mission and other India partners were bereft of skills that are required in the job market. A strategy was in order. With like-minded friends he started Inter-Mission Industrial Development Association (IIDA) in 1974 with the focused vision to give relief and rehabilitation to the people below the poverty line.
Today IID runs 3 Industrial Training Schools, 7 Community Colleges and few daycare and health care projects for the benefit of its target groups. Unemployment is the root cause of many problems prevalent in India. It developed also because of an imbalance between education and employment. Through the community college system the aim was to provide work and life coping education, enabling the disadvantaged to find employment. The Inter-Mission Micro Enterprise Development (IMED) Programme was started in 1996 to help women with micro-loans to start their businesses and programmes that help them save money. IMED has been a successful venture by IIDA and has benefited more than 80,000 women.
'As the IMED work expanded, the women who were being helped brought to the light the problems that their children were facing. The survey study revealed that most of these women had girl children, who had stopped going to school for various reasons,' says M. R. Christopher, Chief Operating Officer, IID Association.
In 2002, the first 'Tabitha Community College' was started for girls in Chennai city. Other Community Colleges followed in other parts of Chennai both for boys and girls. Through the tsunami disaster in December 2004 the need in the coastal towns of Karaikal and Mahabalipuram challenged IID to start 2 Community Colleges in the year 2005.
The young women and men learn a variety of subjects such as: Computer Applications, Typewriting, Shorthand, Accountancy, Fashion Design, Health Assistants, Medical Lab Technicians, Electricians, and a variety of other job oriented courses. Not only work skills are taught here, but also subjects such as Life coping Skills, Communication and Interpersonal Skills. Before they complete their one-year training, the students are sent to companies and industries for a one-month internship period.
The IID community colleges have so far trained close to 3000 students with around 80% job placement. The remaining have opted for higher education or other walks of life.
Surya, a student who passed out from IID is now well placed in a company, MLS. 'My current role is of a manager for the Corporate Business Services. I also provide consultation for the existing Business Centres in India on how to manage their Infrastructure. I head the Business Centres Projects in India.' After completing her 10th Standard, Surya couldn't continue her studies due to personal problems. She adds: 'I had completed only 10th Standard and I could not pursue a degree in any of the regular colleges, which was one of the reasons for joining IID Community College. This god-given opportunity changed my life completely.'
Students in the Community College are mostly poor and supported by local sponsors. Christine Kirubala is the Dean of Students of the IID community colleges. 'The students who come here are very poor and most of them are dropouts from Government schools. Several of them have problems coping with anger, depression, self-esteem. The Life coping Skills module is truly transformative as it helps them to come to terms with who they are,' says Kirubala.
The close and active linkage between industry and community college is an important factor in the success of community colleges. On completion of the courses, the students are sent to organisations for Internship, where most of them are absorbed after their exams, for employment.
Research study of the students for the period of five years admitted from 2002- 2007, revealed the secular nature of the IID, which has brought about the empowerment of socially, economically and educationally disadvantaged and marginalised women:
Female   79 %

Married    6%

Age 19-35  99%

Educationally Un reached
<10th to 12th   92%

Socially Weaker Section
SC, ST, MBC, &BC  98%

Economically Weaker Section
Rs <3000  96%

Job Placement  73%

Higher Education   11%

Religion

br>