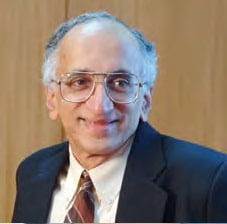 NPTEL is an acronym for National Programme on Technology Enhan-ced Learning which is an initiative by seven Indian Institutes of Technology (IIT Bombay, Delhi, Guwahati, Kanpur, Kharagpur, Madras and Roorkee) and Indian Institute of Science (IISc) for creating course contents in engineering and science.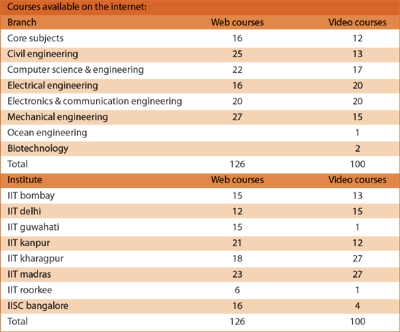 NPTEL as a project originated from many deliberations between IITs, Indian Institutes of Management (IIMs) and Carnegie Mellon University (CMU) during the years 1999-2003. A proposal was jointly put forward by five IITs (Bombay, Delhi, Kanpur, Kharagpur and Madras) and IISc for creating contents for 100 courses as web based supplements and 100 complete video courses, for forty hours of duration per course. Web supplements were expected to cover materials that could be delivered in approximately forty hours. Five engineering branches (Civil, Computer Science, Electrical, Electronics and Communication and Mechanical) and core science programmes that all engineering students are required to take in their undergraduate engineering programme in India were chosen initially. Contents for the above courses were based on the model curriculum suggested by All India Council for Technical Education (AICTE) and the syllabi of major affiliating Universities in India.

Why NPTEL?
India needs more than 2,00,000 teachers in Engineering colleges to educate over 25 lakh students in engineering  and less than 20000 qualified teachers are available.
More than 2000 private Engineering colleges have come up in the last 10 years and a majority of them do not have the sufficient number of well qualified teachers.
The student population is willing to educate itself but cannot be accommodated by brick-and-mortar institutions.
Trained manpower requirement for a vibrant economy is atleast an order of magnitude more than current output.
Availability of technology and its decreasing cost will enable top institutions to reach out to more students (IITs, even with doubling of strength, will train less than 2 percent of required professionals).
 NPTEL aims to increase the competitiveness of Indian industry in the global markets by improving the quality and reach of engineering education

NPTEL envisages forging of strong ties with major academic initiatives worldwide for developing new technological tools for learning and dissemination in order to benefit all students

PHASE I of NPTEL was started with the objective of providing high quality learning material to students of engineering institutions across the country and increasing the number and quality of engineering graduates by exploiting the advances in information and communication technology
The syllabus  contents are based on model curriculum of the All India Council of Technical Education (AICTE) and syllabi taken from major affiliating Universities.
What is next?…NPTEL Phase II (2007-2012)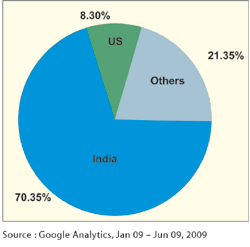 NPTEL Phase II  aims at providing access to quality education to all without any barrier
The objectives include: designing courses with a service-oriented architecture; add at least 600 more courses in all Engineering, Physical Sciences and advanced topics; integrate NPTEL content with University curricula and to update course contents periodically and provide Question & Answer sessions to viewers to enable them to interact through academic networking.
NPTEL also envisages forging of strong ties with major academic initiatives worldwide such as MIT OCW, Commonwealth of Learning, British Open University, Australian Open Universities and the Digital Library for developing new technological tools for learning and dissemination, in order to benefit every student in the country.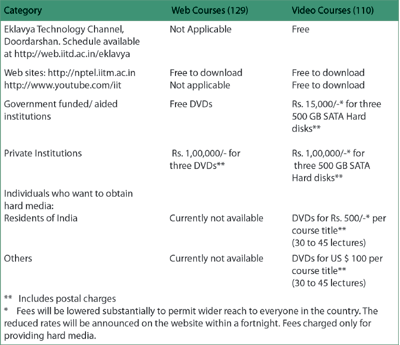 Helping the Community: The Goal of NPTEL
The aim of the ambitious project is the creation of a virtual IIT in partnership with industry and Government for offering components of IIT level education freely to every citizen of this country with government support. Course contents have proved to be useful for teacher training and through them has helped improve the quality of students. In addition, the course materials (both web and video) are freely accessible by everyone independent of their geographic location. These courses can be used by professionals for updating their academic background. Open and distance education using NPTEL contents are long term prospects for IITs. The contents are expected to help evolve criteria for focused learning and a common set of standards for professional education in India through participation by everyone concerned under this platform.