2010 to see reforms by AICTE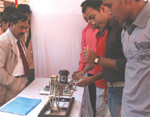 New methodologies of accountability and transparency are to be seen in the educational institutes in the year 2010 with the All India Council for Technical Education (AICTE) introducing sweeping reforms in the higher education sector. With these changes the recognised colleges would be expected to display online their institute's fee details, faculty components and admission related details, respectively. The Human Resource Development (HRD) Minister Kapil Sibal is expected to soon announce these reforms and the names of the colleges that are recognised by AICTE will have to declare their entire fees, its components, refundable portions on withdrawal of admission, number of seats per course, eligibility conditions, admission and selection process, details of teaching faculty, including their pay and qualifications, the institute's physical and academic infrastructure and syllabus outline.

MBA technology to be the Highlight at NIT Calicut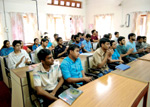 The academic year 2010 – 2012 at The National Institute of Technology, Calicut (NIT-C) – School of Management Studies is to focus on technology management for its MBA programme, which will be open only to B.Tech/B.Arch/BE/B.Sc engineering degree holders. Admission to the course will be based on marks scored in the Indian Institutes of Management (IIMs) Common Admission Test CAT) however, fi nal admission will be based on the candidate's  performance in the Bachelor's degree examination, group discussion and interview. Group
discussion and interview will be held in Delhi, Kolkata, Chennai, Mumbai and NIT Calicut. The applications for the institute can be downloaded from the school website
IIT KHARAGPUR TO LAUNCH BIO-ENERGY CENTRE
Indian Institute of Technology-Kharagpur launched India's fi rst bio-energy centre on Tuesday
for undertaking research, teaching and technological implementation of conventional and
non-conventional energy. It was mentioned that the P.K. Sinha Centre for Bio-Energyaimed to create an industry consortium to engage in industrial research. It is with supportof IIT alumnus Prabhakant Sinha, who pledged INR 10 crore for the centre, that the centrehas come into existence.Sinha, Founder and Co-Chairman of ZS Associates, told that once the industry consortiumcame into being, the captains of the industry will pay regular fees and share knowledgethrough regular seminars and conferences. The centre is to support in reduction of thecarbon footprint and enhancing the income of villagers and rural communities. The centre has already collaborated with Universityof California, Berkeley, for research partnership.
OVER 1LAC GOVERNMENT SCHOOLS TO GET COMPUTER EDUCATION
On Saturday an approval was made for introduction of computer education at the secondary and senior secondary levels, in 108,000 government and governmentaided schools, up from the existing 53,000, in a bid to bridge the digital divide. Human Resource Development
Minister Kapil Sibal told that the Cabinet Committee on Economic Affairs (CCEA), approved a scheme of Information and Communication Technology (ICT) in government and government-aided schools during the XIth plan period (2007-12) to cover a total of 1.08 lakh
such schools, in a meeting presided by Prime Minister Manmohan Singh. It is expected that around 1.5 crore students would benefi t from the scheme, whichwould also help train 10 lakh teachers in computer literacy.
MARKETING PROFESSIONALS
SHORT TERM COURSE AT IIM LUCKNOW A collaboration has taken place between Hughes Communication India Limited and Indian Institute of Management, Lucknow (IIM-L) Noida campus, for the launch of its Advanced Program in Sales and Marketing, through Hughes Net
Global Education. The major objective of this newly designed programme is to focus upon the consumer insights and to build understanding about marketing research in Indian context. Showcasing the linkage between marketing and sales to the students, the objective of the six
month course is to provide an in-depth knowledge on contemporary issues in marketing like retail management, emarketing as well as prepare them how to select, evaluate and manage confl icts in distribution channels.