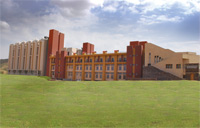 NIIT University, formally inaugurated on November 15, 2009, is situated in the foothills of Aravali, in Neemrana, Rajasthan. The University is set to become an ideal example of learning in innovation, backed by end to end technical infrastructure in the lap of nature.
---
"Learn What You Want, How You Want, Where and When You Want. But Learn You Must!"

NIIT University (NU), a not-for-profit academic organisation, is a new and futuristic institution of higher learning. The University is committed towards bringing innovation in learning, in the emerging global knowledge society.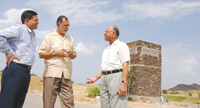 NIIT University is poised to develop around the Four Core Principles of providing Industry-linked, Technology-based, Research-driven and Seamless education. It promises to build great minds and original thinkers, besides ensuring exceptional job opportunities for all its students. The University is focused on developing learning structures that are technology-enabled and research-driven, which will equip learners to solve problems in their daily lives.
According to research by NU, recruiters are increasingly looking for research-driven minds that can bring more innovation into the workplace. Taking a cue from the industry, the University has designed each of its programmes in a way that students are drawn towards research through R&D projects, methodology courses and inspirational lectures by eminent professors and experts.
Formally inaugurated on November 15, 2009, the University is situated in the foothills of the Aravalis, in Neemrana, Rajasthan. The first public announcement about the launch of NIIT University was made on March 31, 2009 and the first session began from September, 2009. The idea of the University was initiated in the '90s, but got mobilised when domain leaders from across academia and industry came together in 2005, and along with the initial Advisory Board, worked on the core principles and objectives of NIIT University.
The Founding Advisory Board members included, Prof P V Indiresan, former Director, IIT Chennai, the late Prof C S Jha, former Director, IIT Kharagpur,
Dr Kiran Karnik, then President, NASSCOM, Prof R C Malhotra, former Director, IIT Kanpur, Dr R A Mashelkar, then Director General of the Council of Scientific and Industrial Research (CSIR), Prof. Ashok Misra, (who later became Director of IIT Mumbai), Prof J R Isaac of IIT Mumbai and Prof M P Kapoor, former Vice Chancellor, Thapar University, among others.
The 100 acre, fully-residential green campus of NIIT University is situated around 100 kms from Gurgaon and 130 kms from Delhi and Jaipur, on the Delhi-Jaipur NH-8 Expressway. The campus is equipped with state-of-the-art technology, cutting-edge teaching methodologies and a strong research and development infrastructure.
NIIT University offers BTech Programmes in Computer Science and Engineering, Information and Communication Technology and Biotechnology; MTech Programmes in Pervasive Systems, Embedded Systems and Bioinformatics and Educational Technology. PhD programmes in Computer Science and Engineering, Information and Communication Technology, Educational Technology and Bioinformatics and Biotechnology are available to students.
The University has also recently announced its MBA Programme, a two year course that meets and exceeds the academic requirements of typical management degrees. The NU-MBA program aims to equip students with the new age skill sets required to seamlessly navigate through the challenges faced by today's business leaders , and also expose them to the vibrant Asian and African economy that are poised to become pivotal economies of the future.
The NU-MBA has a unique initiative by which every student is assigned a mentor from industry who guides him throughout the program. This has brought together 16 CEOs from some of the most reputed companies in the country. Names like Manoj Kohli (Airtel), Raghupati Singhania (JK Industries), and Bhaskar Pramanik (Oracle India) are a few who have agreed to mentor the NU-MBA students through structured personalised interactions. The Mentorship Program is supplemented by other distinctive industry-linked elements, so that students are immediately productive at their post-MBA jobs.
The programme encompasses 36 courses over six terms (trimesters), of which nine are Electives, and requires a specialisation in one out of the six Concentration Areas offered.
Driving towards a futuristic model of education
The aim of NU is to provide students with occupational, spatial and temporal mobility demanded by today's globalised economy. It is about maximising the choices of students and giving them an all-round, holistic education with no artificial constraints. The academic structure and educational process at NIIT University are based on the Four Core Principles of providing Industry-linked, Technology based, Research-driven and Seamless education, derived from the best examples of the global knowledge society.
Industry-linked:
Extensive connectedness with industry is the hallmark of the NIIT University because of the focus on building great careers. This deep-connect is visible through initiatives of:
Six months, or a full semester, devoted to Industry Practice for undergraduates or an Internship for post graduates ensures rich hands-on experience in the workplace

Creating an advisory board constituted by industry experts and accomplished academicians, to update the curriculum regularly and ensure regular tutorials by industry professionals

Encouraging students to participate in industry-sponsored R&D projects in the latest industry research

Guiding students extensively in career development with the help of a dedicated career development team

Establishing an incubation centre to catapult successful R&D projects into commercialisation by implementing them as live projects, or through patenting, licensing and technology transfer. Twenty-five acres (25% of the total campus master plan) is set aside for Incubation and allied activities.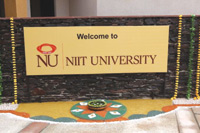 Four Core Principles of NIIT University

The founding philosophy of NIIT University is based on Four Core Principles that aim to establish a technologically-enabled University with a holistic learning approach.
Core Principle I: Industry-linked
NIIT University is focused on building extensive connectedness with the industry to remain more relevant and train industry-ready graduates.
Core Principle II: Technology-based
NIIT University is committed to using cutting-edge technology in all its activities to improve transparency, convenience and to sharpen the professionals skills of students.
Core Principle III: Research-driven
Creating knowledge-based education is the approach of NIIT University. Students from the orientation course are trained to examine problems through the eyes of researchers and innovators. NU's goal is to inculcate the habit of research, analysis and documentation in students and build a research culture on its turf.
Core Principle IV: Seamless
Seamless is a word that is applicable to NIIT University academic programmes and operations, administrative processes and external linkages. Higher education in India needs reforms, that are tuned to the global knowledge society. NU will work cohesively in institutionalising seamlessness, and changing the prevailing practices in higher education within the existing regulatory framework.
Technology-based and Synchronous: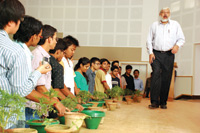 The NIIT University believes in using cutting-edge technology in all activities to improve transparency, convenience and to sharpen student's professional skills. NU ensures that:
All its programmes cover the latest technological developments, so as to keep students abreast of industry developments

Synchronous learning technology is available, that brings students face-to-face with professors and industry leaders from across the world

All students are provided extensive computing facilities, with over 1.3 nodes per student even in the first year and computer access throughout the campus

There is seamless integration in administration, education delivery and assessments through online software to improve the administrative process and reduce paperwork

An AV Studio transmits lectures from the campus to learning centres and facilitates the preparation of professional quality educational material

Advanced IT-enabled science labs facilitate computer-assisted learning

There is a readily available campus-wide Gigabit LAN and universal Wi-Fi Internet, that provide anytime, anywhere access
Research-driven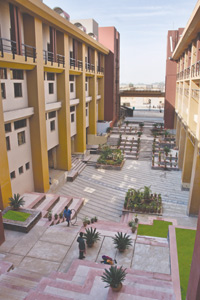 At the NIIT University, creating knowledge starts from Year 1. Minds trained to approach every problem through the eyes of a researcher are the need of the hour in today's complex and fast-changing Knowledge Society. This training of the mind is manifested through distinct attributes such as the habit of critical inquiry, hypothesizing, analyzing, experimenting, creatively discarding and documenting. NIIT University is building this 'research culture' through a variety of means:
Courses like Problem Solving, Design of Experiments, Research Methodology and Scientific Method for BTech students

Extensive R&D Project and Research Methodology courses for all PG students. Already four patents have been granted, eight patent applications are under review, and 29 papers have been published in international journals

Guidance from highly experienced mentor professors in courses and co-curricular activities. Lectures by outstanding researchers are a part of the mentoring process

Creating a research advisory board constituted by researchers in industry and accomplished academicians, to advice and actively engage with NU on all research related matters
The Synchronous and Seamlessness Learning at NIIT University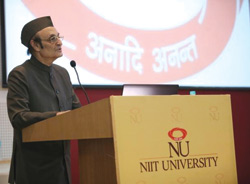 "The concept of knowledge is increasingly being looked upon from a holistic rather than a sectional point of view. The rigid demarcation into departments and disciplines is giving way to inter-disciplinary approaches, whereby students can not only take advantage of the latest technology, but also ground themselves in our rich, pluralistic, multi-faceted spiritual and intellectual heritage. This green-field university being built by the creative team led by Rajendra Pawar and his colleagues, represents a new and innovative approach to knowledge in the 21st century. NIIT University gives a glimpse of what future education institutions should be. It is my hope and vision that one day this will become a unique centre of holistic learning, not only for India but for the whole world."
Seamless
Seamlessness is an all-pervasive concept that will manifest across the NIIT University program structure, curriculum, academic operations, regulations, teaching-learning strategies, modes of education delivery and external linkages. Seamlessness is about maximising students' choices and ensuring that they receive all-round holistic education with no artificial constraints. The key dimensions of seamlessness to enhance the core student experience include the following:
Students must construct a significant portion of their own curriculum. While BTech students select 23%, MTechs decide on 55%of their overall course credits

More than 50 percent of the BTech curriculum comprises lateral integration across knowledge disciplines, including basic sciences, mathematics, technical arts, humanities and languages

Each students audits two co-curricular activities from physical education, performing arts, community engagement, crafts or languages

There are courses like Research Methodology and Contemporary Issues to bridge a wide variety of disciplines within one single course

The delivery of teaching is through a rich blend of methodologies including classroom learning, interactive learning, e-Learning, project-based learning and open-ended problem solving
The Eternity of the Mobius Ring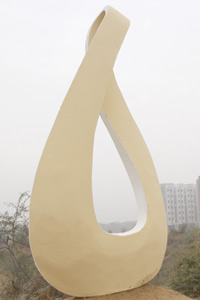 The power of knowledge is universal and eternal. 'Learn What You Want, How You Want, Where & When You Want. But Learn You Must!' – The emblem of the NIIT University depicts a mobius ring, symbolising eternity. The mobius ring greets everyone who enters the campus and takes a curve towards the entrance of the academic building atop of a hillock. The sides of a mobius ring merge in and out, back and forth to create the most graceful, seamless and complete structure imaginable to the human mind. The ring is engraved with Anadi-Anant, an ancient concept implying that the Universe is eternal