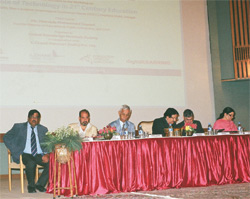 Conference Report on 'The Role of Technology in 21st Century Education'
Venue: SKICC, Srinagar, Jammu & Kashmirs
digital LEARNING, the media partner for the event, shares a snapshot
Globalisation has provided a radically new dimension to the Education system across geographic boundaries governed by two main drivers of society:  a) Continuous advances in information and communication technology; b) Speed and availability of knowledge and information in various formats.  Knowledge and learning have achieved a new level, so have the methodology to deliver and methodology to learn. Today knowledge is shared across the world on a click of mobile phone, on a click of mouse or on a television screen.

With the objective of bringing best practices and partnerships across the globe for the benefit of Indian education institutions, Global Knowledge Network Society in association with S. Chand Harcourt (India) Pvt Ltd and S Chand Group organised a conference on "The Role of Technology in 21st Century Education" at SKICC, Srinagar, Jammu & Kashmir (J&K) on April 24, 2010.
The conference was presided and inaugurated by Honourable Minister of Education and Public Enterprises, J&K Government, ShriPeerzada Mohammad Sayeed. The other distinguished guests of the conference were Shri Ashok Ganguly, Former Chairman, Central Board of Secondary Education, Desh Bandhu Gupta, Chairman, J&K State Board of School Education, Shagufta Parveen, Director, Department of School Education, J&K, Sheikh Bashir Ahmed, Secretary, J&K State Board of School Education. The Conference was attended by 150 school principals from across Jammu & Kashmir.
After the welcome address by Navin  Joshi, Vice President (publishing), S Chand Publishing, Amit Gupta, CEO & Director, S Chand Group, introduced the conference to the distinguished guests by highlighting the importance of blended teaching and learning approach. He urged the August delegates comprising of 150 school principals to provide their teachers and educators with flexible technology aided educational solution tailored to the unique needs of students. Shri Ashok Ganguly, in his keynote address  shared that technology has penetrated across governance, businesses, social network, personal domains and educational space. He stated that India is fast emerging as one of the major service providers to global business ventures, therefore there is a need to build a 'Quality Quadrangle' consisting of Knowledge, Skills, Attitude and Value. There is a strong need to redefine pedagogy and learning and delivery methods. He emphasised on remedial teaching equipped with right technology. He also insisted and urged the school leaders to share the best practices across and to draw a roadmap guided by the National Curriculum Framework 2005 providing right direction to students, structuring the classroom curriculum, harnessing the use of technology and engaging the stakeholders.
The Honourable Minister shared with the distinguished delegates that today's economy is a knowledge driven economy. The process of knowledge acquisition and creation has witnessed tremendous changes in the past two decades due to the growth of technology. Globalisation and advancement in technology are driving changes in the social, technological, economical, environmental and political landscapes at an unprecedented rate and magnitude. In order to drive the 21st century digital economy, teaching

br>