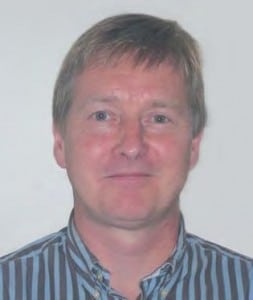 Houghton Mifflin Harcourt Publishing Company publishes educational materials for pre-K-12 schools. Could you provide us with a background information of your company?

Houghton Mifflin Harcourt brings people together at home, school, work through powerful solutions that recognise how learning can be exciting for everyone.
I started my career as a teacher and after 14 years of teaching I was offered a position in a company  called Riverdeep, which was one of the early e-learning developers.
Riverdeep merged with two of the largest textbook publishers in America, Houghton Mifflin and Harcourt. The current company is an amalgamation of three smaller companies. Houghton Mifflin and Harcourt are traditionally the textbook developers, with some elements of technology in it, while Riverdeep is the company which focuses on developing e-content.
What has prompted you to enter the Indian market?

India is a place where huge importance is given to education and this can be translated into tremendous e-learning potential. The interest in the Indian market is also a way in which our product can be applied in different educational settings. Understanding the international dimension is important, which can be done by studying the infrastructural and curriculum variations. Part of my moving to the international arena was really to see how digital education can expand into the international education space.

How has the educational software been adapted to the needs of the private and government schools in India?
Currently  we  are looking at developing digital content, across all subjects, for a number of schools, which will be- in a sense- the trend setting schools. We are not focusing exclusively on private schools. Our intention is to make a move towards all sections in the market. We are acutely aware of the practical needs of the teacher in the classroom. We have a clear understanding of the national curriculum demands and have forged a relationship with CBSE.
We have also worked very closely with teachers who have sizeable experience in teaching. We get continuous feedback from teachers and build our content accordingly.
Therefore our product development is in consonance with ICSE, CBSE boards and state boards. Our aim is not just to provide cutting edge solutions but also provide models that are scalable across the country.
Houghton Mifflin Harcourt's education initiatives extend across the globe.Would you like to highlight a few case studies done in this respect?
We have conducted quite a number of case studies, one of it being in USA. We decided to use our digital content in a Summer School in Florida in St Louis district. Our product Destination Math and Destination Reading was used in the Summer School. Students who attend this School are those who have failed the state tests- meant to be given to students after the fourth or fifth grade. Summer School for this district had not seen great success. When they started using our products, supplemented with interactive whiteboards and management system, they immediately witnessed a huge increase in the number of students who passed these tests, i.e, from 35% it rose to 66%.
We asked the school authorities to analyse the reason and the conclusion arrived at was that the digital product deployed at the school had been able to address a number of different issues relating to learning. This included raising the grasping potential of students and retaining their attention through visual representation. Therefore, the multi media programme emphasised on effective delivery of classroom teaching processes. Students had become an active part of the learning process.
How has the S Chand & Houghton Mifflin Harcourt alliance promoted technology integration in education
Firstly, Houghton Mifflin Harcourt has brought to its alliance with S Chand years of research into how technology directly enhances education. We are the world leaders in quality e-learning solutions. Secondly, using S Chand's long-standing distribution network and sound relationships with schools, S Chand Harcourt can offer its digital content to a wide variety of schools throughout the country. Thirdly, because we are educational publishers, we understand the value of teacher training. For us the "product" is not only the digital content we deliver into the school, but the relationship and the service that we establish with the teachers and administrators.

br>