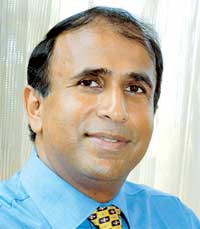 "Tutor Vista started with providing tutoring services to students in the US. K Ganesh established the company after observing the immense potential of outsourcing tutoring service to students in the US, since most parents there could not afford personalised tutoring for their children. Today, the online tutoring firm and school management venture TutorVista Global is raising Series D funding to the tune of $50 million from existing investors as well as global funds.
How the journey began

K Ganesh went to a Tamil government school in Delhi and pursued Mechanical Engineering from Delhi College of Engineering. "I initially started working with Tata Motors, but it soon dawned on me that engineering was not my forte'. I pursued MBA from IIM Calcutta."
As a student, Ganesh claims to have been average in studies.
Rote learning and boring lectures were not the most interesting aspects of his academic life. Intelligence, according to him, does not come from mugging books, but by observing, analysing and self learning.
HCL was the first company that he joined after completing MBA. He had the opportunity of assisting Shiv Nadar in several fields and it gave him immense experience in corporate functioning. But Ganesh could not find himself settled into a corporate life. His entrepreneurial journey found wings here. The most important quality in him was his capacity and the vision to foresee the rapid pace with which the outsourcing industry would grow.

"I started in 1990 with IT & T Company, an IT and network services company. The venture was not without doubts from family and friends. The hardest aspect of starting an independent venture was to convince the family about my decisions. Leaving a comfortable corporate job for an entrepreneurial stint was not very comforting for my family, and so was the problem of generating money for the company, since venture capitalism was still new to India."
Despite odds, Ganesh along with a group of five friends pitched in their savings and carried forward the initiative. It turned out to be a successful business enterprise. Following years, he got involved in several more business initiatives. "I was the co-founder and CEO of IT&T till 1998, after which I decided to move out, though still retaining the directorship and being the largest shareholder of the company." By this time the company had more than 400 employees, over 16 braches and a turnover of $4.8 million.
Moving from Delhi to Bangalore was his next move, where he joined Bharti British Telecom as a chief executive. The job was a conformist one and it was not too long after that the entrepreneurial bug bit him again.
Along with his wife, Ganesh began his next venture in the form of a company called Customer Asset which offered technical support to the clients of dotcom start-ups. In 2002, the company was acquired by ICICI Bank for $22 million.
The following undertaking was with three youthful entrepreneurs from IIT and IIM. They had started a company named Marketics which provided statistical analysis for clients in the US. "I was invited by the entrepreneurs to mentor them in scaling business and to invest in their venture. I became their non-executive chairman." The company flourished and was later sold for $65 million.
Meanwhile, Ganesh was also dabbling with diverse ideas for his next venture. Having gained enough knowledge about BPOs, Ganesh then turned his attention towards starting Tutor Vista. Inspired by a sartorial cartoon on outsourcing of homework to the US, he started a company which would make use of technology, advanced pedagogy and academic content to provide tutoring services to students in developed countries. The real test however was to build a workable business model that would be both profitable and capable of scaling up. The big leap was taken in 2005, and through sheer courage and faith in the idea, `72 crore was raised through venture capital.
Tutor Vista soon created a resource pool of highly qualified teachers with expert subject knowledge who cater to the requirements of students. Today, the online tutoring-to-formal school enterprise TutorVista Global has drawn interest from a series of marquee global and domestic funds such as Temasek, New Enterprise Associates (NEA), ICICI Ventures and Barings Asia among others, and looks to see through a $50-million fund-raising exercise. TutorVista is already backed by British publishing major Pearson, Manipal Education & Medical Group besides private equity funds Sequoia Capital and Lightspeed Ventures.
Gyan from the Guru

In his journey as an entrepreneur, Ganesh says that his lessons have better been learnt through practical experience than through management and classroom teachings. One of the crucial points that has to be remembered by any startup company is that a core set of team forms the nucleus in any business looking towards scaling up.
Secondly, having strong faith in the business idea is essential. Learning from failures and enjoying successes are the very essence of any entrepreneurial venture. "Being passionate about the work you have undertaken is of utmost importance because if the journey does not seem to fit your temperament, the entire exercise is futile."
It is also important is to ensure that the business proposition is well covered in terms of sustainability and capital. "Once you start working on a business, everything takes longer time. Plans have to be made based on the three year principle. You will need three times the capital and three times the effort of what you have already planned. Running a business is not easy and all involved should prepare to slug it out."
"Support from family and friends is imperative because their strength will help you get through tough and trying times", he adds.
While running a business, it is always good to have a positive attitude, and stay away from people who May have a negative influence on you. Taking responsibility for your own actions is a vital factor in any individual as it demonstrates optimistic outlook. People who tend to play the blame game are not the best sport in the work environment.
The inspiration

"Stalwarts like Shiv Nadar and Sunil Mittal have had tremendous impact on me and I consider it my sheer luck to have got the opportunity to work with them. Their feedback has been valuable in my life."
"The other inspiration in my life has been my mother. I lost my father when I was nine years old. As a single mom, she brought up me and my two younger sisters singlehandedly. Sometimes when I feel that I am struggling to achieve something, I draw inspiration from my mother on how to wade through struggles and adversities."
"Exciting news! Elets Education is now on WhatsApp Channels Subscribe today by clicking the link and stay updated with the latest insights!"
Click here!