Access to education has been an issue which has been largely talked about, although equitable access and success in developmental efforts still have a long way to go. The proceedings of PCF6 are governed by several themes which form the basis of discussions and deliberations. The PCF6 platform provides a common ground for discussing contemporary themes including social justice, education and empowerment. The use of technology and open and distance learning have been seen as key elements in promoting social justice. The sub-themes of PCF6 have been recommended to draw the attention of stakeholders to take forward the agenda in a more pragmatic and unbiased parameters so as to empower the millions of distance learners with many limitations to pursue their learning with confidence to achieve their goals
By Sheena Joseph
Social Justice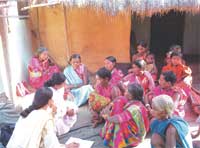 A nations growth process should necessarily reflects all inclusive growth and this requires that all social groups have identical access to the services rendered by the state and equal prospects for growing through financial and social mobility. It is also essential to make sure that there is no prejudice against any section of the society. Social justice becomes imperative in this context.
Theme Leaders
Common Wealth of Learning (COL) Social Justice
Prof Asha S Kanwar
Dr K Balasubramanian
Trudivan Wyk
IGNOU Social Justice
Dr Malati Mathur
Dr Shubhangi Vaidya
Prof K Elumalai
Sub Themes
Access to Justice: Life, Liberty & Livelihood

Scaling up Quality Education for All

Education & Employment of Persons with Disabilities

Assistive and Affordable Technologies
Access to education typically stands for a prospect to get access for a variety of courses and programmes that can lead to degree or authentic certification of a degree. In areas of non-formal education it May signify creation of consciousness among the members on a large scale in matters pertaining to livelihood, physical wellbeing, officially permitted rights, which includes basic human rights and partaking in various spheres of a self-governing society that lays emphasis on inclusive development and advancement.
Nevertheless, time and again it can be observed that access to education for a large number of population residing below the poverty line is still a distant dream. Several mechanisms which might have been instituted by the state are also full of inadequacies and shortcomings. These could include weak policies, poor implementation, corruption and fragile governance structure. As a result, even the existing structures fail to adequately deliver key educational targets for its citizens.
The final outcome of this kind of a society is that the certificate conferred to the youth is hardly of any worth and in spite of having invested in education, relevant job opportunities tend to be out of reach for them. Open and distance learning can play a crucial role in addressing numerous aspects of social justice and empowerment.
In several nations, there have been certain social groups and minorities who have historically been at disadvantageous and vulnerable situations. There are also certain additional groups which May have been discriminated against and which suffer from handicaps. This group May include persons with disabilities, the elderly, street children, vagabonds and victims of substance misuse. The World Day for Social Justice observed every year draws international attention towards efforts being made to wipe out poverty and endorse community welfare, egalitarianism and access to equal employment opportunities.
Open and distance learning has provided several avenues for the scaling up of education. It has opened up opportunities to teeming millions in India and the developing world. Technology has further accelerated the process. Newer innovations have helped expand the cause further. ODL has given a new life to education for children and youth in the hinterlands. It has enabled children and adults alike to reach out to the many who crave for education.
Community Development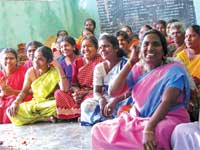 Traditionally, higher education institutes have assumed a societal role of creating, preserving and extending knowledge to the society. Students have been trained to assume greater social responsibilities and inculcate values of a civic society. However, gradually with globalisation it has also been observed that universities are becoming ivory towers which are out of sync with the realities of modern living.
Theme Leaders
COL Community Development
Sir John Daniel
Ian Pringle
IGNOU Social Justice
Prof T U Fulzele
Prof Annu J Thomas
Dr Jaswant Sokhi

Sub Themes
Community based Learning and Outreach

Open Education Resources: Models to Choose, Adopt and Adapt

Innovative Pathways to Knowledge Society
Although the significance of research and innovation of fresh knowledge cannot be underestimated, finding of novel information and application of it in specific situations of research require specialization. With the increasing demand for democratisation of education in all stages, universities cannot manage to continue as islands of excellence. The necessity of a linkage between the universities and the communities has become all the more relevant with issues such as global warming, industrial pollution, violence and climate change cropping up.
Numerous education programmes have put the community as a vital contributor in determining issues of magnitude and quality. Democracy requires that a positive role be taken up by people, rather than imposing a top-down approach, where the 'target audience' is an essential part of planning and execution. Education is one of the quarters that, by definition, has to take on a democratic ethos in its functioning. Strategy documents are replete with references to 'community participation', which becomes the most essential form of sharing information and building consciousness. Much more powerful forms include participation in decision-making regarding school and teacher administration, and the performance and content of education. Community involvement is observed to make schools and teachers more responsible, thus leading to a more competent school system. Advocates of community involvement also argue that it assists in the course of making schools more receptive to local situations, and allows the use of community-level information, creativity and enterprise. Numerous programmes at the community level have emphasized on participation of the community in matters relating to primary education and community affairs.
Several research studies on the impact of community based education programmes have shown that a wider number of students have been brought into the education process, including the disabled, the marginalized and has increased teacher accountability.
Studies have also emphasized that community involvement have led to addressing issues relating to the management of para-teachers, who are observed to be a better substitute to the poorly performing government school teachers. Para-teachers who are managed by the community are additionally answerable to them and are more open to training and are competent in matters relating to the children's education, in comparison to regular teachers.
Another approach is where the people's involvement has also been explored in creation of course and pedagogy, connecting the child's societal, intellectual and ecological contexts with the teaching-learning process, thereby making education more relevant and interesting.
Traditionally, syllabus formulation has been a procedure of instituting and executing minimum standards across distinct groups. The teaching methods that are adopted have a huge bearing on the relevance of the course content, and therefore it becomes all the more essential to tailor the curriculum to suit to local requirements.
The stipulation in this background is that no neighborhood community is self-sustained; it forms an integral element of the larger society, a community that differentiates according to the social order and gender. On the flip side, these can inevitably lead to creation of a curriculum that reinforces these patterns. Accepting local curriculum May also exacerbate inter-regional differences, resulting in rifts in the quality of education alongside socio-economic or cultural lines. Secondly, disputes also relate to the capacity of the parents and the society in promoting participation, so as not to exclude any social group. Thus, the emphasis should be on the necessity of maintaining an equilibrium so that children are able to accomplish certain fundamental learning and skill standards, with the basic conviction that the state is eventually accountable for education, even as the society May involve themselves in that process.
Skills Development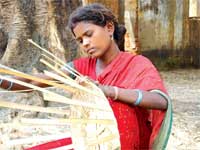 Open and distance learning has provided several avenues for the scaling up of education. It has opened up opportunities to teeming millions in India and the developing world. ODL has given a new life to education for children and youth in the hinterlands

For any population to benefit from the fruits of a growing economy, they necessarily have to be vocationally skilled to partake in the economic process. Much more needs to be done in the developing countries to create employment opportunities for the large number of population and to equip them to meet the labour market requirements. Skill development plays a crucial role in national development and advancement of economic growth. Several efforts have been made in the developing countries to initiate skills which are relevant to employability.
Theme Leaders

COL Skill Development
Alison Mead Richardson
John Lesperance
Angela Kwan
Guilherme Vaz
IGNOU Skill Development
Dr Vijayasekhara Reddy
Dr Babu P Remesh
Venkata Subrahmanyam Vampugani
G Mythili

Sub Themes
Skills Development for National Development
Global Development Discourses; North-South Dialogues
Regional Cooperation: Who can benefit from whom?
One of the important elements in the creation of the skilled personnel is the vocational education and training system. In several countries, however, the system itself has not appropriately responded to the demands of the labour market.
A critical issue is to deliberate on the necessary reforms and interventions that are required to advance the effectiveness of the system. Change from a traditional to modern economy mandates the creation of a new generation of educated and skilled workforce. Its aggressive edge will be established by the people's capacity to generate, distribute, and utilize knowledge effectively. On the one hand developing nations have to face the potential opportunities accompanying the rapidly transforming realities and on the other hand it has to deal with the flaws of its established customs and structures A growing economy needs to expand its workers' base to include knowledge workers and knowledge technologists who are adaptable and logical and can be the key elements driving innovation and development.
To attain this objective, a flexible education system is required that will expend primary education which lays the foundation for learning; secondary and tertiary education that helps to develop integral capabilities and key technical skills; and additionally prepares the individual for lifelong learning. The education system must be accustomed to the new-fangled global environment by inculcating creativity and improving the quality of education and training at each and every level.
Nations that have had speedy increase in learning achievement, as well as continued economic growth, have improved education drastically to suit changing requirements. In a globalized economy, a large group of skilled workers are essential for drawing foreign direct investment. Developing skilled workers augments the effectiveness and flexibility of the labour market and decreases bottlenecks. Skilled workers are efficiently and easily accommodated into the economy, and their job mobility is enhanced. It is critical to devote in quality secondary and tertiary education and in vocational education and training (VET) if the economy is to expand and stay viable in world markets.
Demographic strains and monetary restrictions have often played an important role in the lack of proper dissemination of vocational training. Many developing countries are faced with situations where a great deal of the economy and population are still engaged in traditional activities and systems. Even though there has been a major movement away from traditional farming activities, it has still left the majority of the work force toiling in the informal sector, that too at low levels of productivity. Access to education and vocational training for this group is essential and will form the final stage of their completion of formal education. An effective school to work evolution for these adolescent populace can be achieved by superior quality secondary and tertiary education and training, and will advance their employment prospects and earnings.
Formal Education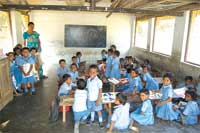 It is critical to devote in quality secondary and tertiary education and in vocational education and training (VET) if the economy is to expand and stay viable in world markets. Skilled workers are efficiently and easily accommodated into the economy, and their job mobility is enhanced

Modern days challenges in global education and sustainability require urgent attention. Education in the current century is in want of thoughtful innovations because our civilization is increasingly becoming multifaceted, integrated, mobile and driven by knowledge. In this background, it is critical to support a vital and constant discourse on the purposes of education, what people learn, why and how.
The intention of education is and should be to empower individuals, and give them skills, information and values that can enable them to lead a fulfilled life. It should be the key stone in promoting peace, better understanding and give impetus to sustainable society.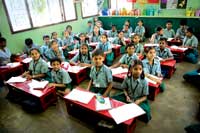 If we notice that students are not learning, then the education systems have not been put properly in place. Knowledge is wealth, and lack of it keeps people bound in poverty. Quality cannot be delivered unless teachers are trained in relevant opportunities and ideas
All of us share a planet where we are interdependent on each other for diverse needs. Therefore, it becomes an accepted collective consciousness to actively take care and look out for fellow human beings. From this standpoint, education is about private and shared enhancement and the endorsement of societal justice. It concerns smashing down communal and cultural barricades and bequeathing every person with the knowledge, reverence and self-assurance to be occupied in their families, societies and countries as conscientious citizens. Education is a pursuit and an investment of a life span and therefore there has to be a coordinated effort for a movement in universal global education for all.
Theme Leaders

COL Formal Education
Dr A Umar
Frances J Ferreira
Dr Willie Clarke-Okah
IGNOU Formal Education
Dr R Sudarsan
Prof M K Salooja
Dr Hema Pant
P V Suresh

Sub Themes
Revamping Teacher Education
Open Schooling
Technologies for Scaling up ODL programmes
Quality Issues
Innovative education is the need of the hour. This will hold true for several reasons. The first is that the right to education is yet to be a reality for millions of people around the world in spite of the remarkable strides made in this century. With political resolve and innovation, there is a momentous chance to enroll all children in school.
The primary indicator of an innovation's value is the degree to which it opens the doors of education to the the most susceptible and marginalized.
It is common knowledge that segregation has numerous aspects. Children May not be attending schools because their families make less than one dollar a day. They might be trapped in distressful circumstances of conflict that wipe out their whole social network and surroundings. They May also be kept out purely because their gender, or that they articulate in a minority language, belong to a religious minority, an aboriginal group, or live with a disability. Education cannot stand such intolerance