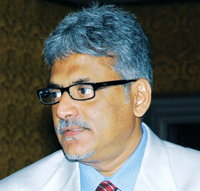 IndiaSkills, a joint venture in vocational training formed between a leading training and education service provider in India (Manipal Education) and one of the world's largest provider of work-related qualifications, assessment and certification. City and Guilds has been specifically created to make an impact on India's vocational training sector. Sheena Joseph, in conversation with Harish Menon, CEO of IndiaSkills, finds out more about the venture
Could you provide us with a background of why the venture was conceptualised?

IndiaSkills is a joint venture in vocational training formed between City and Guilds. It has been specifically created to make an impact on India's vocational training scenario by upgrading the quality of vocational skills training and benefitting the future of both the individual and the industry. It seeks to bridge the employbality gap across various sectors.

How have the training centres been distributed in India? Can the students avail distance learning facilities as well?

We have 50 vocational training centres in all four regions (North, South, East and West) providing skills training and are expanding our network to 500 centres over the next five years. On-hands traning is a key part in any high quality skilling course and we place a strong emphasis on our practical training sessions. We have also worked with our distance education partners SMU DE to launch a Pro-Degree programme in distance mode which gives job ready graduation in terms of B Com degrees with skills courses built into the same in each semester. This is available in Financial Planning and Supply Chain streams. Students taking our vocational courses at our centers are always better positioned to further their learning through signing up for distance learning programs once they start earning and working.

How is the content for the curriculum developed? Are the certifications recognised by any professional body?

Developed with industry inputs, our courses are innovatively designed to suit the specific job requirements of the industry and our curriculum reflects the requirement of all connected stakeholders – industry, learners and government. All learner support material is developed by IndiaSkills' Subject Matter Experts (SME's) who have a high degree of industry exposure either in terms of training, consulting or actual employment. All stages of qualification and learning content development are monitored and approved using the principles and processes of City and Guilds and Manipal Education. This is supported by a robust quality system that ensures vocational training centres have the required infrastructure as well as certified trainers and robust processes resulting in high quality delivery of the qualifications. The best-in-class assessment methodology, perfected over 130 years by City and Guilds to achieve a comprehensive competency based system, certifies that the learner is job ready and productive.
How has IndiaSkills contributed towards skilling the Indian youth in Banking, Financial Services, Insurance (BFSI) sector?

We have developed a specific course for students and BFSI industry employees to enhance their skills and better their career options. It covers essential subjects like Financial Planning, Financial Market, and Depositories and Key Depository Services, Banking and Banking Products, Insurance and Insurance Products, Mutual Funds and Relationship Management. The unit on insurance gives the student in-depth knowledge on the insurance industry and products while the relationship management unit imparts key grooming, selling and customer service skills. The course module is delivered by experienced trainers through a combination of classroom lectures and practical training sessions that ensures the candidate is "ready-to-work" right on successful completion.

The student who successfully completes the course will have a sound knowledge of the financial system, products and services available in banking and insurance principles. The industry experienced trainers also gives practical training for students in relationship and marketing skills