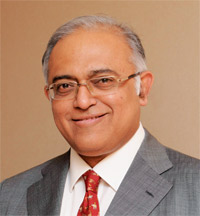 Sanjaya Sharma
CEO, Tata Interactive Systems 
---
A technology enthusiast Sanjaya Sharma, CEO, Tata Interactive Systems after gaining accolades for using multimedia tools from across the world, marked its entry into the school education sector with their latest product 'CLASSEDGE'. Mr Sharma shares his views and strategies to foray into the Indian educational technology market with Rachita Jha, digitalLEARNING Bureau
 Tell us more about the genesis of your organisation in the e-learning domain?
Our faith in technology-based learning model goes back by 21 years, when we set our vision to promote computerbased training and multimedia for education and training – and there was no web at that time. We had an undefined agenda – and our business developed and grew with corporate training initially and this was followed by our partnerships with higher education as well as school segments abroad. This included some of the leading institutions and publishers involved in creating content for schools. We have created K-12 content in Maths and Science in countries such as the UK, US, Japan, Germany and other parts of Europe. Therefore our exposure in the last two decades has been through creating content for schools across subjects and geographies and classes.
What is the market size for Digital Classrooms according to you and
growth forecast?
The Digital Classrooms market has recorded consistent growth for the past 2-3 years and we feel it might continue growing at very high rates maybe at 50-60 percent or slightly faster in times ahead. This is primarily because of the 80,000 schoolsin which only 10 percent have gone in for adoption that too for 10 percent of their classrooms only. So, although there maybe players in the market, it is a market that is very big and I don't see the growth stopping in the next decade. In addition to the private sector from where everyone is beginning, eventually the huge opportunity will definitely be in government schools and total market is really huge.
What is changing in India that is driving the educational technology market share that prompted you  to foray into Indian schools?
The market for technology-enabled learning-vb solutions in the Indian school education sector has experienced a double-digit annual growth over the last five years. However, India market was about 3 per cent of revenue about 4-5 years ago-this is the e-learning market alone. India is growing primarily due to its growing ITreadiness and computerisation. Also, its  cost-effective advantage has made it more widespread with larger target audience  across varied learning environments. We believe that technology-enabled learning  will be critical in revamping India's  education system, which has over 15 lakh schools in both private and public  domains. We therefore took forward to leverage our core competency and expertise  in instructional design, in which we are considered as world leaders and take the  opportunity of the India growth market.
Do you consider yourself as a late entrant in the educational technology market as a strong presence across schools?
I would disagree. This is because if one is to consider the school segment, there are well over a million government schools in India the biggest market of all. In addition, there are 80,000 private schools and partially aided schools. Even if we talk about the 80,000 private schools alone, less than 10,000 have so far gone for IT adoption. So, 90 percent of the schools have not adopted IT into their infrastructure, and 90 percent of classrooms in every school have not been computerised. So it's a huge opportunity that is yet to be tapped. So I would still say it is an early entry into the market. Our three major differences from the existing e-learning products in the market are-content that is built on lesson plan based on innovative instructional design, followed by our hardware offer with the new technology projector and Internet connectivity that lies at the heart of our offering. So in all it is a cloud computing offer wherein we put all our content on a central host and server, which can be easily accessed by the schools using the Internet connectivity offered in the package.
What is your approach towards content creation for the schools and ensure it is regularly updated?
Internet and connectivity has not yet  reached our schools and updating of content is a bottleneck in upgradation of teaching content. Moreover, CDs are not a viable option for such a large number of schools. So we decided to have two teams , one was on the task of content creation with weekly updates and they can be pushed anytime using Internet connection  that is provided along with 'CLASSEDGE' and as a byproduct the schools get  the Internet connection – so it is a winwin  situation for the schools.
Tell us more about your 'CLASSEDGE' solution and outreach strategy for it?
It is a solution at the heart of which lies our interactive instructional designed for teachers to make an effective lesson plan. In addition, we have provided access to additional multi-media assets that would help them in teaching enhance the quality of the lessons that they deliver in classrooms. The solution is based on the 'Multiple Learning Experiences Model' and aims to enhance students' social and analytical skills along with ensuring a thorough understanding of the curriculum. India's supplemental education represents a US $15 billion market opportunity over the next decade and we plan to target schools in over 100 cities  in this year. And from the delivery side we have a national delivery structure for each zone and region for hardware, software, feedback issues. This coverage is already in place for 40-50 cities and it will be double in another 2-3 months. Our approach has been pan-India from  the beginning as our research showed that this demand is from all over the country and not alone from the big cities but also tier-1 tier-2 cities. We have teamed up with Tata Solutions in our current offering on the telecom side and  if TV content integration takes place in future we could consider partnering  with Tata Sky for the same.
What are your views on the time taken by India education sector to match the tech savvy aptitude as the west?
It will take 4-5 years for private schools to catch up pace with the use of IT as it in the western countries. It will take a decade overall – but the rate of adoption is very fast. So from an instructional approach the design you will do for a classroom in the west is different from one that would make for India. In the developed world the content design can have the  possibility of interactivity elements and here the design is more for group learning–  therefore in our lesson approach the main multimedia and supplement it with  individual exercises. There is some prerequisite for market  adoption such as schools should  have computers for some of the classrooms. So we will see the first phase of  digital adoption in schools by using first PC and projection system in  schools. The second aspect is that vendors like us don't have sufficient IPR content, and today if we have the form factors  and design factors ready, it can be easily tweaked to run on desktop, tablet or  any other new devices. Today we are already working on iPads and creating  iPad-based training programmes.