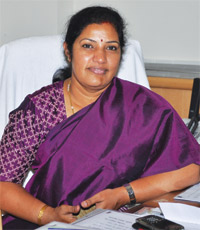 Smt D Purandeswari,
Minister of State, Ministry of Human Resource Development, Government of India
Smt D Purandeswari, Minister of State, Ministry of Human Resource Development, Government of India shares plans, outreach and challenges in education while talking to Dr Rajeshree Dutta Kumar and Pragya Gupta
Please share your views on ideal scenario of education system in India.

First, we must remember that education is the fastest driver of socio-economic change. It is very important that we have a very strong education system that will support our needs and requirements and also support country's growth and development. In order to respond to the challenges and issues within our own country, we need to bring in reforms in our education system. Education system introduced by colonial rulers had outgrown its relevance and there was grave necessity to put an education system in place that addresses our requirements.

The University Education Commission was thereby constituted under the leadership of Prof S Radhakrishnan. His recommendations emphasised that the then education system did not have any relevance and did not relate to modernity. He urged that the education system must change itself according to the needs and requirements of the nation. More than 50 years after, time has now arrived to bring in changes in order to suit the needs of our education system.

Globalisation is a reality and is here to stay, entailing that there is a need to prepare children not only to support the growth and development of the country but also that of the globe. This indicates the need to churn out global citizens. In view of that we are now looking to bring changes in the education. I would like to call the current education scenario interseting and challenging. Interesting because of exponential expansion in education sector be it elementary, secondary or higher education and challenging because not only do we need to firm up our education system to ensure that that they grow as global citizens.
Can you share with us the initiatives undertaken by your Ministry?

The ministry has made significant achievements under the leadership of Shri Kapil Sibal as he set a 100 days target so that we can achieve it without any complacency seeping into the system. That is how we have been bringing certain legislations like RTE (Right to Education) bill and were able to do amendments. We are looking at the exponential expansion in higher education sector. We are now looking into different bills to come in. We are looking at Education Tribunal bill. We are looking at Foreign Education Provider bill, which is presently there with the law ministry. Once it will be recognised by them it will be introduced. We are looking at establishing an education tribunal to address the issues, which education institutions faced. Suppose if there is a professor or teacher in a college or school who feels that their terms were not fulfilled or they were misled, they can approach the tribunal. Because we do not want institution to be hanged in a courtroom for long to get their cases resolved. Rather, we want fast track tool in education institution.

We are also looking at Prevention of Education Malpractices Act. The students who have been cheated by the institution or if they find that said conditions have not been fulfilled in terms of faculty, infrastructure, fee, etc., then the students can take them to court with this act. I am sure parliament will support this bill, which will bring great change in the education system.
How can our children cater to the global requirements in the light of shortage of skilled workforce? How can industry support us?

Children must support the requirements of our country first then they can go to become global citizen. There has been an apprehension that there is a great gap between what the universities are offering, the industry and market requirements and what universities are churning out. There has been a long debate. My own experience says that four-five years ago when we opened dialogue with private sector to come to the table and discuss about their needs so that we can put them into operation, we did not see enthusiasm by private sector or the industry then.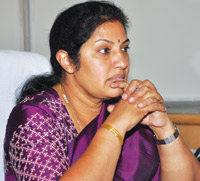 But today we see that the private sector is willing to come forward and we also want to stretch out our hands to them and sit together to discuss with them so that our children should get meaningful education. It is happening because today both of us look at it as a win-win situation. We considers it as a win-win situation because we are ensuring children employment. If we work with industry then we will ensure providing children with gainful employment. Industry considers it as a win-win situation because unless we give them quality education, there will not be quality manpower out of university. So the situation is such that both of us have to sit together.
What are the initiatives taken by your Ministry for promoting vocational education?

Vocational stream is also the focus today. Honourable Prime Minister has emphasised that we need to up skill 500 million children by 2020. The Skill Development Council has been constituted and it is under the review and purview of Prime Minister's Office (PMO). Skill development is spread across 17 ministries and departments, and in order to avoid overlapping, the PMO has taken the responsibility to coordinate and review the situation.

Under the skill development mission we have Polytechnics. This mission concentrates and focuses on skill development. In this processes, we can now see piecemeal development happening but there is no proper certification available. When it comes to skills that our children have actually acquired, we feel that the certification is important as this certificate will be recognised wherever the child goes across the length and breadth of the country. Probably, we will think of tying up with the international bodies as well. Presently, we are focusing on children's skills being recognised and they be given due employment.

Secondly there would be no exploitation of any child. Today, if a child does not undergo formal education system, his / her skills are not recognised and there is an exploitation and under payment. National Vocational Education Qualification Framework (NVEQF) has been constituted, which will probably be the national body that will certify the skills acquired by students. We have opened dialogue with various industrial sectors so that we could work together. We want them to give us guidance in the form of curriculum that a sector requires.

We also have to see how do we integrate vocational education to conventional education. A child after sometime may realise that he is interested in going back to college, and it will not be possible unless we establish a connect between the two. Unless this connection happens, we do not think that there will be respect and dignity that will be given to vocational education. It has been looked down as a stream where 'not so good' children go. So that apprehension should be dispelled and dignity should be given to vocational education.

We interacted openly with sectors like automotive, IT, ITES, Construction and are looking forward to interact with hospitality sector also. These are sectors that generate lot of employment. We are looking at different levels of skills required in each sector. We have constituted a committee to be a part of NVEQF and asked them to give us direction on the curriculum and testing of the skills of the children .
Do you see any direct relationship between conventional higher education system and that of vocational?

We do want them to be in relation with each other. Unless, we give the child vertical or horizontal mobility, in vocational education, which will give options like multi entry and multi exit, the child will not want to come into vocational education. Today we cannot have children who just come out of secondary school education and get into the higher education where there is no employment opportunity for them. We rather have them skilled and then gainfully employed to offer better support to their families and contributing to the growth of the country.
---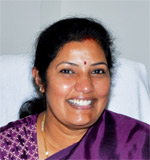 "Prevention of Education Malpractices Act will lend a hand to the children who have been cheated by the institution"
---
Do you advocate Vocational education for schools?
Yes. It will give the child a feel of what vocational education is. The Central Board of Secondary Education (CBSE) has already incorporated vocational education into the curriculum at the level of secondary education. A child in class 8th to 10th is already exposed to vocational stream. It helps in exploring the child's latent talent. Once the child gets the feel of Vocational education then the child can take it up further too.
Can you share with us the impact on GER (Gross Enrolment Ratio)?

Drop out ratio in school education has seen positive changes as it has came down. For GER, we go according to the census and 2001 census has revealed that GER in Higher Education is not more than 12.4 percent. Today, it is expected to be around 14 percent, according to general estimate, since we have not got the figures in hand. Various surveys have emphasised that if our economy has to be sustainable, then GER needs to be 20 percent whereas international average is 23 percent. All developed countries are anywhere between 40-70 percent. So we know there is herculean task ahead of us. Vocational education can help in achieving GER in one aspect. Distance education can help us achieving our target. These are various aspects within the education sector that can help us in achieving GER but we also have to look at the literacy level. Presently, literacy level is around 65 percent and we want to enhance it to 80 percent. In terms of diversity it is a challenge to reach out to diverse sectors. So even 65 percent achievement, keeping in mind the multitudnal diversity of the country, is a wonderful feeling. Of course we can not get complacent. We have to set a target of 80 percent for the literacy level. So the distance education, the vocational education, and the skill development mission will help us to achieving the set literacy rate target.
The mandate of Right to Education enhances the accessibility of Education. Does the act address quality and quantity aspects?

Right to Education addresses both qualitative and quantitative aspect of education. Quantitative in terms of improving accessibility. Through SSA (Sarva Siksha Abhiyan), to a large extent, our focus has been on accessibility because accessibility, equity and quality are the key pillars of our education system.

First is accessibility, unless we have children coming to school, we cannot talk about quality. So all our focus has been on how we make education accessible. We need to create the infrastructure so that the child can actually access the school within the kilometer range for an elementary level. Since, we have reached that quantitative in SSA, we are now looking at secondary education and we have the flagship programme RMSA (Rashtriya Madhyamik Siksha Abhiyan) where we are looking at lower primary, lower secondary school at every three kilometers and higher secondary school at every five kilometers. Now that is also a herculean task keeping the geographical largeness of the country and the numbers and demographies in the country.

In this regard, we have also requested the state governments because RTE is not the legislation that is going to be only implemented by Government of India. It is the legislation, which is going to be implemented closely with the state governments. So the state governments need to play their part very effectively and responsibly. We have asked them to have GIS (Geographical Information System) mapping of all the schools for the citizens to know where the schools should be and what we mean by neighborhood schools. Because there are areas in some states where all the schools probably are concentrated in a particular place. It is very important to address the geographical disparity.

After we have addressed the quantity, our focus is on quality. Now if you look at RTE bill very closely, we can not have quality education being given to our children unless we have qualitative teachers in the class. RTE lays down the qualifications for the teachers. It also says that teacher have to pass the Teacher Eligibility Test (TET), which has been introduced by NCTE (National Council for Teacher Education), a nodal organisation to lay down the qualification for the teachers to be covered under RTE. We are ensuring the qualitative teachers are now going to be put in place.

NIOS (Natinal Institute of Open Schooling) should ensure, as an open schooling system, to impart skill oriented programme that may give age relevant coaching to the child to be brought into the conventional education. As far as quality is concerned, once we have qualitative teachers in place, we have great organisation like (NCERT) National Council for Education, Research and Training, which is going to come up with National Curriculum Framework widely respected by all states and across the country.

br>