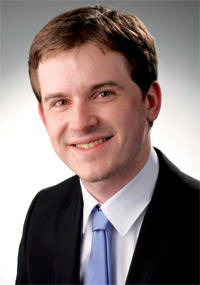 Eduard Metzger
CEO, Director-Technology (EMEA) ,
CYBERNETYX Intreraktiv UG
Eduard Metzger, CEO, Director-Technology (EMEA), CYBERNETYX Intreraktiv UG in an interview with Pragya Gupta, talks about development of education in India
What are your views on technology adoption in India with respect to the west?

In our view, the Indian education sector is developing very well due to investments into new technologies. The whole world today is looking very optimistically at the expansion of the Indian education sector based on strong fundamentals of ICT. Due to the sheer size and volume of the Indian education sector, we believe technology can and will play a very vital role in the access to widespread education in the country.
What is the market size for digital classrooms according to you andwhat is growth forecast?
Globally, the market for digital classrooms is growing, especially in India, this market is growing very fast. But till now, the penetration of digital classrooms is rather limited in India than in certain other countries in the EU, perhaps even less than five percent vis-àvis a 95 percent plus penetration in the UK and some other countries in the EU. On the market analysis arena, though  there are certain reports available on the public domain, there is a dearth of  any validated data on the exact size of the market in India.  Due to the advent of a good number of education content providers working on the build-operate-transfer (BOT) project financing model in India and thus the increasing affordability and awareness about the revolutionary benefits of interactive technologies in classrooms, we believe that an install-base of 100,000  IWB units can be accomplished in the next 1-2 years in the Indian subcontinent with a compound annual growth  rate (CAGR) exceeding 25 percent year on year and the global annual market  size can reach 1,000,000 units as soon with a CAGR of around 15 percent. Overall, it's a great time to be in the ICT industry in the global education sector.
Please share your strategies to emerge as the preferred brand.  What are your plans to enhance your presence in Indian schools?
Our strategy is to deliver advanced and next-generation technological solutions at a low price. We believe that technology for education shouldn't be  expensive  and every student should have a chance to access these assets. Our focus  is on developing next-generation intuitive products for the classrooms, which make the process of teaching and learning  more fun. We are very aggressive in our presence  in the Indian schools. Today, we are already working with several partners in India, including some of the world's  largest education companies to increase the penetration of our natural-user  technologies  in the schools.

India's supplemental education represents a US $15 billion market opportunity over the next decade.  What are your plans to utilise the opportunity?
Our plans are to develop more products like touch-interactive devices for the educational sector and other sectors and to promote EyeRIS, our flagship stereoscopic interactive whiteboard solution along with continuous improvements. Our products will help the students in form of hardware and software to make the best of their learning. Additionally,  we develop special features on demand by our clients, so that they get the sense of ownership and provide them the best support we can give. Further, we are developing several technological tools beyond IWBs, like  Optical trackers, Fiducial-touch engines, Augmented Reality setups and so on,  which will act as tools to aid the technology- based expansion of education in India.
What is your view on Foreign Education Provider bill?
We welcome this decision as very positive step which will create opportunities
for world-class universities to set foot in the country and also enable Indian universities to collaborate with them. Overall, we believe that this move will increase the standard of education and  promote state-of-the-art infrastructure and technology in education.  There is need for quality education
and the existing institutes need to tighten their belts and improve the quality of
education to be able to compete with the universities who come here. It is good for students, as they do not have to go abroad and they can admissions at a lower cost. As a technology-solution provider for the education sector, it's good for us as the awareness about world-class interactive solutions will increase manifold.

Tell us more about the genesis of your organisation in the e-learning
domain?
It all began with the idea of an afford- able and next generation interactive whiteboard solution for schools. We have always believed that devices like IWBs can do much more than their current state in the industry and have developed all our interactive solutions based on the same notion. Our approach has always been to work very closely with our clients and develop a product, which perfectly fits their needs. This way our products could grow in a very healthy way. We have developed a good understanding for the right needs of our clients. We believe that every customer is an asset to us and a source of new ideas. Today, the widespread global recognition that we have received and accolades for our EyeRIS and other interactive products are a bright testimony to that. 
Please shed some light on new product development?
Cybernetyx has strong continuing development on EyeRIS to add functionalities  like touch-less interactivity, augmented reality and pattern-recognition to the product line, making it even more diverse and advanced than the existing breed of interactive whiteboard solutions. EyeRIS has been raised ground-up to serve as a tool to access the educational content and other digital data in a hyper-interactive way using touch-less gestures, and iPad-like multitouch capabilities, and we are constantly striving to make that experience
better for our clients. Additionally, our newer touch-enabled devices, Interactive-Walls and Touch-Tables, are getting ready for a global launch in the latter half of this quarter, with amazing capabilities and utility across various verticals. As discussed before, we are keen on partnering with organisations having similar focus on the educational industry to augment the widespread access to our interactive solutions. \\