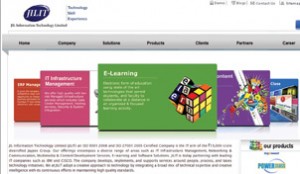 Company Profile

JIL Information Technology Limited (JILIT) is the InfoTech arm of 15,000 crore Jaypee Group a diversified infrastructure conglomerate and has a formidable presence in Engineering & Construction, Power, Cement, Hospitality, Expressways, Real Estate and Education. JILIT is one of the leading-edge technology companies providing end-to-end e-learning solutions and integrated business solutions to a wide spectrum of clients including government organizations, academic institutions and enterprises.

Company Name:
JIL Information Technology Limited
Management Team:
Chief Executive Officer &
Head of Operations/COO :
Sunita Joshi
Head of Finance/CFO:
Anurag Singhal
Head of Sales: Shalabh Saigal
Head of Technology/IT:
Manoj Kumar
Head Office:
64/4, Site No- 4,Sahibabad
Industrial Area, Sahibabad,
Ghaziabad – 201010 (UP)
Ph.: +91 120 – 4606000
Fax: +91 120 – 4606099
Website: www.jilit.co.in
Major Regional Offices (India):
1. Kolkata 2.Mumbai
3. Bangaluru 3.Chandigarh
Contact Person For Clarification:
Tanuja Varma, Principal Consultant,
+91 9811606969
Customer Support Helpline Number:
+91 120- 4606000/17/21/22/23/24
Products and Services
Bhartiyavidya: India's First Digital Classroom Teaching Aid conceived, designed and developed by JILIT in the year 2000.
Bhartiyavidya PowerClass: POWERCLASS is a comprehensive approach to convert your existing classroom in to digital classroom with Hardware, Software and Curriculum based multimedia Teaching and learning content.
School Connect – ERP Solution: A three tier architecture based solution aims at streamlining and integrating all activities carried out in any school.
Qgenie – Question Paper Generator: Qgenie is a web enabled question paper generator solution for Teachers, Tutors, Parents, Students, Schools and Coaching Institutes across classes and subjects.
Campus Lynx – an Institutional Resource Planning: Campus Lynx is a highly modular and scalable IRP (an Institutional Resource Planning) Solution developed for Universities and Colleges.
Online Test – web based unique software solution: This web based unique software solution is designed with an objective of eliminating paper based exams and associated costs.
BizConnect: A browser based solution for small and medium enterprises. The solution is seamlessly integrated with various business process.
Network Infrastructure: JILIT has an expertise in planning, designing, commissioning and operating Wide Area Networks for Data, Voice and Video. JILIT's partnership with CISCO lends synergy to above capabilities.

Achievements
JILIT is pioneer in CAT which is a patented product and a leading education content provider for schools globally both private and many state governments
Other innovative solutions from JILIT include Campus Lynx; Some of the prestigious clients include IIT Roorkee, Thaper University, School Connect and Qgenie, , Online Testing Tools and BizConnect to name a few
JIL is an ISO 9001:2008 and 27001:2005 certified company
SAP implementation in the Jaypee Group features and cost effective pricing; Only solution that can run over thin clients

Target Verticals

K-12, SMEs, Higher education, Vocational and skills, IT Infrastructure Management, Networking & Communication, Multimedia & Content Development Services, E-learning and Software Solutions.