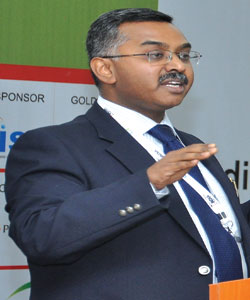 If used effectively, digital education can be used to transform students into independent individuals
By G R Sivakumar, Principal, Delhi Public School, Surat, Gujarat | www.dpssurat.net
As a school teacher, my prediction for the future is that the school children in our country in the next 10 years are not going to carry heavy bags. Instead, they will carry a piece of paper or glass. They will take down notes on their digital devices. Perhaps they might also take audio recording of lectures or even video. Information will be available everywhere, so they will be constantly logged on to their email accounts.
National Knowledge Network (NKN) has started pushing in the direction of digitisation of education. We wish the Government had started from the bottom in order to build a stronger foundation. NKN should have been introduced at the primary school or secondary school levels, because that is where the foundation of the education is laid down for a child. Unfortunately, our primary education has a vacuum and this void cannot be bridged, unless we make efforts towards strengthening the foundation of the formative years of a child.
The three pillars of education are: pedagogy, psychology, technology. We are living in an era of digital renaissance. Some of the technology available to us today is engrossing. Our children are born in this era. We need to allow them to play with all kinds of technology applications. Some of the applications have transcended the level of interactivity. What are the best ways by which we can use technology to enhance pedagogical eloquence? The technology that is available to us today is a great tool. It can be a powerful aid to enable joyful learning to the students.
Now we have a scenario where vast numbers of books have been digitised. But we still need to focus on creating even more interesting and engaging content for our students. The world is evolving at a fast pace, so the nature of our educational content cannot remain static. The educational content also needs to keep evolving.
"Exciting news! Elets Education is now on WhatsApp Channels Subscribe today by clicking the link and stay updated with the latest insights!"
Click here!