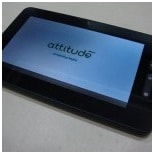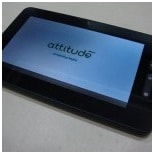 Telmoco Development Labs Pvt has come out with a Tablet PC – Attitude Daksha – a 7-inch tablet variant for Rs 5,399 inclusive of all taxes.
Being touted as the most powerful 7-inch tablet, the Attitude Daksha boasts of Capacitive 5 point touch screen with 1.2 GHz ARM Cortex A8 processor with 512 MB DDR3 RAM. It has a HDMI port, Micro SD slot, 3.5 mm audio out, Micro USB port and having OTG connector for 3G Dongle and RJ 45lAN cable.
Technopark Technology Business Incubator (T-TBIC) incubated Telmoco plans to compete in the low-cost tablet PC market where the government-launched Aakash tablet is prominent.
Daksha is capable of 1080p full HD video streaming and has dedicated 400 MHzGPU for advanced flash Apps, Interactive Apps and full HD videos. Daksha is powered by 3,800 mAh li-Pol battery which gives a back up of over 6 hours with Wi-Fi on.
At the launch ceremony C.R. Nijesh, chairman and executive director, Telmoco, said, "Even though the Indian media tablets market witnessed high decibel launches by the world's leading vendors, the Tablet PC market in India is a niche market that is quickly picking up the pace in terms of adoption."
Attitude Daksha is initially set off to launch at schools, professional institutions, and corporate houses and will be available in the market from May 15. It can be ordered online from Telmoco website.