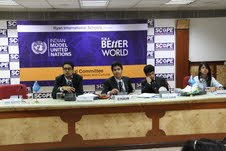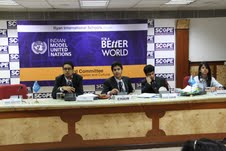 Ryan International Group of Schools has organised INMUN 2012, which saw participation of 800 delegates. Eight hundred aspiring delegates from various parts of the world resolve to find the best way forward to peace and progress through dialogue and discussions at the 12th Indian Model United Nations (INMUN) 2012 organised by Ryan International Group of Schools. INMUN 2012 is being held between August 23 and August 25, 2012. The theme for INMUN 2012 is 'For a Better World'.
Talking on open school learning being the future of education as mentioned in the national policy of education, U.N. Khaware, Secretary, National Institute of Open School, said, "Humanly it is not possible to achieve the target of education without open school learning. The ratio of teachers to student in a populated country like ours is shocking, and sometimes the poor people or women do not get access to school. Thus, open school learning provides them the opportunity and bridges the gap for literacy."
INMUN is organised annually where students from India, Nepal, Indonesia and Sri Lanka represent 120 countries to discuss, debate and form consensus to pass resolutions offering solutions to the recent issues of international importance. INMUN is open to all secondary school students aged 14 to 19 years. Schools normally send between 3 and 7 student delegates to the conference. Some of the important issues discussed on day one were militarization of borders – cheaters in disarmament agreements, Indian Ocean piracy issue, impact of toxic dumping in food resources, developing strategies for currency disputes, etc. "INMUN 2012 aims at providing an environment that is congenial to nurturing a thought for a better world, where there is a happy, healthy and harmonious life. I hope the delegates emerge as global citizens – individuals with self confidence who are able to contribute to community life, build tolerance, accountability and strength to deal with emotional and spiritual quotients," says Madam Grace Pinto, Managing Director, Ryan International Group of Schools.
The debating skills and knowledge that comes with the MUN help the students aspiring to pursue courses like political science, history, international relations and related subjects.

Eminent speakers present at the INMUN 2012 were G. Balasubramaniam, former director (academics), CBSE; Prof MM Pant, educationist; Peter Vrooman, Press Attaché/Embassy Spokesperson, Embassy of USA; J.K. Dadoo, Joint Secretary, Ministry of Commerce and Industry; U.N. Khaware, Secretary, National Institute of Open School, among many others.

br>