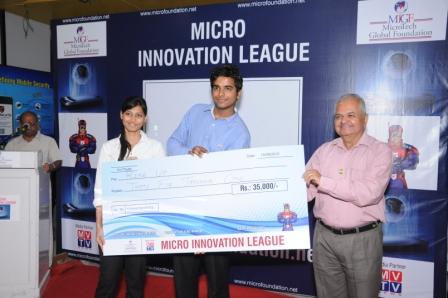 MicroTech Global Foundation (MTGF), a nonprofit organisation steadfastly engaged in the use of technology recently honored the student fraternity by awarding the best innovation in the fields of security, technology and mobile applications. Micro Innovation League (MIL) competition for students culminated in the Grand Finale recently concluded at Vashi, New Bombay wherein 46 teams showcased innovative products. An important technology competition designed to develop closer interactions between academia and the industry; MIL was organized with the aim of bringing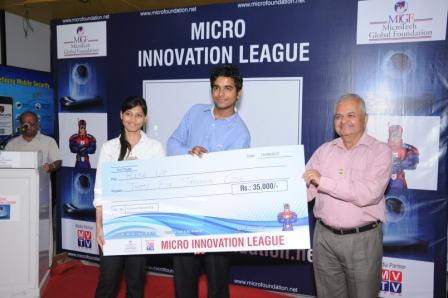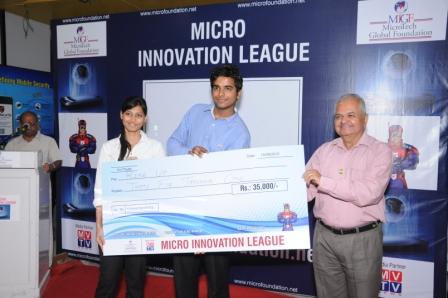 awareness among the people of the technological advances in the country and motivates younger generation in particular to participate in the joys of technological innovations.
The 'Micro Innovation League' competitions started off in right earnest on our 'National Technology Day' on May11, 2012. Students from 20 institutions across the nation participated in the fierce contest by presenting creative innovations relevant to the society. The first prize was won by the Rise Up Team hailing from Vidyalankar Institute of Technology, Mumbai for its innovation 'The Augmented Reality' a subset of Mixed Reality. Augmented Reality adds virtual information to a predominantly real image or representation of the world in order to enhance or augment the information the user receives. The First Prize carried a Certificate of Appreciation and cash of Rs 35,000. The Second Prize was clichéd by Saraswati College of Engineering, Mumbai for its innovative product, The Dual Operative Bicycle (DOB) which has the dual function of operating a bicycle with its traditional pedaling and compressed air power. The Second Prize included a Certificate of Appreciation and cash worth of Rs 25,000. As there was a tie in the rating of points between the third and the fourth team namely Vasantdada Patil Pratishthan and Fr. Conceicao Rodrigues Institute of Technology, they both shared Third Prize of Certificates of Appreciation and Rs 15,000. Their innovations: An electric powered skateboard which provides solution of transportation for humans and luggage from one point to another in minimum time and HAKI-NFC based Android Application for near field communication respectively.

br>