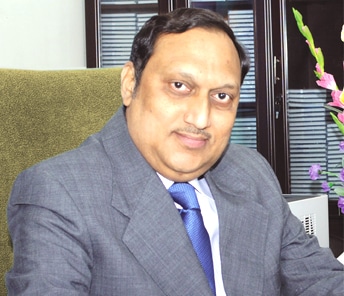 Prof G Tulasi Ram Das, Vice-Chancellor, Jawaharlal Nehru Technological University, Kakinada (JNTUK) is specialised in Power Electronics and Drives. He has 42 publications of national and international level under his name. In an interview with Pragya Gupta, he talks about various initiatives taken by JNTUK
Please share with us the ideas that have led to the creation of Jawaharlal Nehru Technological University.
The erstwhile unified Jawaharlal Nehru Technological University established on 2nd October 1972 was a multi-campus state-wide university. Its constituent colleges and affiliated colleges were spread all over the State of Andhra Pradesh, in all the three regions – Andhra, Rayalaseema and Telangana. JNTU has been reorganised into four independent universities based on the geographical jurisdiction by Act No.13 dated 20 August 2008 passed in the State Legislative Assembly. JNTUK is one of the most reorganised universities located in Kakinada with 8 Coastal districts of Andhra Pradesh under its jurisdiction. These eight districts are – Srikakulam, Vizianagaram, Visakhapatnam, East Godavari, West Godavari, Krishna, Guntur and Prakasam, which we call as Eight District Zone of Excellence (EDZE).
JNTUK Kakinada is one of the best universities in the country to achieve the vision, mission and goals effectively. JNTUK, in its pursuit of establishing high research and academic standards, is in the process of implementing innovative and effective technology enabled solutions to continuously produce engineering professionals to fuel our national growth.
How do you address the key academic issues by initiating technology based solutions for quality assurance?
Thrust areas for the university this academic year include setting up of Centre of Excellence for e-Resource development and deployment to implement knowledge repository and enhance teaching-learning effectiveness, Technology based Online Evaluation System for a transparent, error-free and accountable evaluation and swift  processing of results, and implementation of e-Learning and Assessment Solution to improve student employability skills.
Please throw some light on the workings of Centre of Excellence for e-Resource development and deployment (CoEeRD).
CoEeRD has two major components, E-learning modules of engineering courseware and bi-directional HD conference system. CoEeRD will continuously improve the academic excellence in all the engineering colleges affiliated to JNTUK from eight districts of its jurisdiction. E-learning modules of engineering courseware as per the  university syllabus are developed both for faculty and the student. Faculty is empowered with the classroom teaching modules comprising of lecture material, animations, image gallery, and quiz to make teaching-learning effective. ICT enables faculty to use read-ily available images and animations, so that there is lesser chalk work, and thus enhancing the productivity and providing faculty more time for interactions with the students. Faculty can augment the e-resources by adding their own content. Thus the content is continuously updated and made available to all the colleges across JNTUK. A Quality Assurance team reviews and audits the content before the same is made available to the colleges.
What is your view of the impact that such systems are having on the learning outcomes of the students?
Students in a classroom are heterogeneous in nature. Their learning abilities vary widely , some understand the faculty lecture in a single go and some may need to go through multiple iterations to understand. Students can play the classroom lecture archives, study different modules and self assess their understanding by taking quiz in respective concepts. This reinforces student learning and they can learn at their own pace. Guest lecturers in the areas of engineering and technology by eminent academicians and practicing engineers will be beamed live using a bi-directional
HD conference system for the benefit of the learners. This platform will also be used for delivering lectures on industry trends, personality and leadership. Video lectures are archived for future reference. Online/Offline services of CoEeRD enable 24×7 accesses to the total set of knowledge resources for faculty and students from the studio located at JNTUK.
In your opinion how does the newtech-based Evaluation System compare with the traditional one?
The university has over four lakh students enrolled in different programmes and the numbers are increasing year on year. Through Pre and Post Examination Automation and Online Evaluation System solution, JNTUK wishes to automate pre and post examination and adapt to digitisation of answer script for onscreen marking system in its effort to achieve transparency in the evaluation of answer scripts and declaration of results. This initiative will enable error free and accelerated examination processing, evaluation and result declaration by reducing the redundant laborious activities and processes. Pre exam automates student registration, centre allocation, hall ticket generation, etc. Answer scripts are digitised, without tampering the booklet and archived for evaluation by markers. Markers performance is monitored through moderated answers at regular intervals. Answer script digitisation is done in the University examination centre under controlled environment. Infrastructure for scanning, servers for answer script storage and computers for onscreen evaluation will be established. University evaluators will be trained in the onscreen marking process. All the data pertaining to the examinations from student data to marked scripts and student scores are archived and stored in university data centre with stringent data security norms.
What kind of systems are you employing for online evaluation?
Online evaluation system follows a stringent and much needed quality control features to enable the university for better evaluation of answer scripts, audit and administration of the marking system to ensure effective evaluation of answer-scripts and error free marks generation.
The digitised answer script is in a dynamic mode. Selected question wise evaluation is carried out across the scripts to maintain uniform evaluation. This solution enables a transparent mechanism and accountability and the evaluated digitised answer script can be stored forever for any future references.Any student will be able to access and review his answer script online for his satisfaction.
JNTUK has been closely working with relevant industries.To name a few:
• Infotech has established a control and Instrumentation Lab for MTech (Avionics). Infotech is supporting a Professor of Avionics by sponsoring his salary for three years.
• BEL has established a laboratory for Optical Communication Laboratory
• Honeywell has established a laboratory for Process control and Instrumentation for petroleum and petrochemical Courses.
• Tejas has established a laboratory for Fibre optics.
• Texas Instrumentation is going to establish Embedded Systems Laboratory

Please share the role of e-Learning and Assessment Solution to enhance employability skills?
Objective of the JNTUK is to be the preferred destination for the companies for their entry level talent acquisition. To enable JNTUK college students to acquire skills sought by the industry, we have launched e-Learning and Assessment Solution (eLAS), which is a robust and comprehensive online learning and assessment mechanism. eLAS is being made available to all the colleges, it can be accessed both through Intranet (the college LAN) and Internet. eLAS follows a scientific approach including, pre-assessment to reflect student strengths and areas of improvement, learning through a combination of online resources and face-to-face Mentoring at their campus, a final assessment is administered and student scores along with the academic performance is made available to the companies through a career portal. Companies can access the talent pool to shortlist the right-fit. Annual talent profile for individual college and the university are generated. JNTUK monitors the progress of key performance indicators at regular intervals to take needed action for continuous improvement. Industry Academia Meets are conducted to strengthen the Industry Institute Interaction. Cluster- wise job fairs facilitate colleges to showcase their talent and companies to interact with students to select suitable candidates.