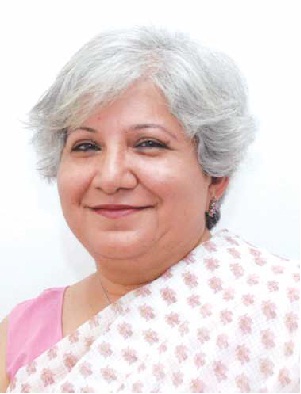 Anju Banerjee, Chairperson and Managing Director, EdCIL (India) Limited, believes that the job of education is to train our minds to learn, absorb and understand
Please tell us about EdCIL.
EdCIL was set up in the year 1982. About 15 years ago, we started recruitment services wherein we conducted tests to recruit teachers in the public sector, autonomous bodies, KVS (Kendriya Vidyalaya Sangathan) and NES (National Education Society).
At one stage, we were doing counseling for admission into engineering and medical colleges in Jharkhand and Uttarakhand. Right now, we are doing a scholarship entrance exam for Nepal every year. We also introduced an exam for scholarship, which was being given by the Ministry of Indian Overseas Affairs for diaspora children. They do it on merit now.
We also give support to the Ministry of Human Resource Development (MHRD) in setting up their back offices for supporting projects like the Sarv Shiksha Abhiyan, Mid-Day Meal, Rashtriya Madhyamik Shiksha Abhiyan and the National Literacy Mission.
How is EdCIL working to develop the education sector?
We send Indian experts to foreign universities. We have an MoU with the Dodoma University in Tanzania where we have been taking faculty from India for the last three years in various fields like Metallurgy, Mining, Mathematics, Physics and Chemistry.
We have also placed Indian teachers in countries like Burma and Mongolia. Either these initiatives are taken by the universities or the governments in those countries or by our government. We coordinate the selection process.
Apart from this, we also give technical assistance to various ministries including our own for setting up of educational institutions. We have conceptualised various educational entitieslike IIT-Guwahati, IIM-Lucknow, Kalikat and Indore among others set up by the government. We offer this service in the private sector also.
We have done a few schools as well. Besides this, we are also into project management for setting up educational institutions. We help the client in selecting the architect and preparing the tender documents.
You have catered to the requirements of educational institutions and the MHRD. What are the other areas where EdCil plans to intervene?
One area we think has a future is accreditation and preparing schools and colleges to attain quality benchmark. We have already started a few pilot projects in Himachal Pradesh. Foreign universities will come in the future. We are also planning to upgrade our institutions. Right now, accreditation is not mandatory.
There are more Indian students going abroad than foreign students coming to India. There is a big confusion in our country about the quality of schools and higher education institutions and whether they are recognised or not. We have not got into it much but there is a lot of future there and we should move in that direction. If our pilot project in Himachal is successful, we are hoping to go to other states as well.
How are the higher education institutes or schools engaged? Do the schools approach you?
It is both ways. Sometimes we approach, sometimes they do. If they approach, we get an idea about the area where there is a need. There is no planned way. As part of our business development, we sometimes send our team for bagging good business opportunities. Of course it is very hard for the company to immediately come up with a core competence to take on something.
You mentioned that EdCil helps in foreign landfills. But the Foreign Education Bill has yet not been passed and a lot of institutes are looking for foreign landfills. What is your take on that?
We have not done that yet. We look at ourselves as a single-window provider. When foreign institutions come into India, they need some hand holding and we thought we would be able to do it. But it did not work out. Though, to bring value addition, we have prepared ourselves and analysed what areas they would look at when they come in. But because the bill has not been passed yet, it seems to be in cold storage. If it happens we would definitely be one of the people who would be trying, and being in the government sector, we will have more credibility than someone in the private sector.
There is a big confusion in our country about the quality of schools and higher education institutions
A lot of the technical institutes and private colleges that are coming up are not quality institutes and do not have very good study material. How is EdCIL helping these institutes?
We are not doing it in a generic way. For example, when we do a detailed project report (DPR) for setting up a new engineering college, we also put down the minimum standards of infrastructure. It is not easy to demolish everything of the past and build afresh. But for the new buildings that are being built, we hope that the basic minimum infrastructure standards and norms we suggest will be met.
A lot of thrust has been given over the last three years to upgrade the  infrastructure in government institutions because that is important to attract foreign students. So, not only for the foreign students but for our own students as well, infrastructure is an area we really have to take care of. It need not be in terms of area so much; what matters more is the quality, lab infrastructure and classroom conditions.
How important is technology and ICT enablement of institutes and schools?
That is the buzzword today, and a lot is being done in that area. If the government's National Knowledge Network and National Mission on Education through Information and Communications
Technology projects are successful, everything will be e-Learning and ICT-enabled and I wonder if we will have classrooms in the future. Our minds are not so attuned to the new developments in technology, but youngsters understand best through a CD, an interactive session or a video conference.
This will also give a solution for the numbers. In a physical classroom, we still have a teacher-student ratio of 1:25. Through these methodologies, it will be 1:1000. We have to make education available. We also need to reach into the interiors geographically. That should be a solution for the future.
Where does the funding come from?
We were set up as a public sector company. In fact, our authorised capital was only `2 crore in 1982 and the payback capital was `1.2 crore. There is no funding from the government. We get paid for our projects though we are not very high on profits, we have been making enough profits to cover our own expenses, pay our own employees and pay dividend to the government.
What are your concluding remarks on the education sector and the turn it is going to take in the coming years?
If the kind of interest that is being taken now and the focus that is being given to education today was done from day one of our Independence, we would have been far ahead. The kind of focus that is not coming on education is definitely the future of the country. Every other sector is so basically dependent on education, whether it is the normal education from KG to twelfth , or higher or adult education, or women- or gender-based education. If we are thinking in terms of moving ahead or building up national characters and cultures, education is very important. We have to train our minds to learn, absorb and understand. That is the job of education.
India cannot emerge as one of the top countries in the world without education. Education can put a human being's life into a different orbit. The society has to be more focused and more committed towards education.
"Exciting news! Elets Education is now on WhatsApp Channels Subscribe today by clicking the link and stay updated with the latest insights!"
Click here!